A famous quote attributed to Warren Buffett says:
"Be Fearful When Others Are Greedy and Greedy When Others Are Fearful"
What sounds very simple and straightforward in theory can be very difficult when real money is concerned. It is especially hard when you constantly read and hear a lot of smart and confident people sharing their opinions on a potential downfall of a certain company, sector or region.
Nevertheless, in my personal experience, the main long-term outperformance drivers in my portfolio have been stocks in which I have taken a contrarian position.
I prepared a small experiment to put my personal experience to the test.
Back testing investments into the troubled companies
I searched deliberately for troubled companies as an investment opportunity. I Googled "10 companies on the verge of bankruptcy" and decided to pick the first search result that matched my search query the best.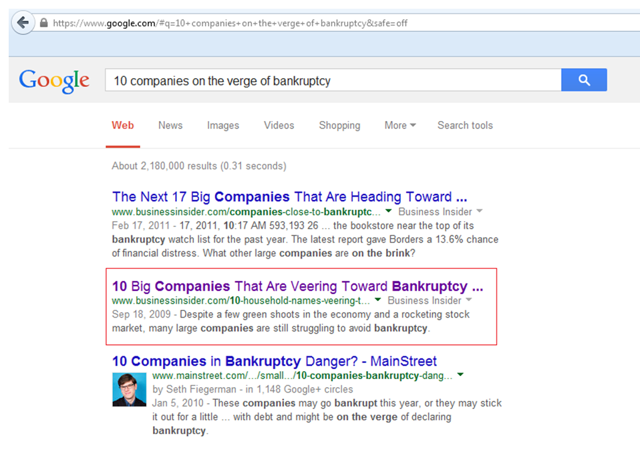 A Quote from the article sounds indeed intimidating and convincing:
"A new report by Audit Integrity identifies some high-profile names that have the highest probability of declaring bankruptcy among publicly traded firms."
In my experiment, I modeled equal investments into each stock mentioned in the article, creating what I call a Mini Distressed Portfolio. I applied a 3-year buy and hold approach and compared the performance to that of S&P 500, NASDAQ Composite and Dow Jones Industrial Average in that period. The article's release date was used as the investment date, resulting in an investment period from 09-18-2009 to 09-14-2012.
The stocks from the article were:
Hertz (NYSE:HTZ), Textron (NYSE:TXT)*, Sprint Nextel (NYSE:S), Macy's (NYSE:M)*, Mylan (NASDAQ:MYL), Goodyear (NASDAQ:GT)*, CBS (NYSE:CBS)*, Advanced Micro Devices (NYSE:AMD), Las Vegas Sands (NYSE:LVS)*, Interpublic Group (NYSE:IPG)*
*Stock that paid dividends regularly. Dividends were excluded from the performance calculation.
I was interested in finding answers to the following questions:
How many companies went bankrupt within 3 years?
How many stocks have shown a negative performance?
How many stocks underperformed at least one of the major indices?
How many stocks outperformed the major indices?
What was the total performance of our Mini Distressed Portfolio in comparison with the major indices?
But first things first, let's look at the performance of the major indices. In the three-year period starting on 09-18-2009, the S&P 500 had a return of 40.57%; the Dow Jones Industrial Average gained 41.52% while the NASDAQ Composite returned 53.00%.

(source: google.com/finance and finance.yahoo.com)
Now let's answer our questions, within the context of the 3-year period:
1. How many companies went bankrupt within 3 years?
Within the time period investigated no single company went bankrupt.
2. How many stocks have shown a negative performance?
Two stocks Advanced Micro Devices and Goodyear displayed negative performance of -31.33% and of -21.76% respectively.
3. How many stocks underperformed at least one of the major indices?
Five stocks underperformed at least one of the major indices:
| | |
| --- | --- |
| Stock | Performance in % (09-18-2009 to 09-14-2012) |
| AMD | -31.33 |
| GT | -21.76 |
| S | 22.12 |
| HTZ | 39.92 |
| TXT | 49.10 |
4. How many stocks outperformed the major indices?
Five stocks outperformed all three major indices.
| | |
| --- | --- |
| Stock | Performance in % (09-18-2009 to 09-14-20012 |
| MYL | 67.23 |
| IPG | 72.59 |
| M | 144.18 |
| LVS | 179.43 |
| CBS | 215.90 |
5. What was the total performance of our Mini Distressed Portfolio in comparison with the major indices?
Our portfolio of bankruptcy candidates outperformed the major indices by over 20% in the time period investigated.
| | |
| --- | --- |
| Stock | Performance in % (09-18-2009 to 09-14-2012) |
| Mini Distressed Portfolio | 73.74 |
| NASDAQ Composite | 53.00 |
| Dow Jones Industrial Average | 41.52 |
| S&P 500 | 40.57 |
I, by no means, encourage investors to blindly build a portfolio of stocks from companies mentioned as bankruptcy candidates as I did in this experiment. Nevertheless this simple experiment illustrates that bankruptcy fear is often exaggerated and that market participants tend to underestimate the resilience and comeback potential of troubled companies.
Careful stock picking among troubled stocks can result in strong outperformance of the general market because, if they manage to survive, troubled companies reappear as more efficient and focused organizations led by more dedicated people.
Searching for one time opportunities
There are several criteria, which I consider helpful when searching for turnaround candidates. Hence I would like to name them together with at least one of my current turnaround candidates.
Damaged brand - there are companies whose brands are so damaged that no matter what they do, they get bashed from analysts and journalists alike. This creates enormous pressure on the stock price and thus an opportunity to search for a turnaround candidate. A perfect example in this category is BlackBerry (NASDAQ:BBRY). The company has made many mistakes in the past and Wall Street and the tech community has proven to be very unforgiving. It has been hard to find a tech article regarding BlackBerry that would not contain an overall negative tone about it. Recently the company has started showing the first real signs of life with the stock gaining more than 40% within the last three months. Should next earnings prove that the turnaround is intact; the chances are high that the stock will be trading around 15 USD by year's end. I am also not worried about the Apple (NASDAQ:AAPL) / IBM(NYSE:IBM) deal, since BlackBerry will still be able to manage these devices as an MDM on its BES 12 MDM Platform.
Boring industry - in times of 3-D Printing, Social Media, Big Data, electric cars and the internet of things, old brick and mortar industries do not get much attention and are considered boring, often being overlooked, which makes them a perfect field to search for turnaround candidates. My pick in this category is a retailer J.C. Penney (NYSE:JCP), which could also compete with BlackBerry for a top damaged brand title.
Troubled region - financial and political woes around the world often create one time opportunities for investors. Southern European countries like Portugal, Spain, Italy and Greece have been victims to one of the most severe financial crises in their history. Greece has suffered the most and is going through years of economical and political instability. Almost leaving the euro zone two years ago and losing itself to left and right wing radicals the country seems to be now stabilizing. This makes Greece by means of Global X FTSE Greece 20 ETF (NYSEARCA:GREK) my top candidate.
Troubled Industry - Sometimes whole industries enter a troubled mode, offering a good number of stocks to pick from. One such industry today is gold mining. Gold enjoyed a tremendous run for around 10 years. This led gold miners to start expensive projects that were profitable only at static or increasing gold prices. Barrick Gold (NYSE:ABX) - the largest gold miner in the world - has suffered a lot from such projects and general inefficiency. Currently Barrick Gold undertakes measures to become smaller, more efficient and more profitable in this new environment.
Finally I would like to mention two stocks that meet both troubled region and troubled industry criteria - Two Greek Banks Eurobank (OTCPK:OTCPK:EGFEY) and Piraeus Bank (OTCPK:BPIRY).
Eurobank currently has the lowest Hellenic Financial Stability Fund stake of 35.4 percent and has seen a large interest from international investors such as Fairfax and Capital Group, which were interested not only in buying shares but also in taking seats on the bank's board.
Piraeus Bank is Greece's second largest lender with the highest Non Performing Loans Ratio (NPL Ratio) of around 38% among Greek Banks. Thus Piraeus Bank potentially has the highest upside with the stabilization of the Greek economy and decreasing NPL Ratio.
For more information on Greek banks, please read this article by fellow contributor Manos Giakoumis. Manos is a great source for all kinds of high quality economical information on Greece, which is so hard to find nowadays.
Should you consider investing in any stocks mentioned in this article I encourage you to do your own thorough research first.
Disclosure: The author is long BBRY, ABX, JCP, GREK, BPIRY, EGFEY. The author wrote this article themselves, and it expresses their own opinions. The author is not receiving compensation for it (other than from Seeking Alpha). The author has no business relationship with any company whose stock is mentioned in this article.
Editor's Note: This article covers one or more stocks trading at less than $1 per share and/or with less than a $100 million market cap. Please be aware of the risks associated with these stocks.