By David Russell
Options premiums are rich in Vishay Intertechnology (VTO), prompting one trader to sell volatility before earnings.
optionMONSTER's tracking systems detected a transaction in 3,355 November 10 puts, most of which priced for $0.30, against open interest of just 377 contracts. Most of the trades went for the bid price, indicating that they were sold.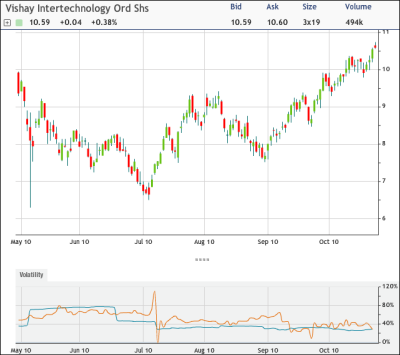 Implied volatility in the chipmaker is running at about 44 percent and has held that level despite a steady decline in realized volatility over the last month. The put seller is probably betting that implied volatility will drop after VSH issues results the morning of Nov. 2, a common phenomenon. If that proves correct and the stock holds its ground, the puts will lose value and the trader will get to keep the premium.
VSH rose 0.38 percent to $10.59 in morning trading and is up 16 percent in the last month. The last earnings report on Aug. 3 was better than expected, fueled by demand for netbooks and automotive products.
The put sale came after the stock spent about two weeks breaking through resistance at $10.50, a level where the stock rolled over in mid-May before proceeding to an eight-month low below $7 in July.
The transaction also stands to benefit from the accelerating pace of time decay that occurs in the final month before expiration.
Total option volume in VSH is 22 times greater than average so far today.
Disclosure: No position