By Craig Bowles
Overview
McDonald's Corp. (NYSE:MCD) is slated to report Q2 2014 earnings before the bell on Tuesday, July 22nd. The earnings release is expected at approximately 8:00 a.m. EST, with a conference call to follow at 11:00 a.m. that is webcast through McDonald's Investor Relations. A member of the Dow Jones Industrial Average, McDonald's has significant market influence and the potential to impact the broader market gauges.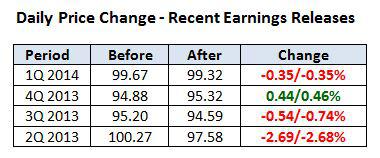 Outliers & Strategy
Key measures:
Earnings Per Share: McDonald's typically reports a "clean" number that is comparable to consensus estimates. The current Street estimate is $1.44 (range $1.41 to $1.48) (Source: Yahoo Finance).
Revenues: Analysts expect an increase of 2.8% y/y to $7.28 bln (range $7.10 bln to $7.46 bln).
Global Comparable Sales: Analyst consensus is 0.8% (Source: Zacks Institutional Services). A steady pickup is expected in 2014, following the soft 0.2% growth of 2013.
The company has a history of buybacks, and has been spending an average of $3 bln each year since 2007 to return value to shareholders. Since 2011, share repurchases halved, however. 2013 was $1.8 bln. CEO Thompson promised to raise the company's payout to shareholders by as much as 20% to $20 billion in the form of share buybacks and dividends.
Multiples show valuations close to the company's 5-year average.
McDonald's shares have a 1-day average price change on earnings of 1.59%. Options are pricing in an implied move of 1.74% off earnings. Index futures are more apt to be impacted by surprising results from McDonald's, given its stature and influence in the marketplace.
Recent News
07/16: Janney Capital Markets reported that McDonald's franchisees' sales outlook for the next six months is the darkest it's been in more than a decade, according to CNBC.com.
06/23: April showers didn't bring May flowers, as McDonald's promotions don't seem to be helping monthly sales, according to a post by Fool.com.
06/18: While Americans have slowly drifted away from fast food, Europeans have done the opposite, according to a post by Fool.com.
06/10: McDonald's comp store sales in Asia are doing well, mainly because of China, according to a post by Zacks Equity Research.
06/09: McDonald's faced a similar slump in 2003, and it solved the problem by going back to the basics. Overseas food tasted better because it didn't adopt the new cooking techniques, according to a post by The Wall Street Journal.
Technical Review
McDonald's shares have made annual highs early in the last two years, so it'll be interesting to see if seasonality continues, as it appears to be doing. Current prices are testing below the short-term moving averages and the $100 balance area, with limited support down to the 200-day moving average. Above $102 would have traders favoring a breakout to new highs. (Chart courtesy of StockCharts.com)
Summary
The CEO's discussing increasing the company's payout to shareholders sounds promising. Still, McDonald's shares haven't seen a lot of change since early 2013, when they were also close to $100 and near all-time highs. Previous releases over the last year have missed estimates as often as beat, so hopefully consensus having been reduced by 2c over the last three months will help. Competitor Yum Brands recently reported in line, but traded down. The company probably needs to beat earnings by more than 1c on revenue of at least $7.31 bln for a favorable market reaction. Comparable store sales are expected to improve this year, so coming in above 0.8% would be a nice showing.
DISCLAIMER: By using this report, you acknowledge that Selerity, Inc. is in no way liable for losses or gains arising out of commentary, analysis, and or data in this report. Your investment decisions and recommendations are made entirely at your discretion. Selerity does not own securities in companies that they write about, is not an investment adviser, and the content contained herein is not an endorsement to buy or sell any securities. No content published as part of this report constitutes a recommendation that any particular investment, security, portfolio of securities, transaction or investment strategy is suitable for any specific person.
Disclosure: The author has no positions in any stocks mentioned, and no plans to initiate any positions within the next 72 hours. The author wrote this article themselves, and it expresses their own opinions. The author is not receiving compensation for it (other than from Seeking Alpha). The author has no business relationship with any company whose stock is mentioned in this article.