Total S.A. (NYSE:TOT) announced its 1Q14 results on April 30th and reported a 10 percent drop in 1Q14 net profit. The company was hit by shrinking margins at its European refineries and a drop in oil and gas output. As a consequence, the stock price has been stagnating over the last months and recently dropped below $70.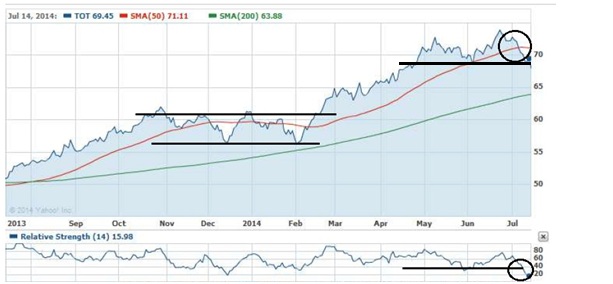 Source: Yahoo Finance
The stock price already broke the 50-day moving average a few days ago and has not yet bounced back on to $68.5 resistance. Moreover, the relative strength index also is moving below 40. As a consequence, the stock price could keep decreasing in the upcoming weeks/months, especially if a market correction occurs. If the price crosses the 200-day moving average, it will likely go back to the $57 / $61 levels.

Source: Yahoo Finance
Moreover, I still believe that an interesting entry point would be between $58 and $64 or $54 in case of a more severe pullback. If the price breaks the $64 level, it could likely go back to $58 or $54.
However, considering the improvements in Total's management and the company's prospects, I don't see the price falling again below these levels.
As a consequence, I believe that one could buy the stock on dips below $60.
Total remains one of the strongest oil majors and offers great long-term prospects
The management started to execute a plan aimed at boosting the production, reducing the capex, improving the marketing and services activities and increasing the return. Total expects production to reach 3m BOE per day by 2017 and yearly investments should be limited to less than €25b ($33.81 billion U.S.) over the next years. The plan appears to be very ambitious but achievable. However, it means the French company should focus on riskier projects and exploration in order to boost the return, which could weaken Total's risk profile.
TOT is the main oil major in Africa, which is to me one of the main assets of the company. 31% of its production is in Africa (when Africa only accounts for 20% of the global production) and the French company is the first supplier for the continent thanks to 4,400 gas stations. Total started operating in Africa in 1953 and discovered its first oil field in 1962. The Group took big risks and developed a certain expertise in complex operations, especially in risky countries. As a French company, TOT has a clear advantage in the west part of Africa and should increase its market share in the coming years.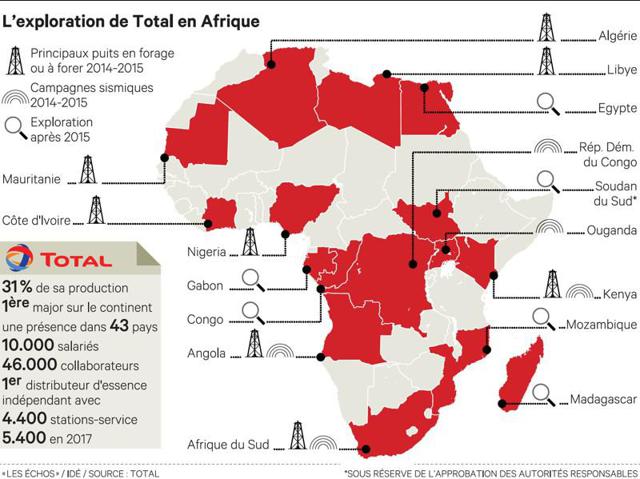 Source: Les Echos (in French)
Diversification in renewable energy should drive revenues in the long-term. I especially like the fact that TOT owns a significant part (66%) of SunPower (NASDAQ:SPWR). The company announced very positive 2013 results with revenues increasing by 4.2% to $2.5b and net income jumping to 33.5m from $-352m in 2012. Total, which didn't sell its stake when times were tough for SunPower, should finally benefit from its investment in coming years.
Total is a must have for any long-term portfolio
Total S.A. has developed an interesting dividend policy over the last few years along with a strong relationship with its individual shareholders.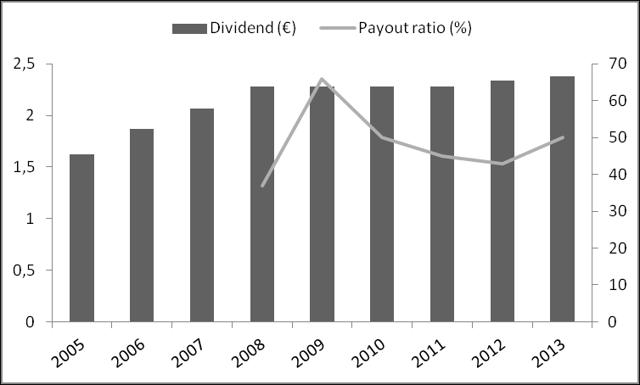 Source: Total
The payout ratio remains high at 50% in 2013 and dividends have increased over the last 25 years. Total S.A. also was the first French company to start distributing dividends quarterly.
The dividend for 2013 was 2.38€, which accounts for a 4.7% dividend yield. It should increase by 2.5% to €2.44 in 2014, according to analysts.
I believe Total S.A. is one of the French companies to offer the best combination of results, growth perspectives and dividend policy.
Disclosure: The author is long TOT. The author wrote this article themselves, and it expresses their own opinions. The author is not receiving compensation for it (other than from Seeking Alpha). The author has no business relationship with any company whose stock is mentioned in this article.