"The healthiest competition occurs when average people win by putting above average effort." Colin Powell.
In a world of giants and incumbents, it is rare to see a small, persecuted, and out-resourced company defy analysts, beat the odds, and thrive. The giants include the likes of Coca-Cola (NYSE:KO), Pepsi (NYSE:PEP), and Dr Pepper Snapple (NYSE:DPS), who are entrenched into the lifestyles of billions around the world.
The relatively small SodaStream (NASDAQ:SODA) launched its campaign to transform the soda market all the way back in the early 20th century. For awhile, it seemed as though SodaStream could be a game changer, take away share from the major beverage producers, and make billions for the company. It began to work, and then others took notice.
As I have previously written, the emergence of "home soda makers" by larger companies validates SodaStream's idea, and in fact might prove to have a positive impact on the company as a whole. It has been a bumpy journey though, and many investors have recently ditched SodaStream with a flood of negative press.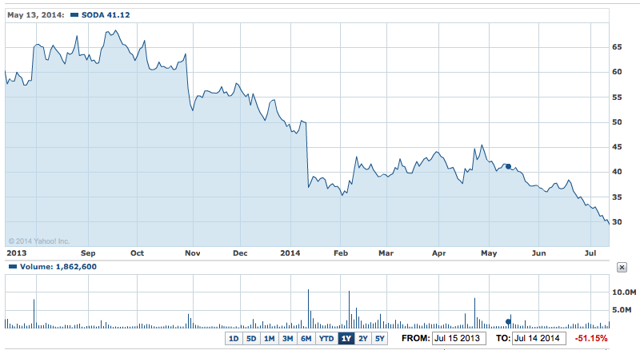 However, investors are forgetting the years of innovation that supports SodaStream - and while they might only be average in the face of giants, they have the work ethic and ability to find a way back to its previous highs.
The Drop Off
As SodaStream began to reach unexpected bumps half a year ago, the company quickly entered a downward trend and has not been able to pull back since. The idea of SodaStream taking over the world (let alone America) has all but been destroyed, and investors are still scrambling to value what's left.
The drop off represents the uncertainty among analysts and investors alike, which is perhaps why it is such a good time to buy into a SodaStream "recovery".
A boycott against SodaStream, whose factory (one of twenty) is on "disputed" occupied territory, has posed an unseen threat to the small company. The boycott has accelerated rapidly since 2011, and continues to take center stage as protestors try to help the Palestinians reach a settlement with Israel.
There is reason, though, to believe that the boycott is to be resolved soon. If there isn't a resolution soon between the Israelis and the Palestinians, which there should be due to the rising tensions (often followed by peace talks), SodaStream could shift its manufacturing to another factory in order to stop the boycott and bad press.
But, the main issue that investors see in SodaStream is competition. SodaStream is an "average" company with no major assets, competing against a Keurig (formerly Green Mountain) (NASDAQ:GMCR) and Coca-Cola powerhouse. The device, dubbed Keurig Cold, is a possible giant in the industry due to its support network.
SodaStream's years of work leaves it with four key legacies:
1) An established user base
2) An established and thorough Carbon exchange program
3) The SodaStream brand
4) Its current device and partnerships (for syrup)
Investors can see that a possible Keurig Cold could easily eliminate SodaStream's advantages, first by offering more well known syrups such as Coke and Sprite. Secondly, Keurig's device will not use a carbonation system, making an exchange network unnecessary. Additionally, if boycotts continue, SodaStream's brand image could continue to decrease.
Becoming the new average
However, there is room for hope. It seems as though there are two segments within the "home soda market" emerging. The first is SodaStream's healthy soda "alternative" and the other is Keurig's soda "replacement".
It will be hard for Keurig/Coca-Cola to generate income after the initial sale. The only possible renewable revenue would come from syrup pods, which are likely to be lower margin than SodaStream's. The problem with Keurig's soda replacement is that they're comparing themselves to .50 - $1 cans of Coke and other sodas.
Currently, SodaStream's flavors cost about $6 [and less at Wal-Mart (NYSE:WMT)] for enough syrup for 33 cans, which comes out to 18 cents a "can". The carbonation refills can be exchanged for $15, and each 60L cylinder is enough for 165 cans of soda, or 9 cents a can.
This means SodaStreams total cost per 'can' is 27 cents (23 cents from Wal-Mart), which presents a value proposition to consumers. On the contrary, Keurig is selling its sodas in individual pods, which include both the syrup and a pre-carbonation liquid/powder which will allow it to avoid the carbonation cylinders. In order to be a replacement to a 50 cent can of Coke, Keurig would have to sell its pods at around 40 cents retail.
The problem with Keurig is not the cost of the syrup or mysterious carbonation substance, but rather the individual packaging and the reluctance of US consumers to adopt home soda makers. Being able to profitably sell the pods to consumers will be a challenge. By comparison, SodaStream's 1 use "SodaStream Caps" sell for 87 cents each, which are not competitive to a can of Coke.
SodaStream, through years of effort, has been able to penetrate just 1% of US households. Though Keurig might be a giant in the coffee industry, the industries are completely different. Keurig is trying to offer a quality soda experience within a pod, which worked for coffee which tastes best when freshly brewed, but soda tastes just as good from the corner market. Even if Keurig would take a hit on margins to be able to compete with SodaStream, there still lies another problem ahead.
SodaStream had the foresight to realize that consumers who bought their product weren't looking for a can of Coke - that's what Coke's for. They were looking for a cheap, and healthy, alternative.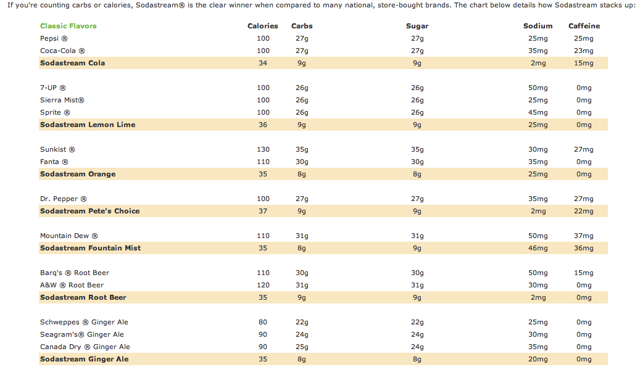 Even if Keurig pods were cheap for consumers, would a twenty cent (if Keurig can pull it off) savings convince consumers to buy the machine and put in the effort of cleaning, setting up, and restocking it? If the consumer bought the machine at $100, they'd have to drink 500 servings of soda just to break even on their money, let alone their effort!
There have been no details released about the Keurig Cold (except the concept), and they have not even released whether their two chamber pods contain liquid syrup or powder. Without the company releasing details, there is no way to tell whether Keurig Cold will be successful. Investors are taking comfort with the fact the device is backed by Coca-Cola, however the soft drink maker has been wrong before (in the home soda market).
What is for sure is that SodaStream consumers opting for a healthy alternative will stay clear of Keurig Cold. Not only will it most likely be an exact replica of regular soda, but the chemical reactions used to carbonate the soda could turn consumers away.
Additionally, more competition is emerging in the form of Sparkling Drink Systems, who is also releasing a carbonation-cylinder free home soda machine this year. It also rumored that the Pepsi Spire may be release for home use in coming years, further crowding the space.
SodaStream is not in a position of trouble though. They offer value to consumers through their wallets and bodies, something none of their competitors are doing. They created the average, and with their continued efforts and stability, they can beat the giants.
Valuation
Take over and merger talks are likely to resume again soon (I see Dr. Pepper Snapple coming into the conversation), probably giving a boost to the stock. However, in its current state, SodaStream is still worth much more than its $617M market cap.
SodaStream currently boasts a strong balance sheet with $336M in shareholder equity and more than $300M in current assets. SodaStream had a terrible Q1, due to its decreasing sales in America. However, Europe and their consumable products remain a hit.
Using SodaStream's current estimates, I project SodaStream to generate $470M in consumable revenue (syrup, CO2 refills, Caps). SodaStream likely has more than a 60% margin on their consumable products, meaning SodaStream is likely to generate more than $250M in gross profit (plus, they have their devices, which will likely generate an additional $174M in revenue). The reason that the $470M is important is because that the revenue comes from existing customers, and would likely not crumble if Keurig Cold became a smash hit.
There are no signs that SodaStream is slowing anywhere besides America, and still represent a strong investment for investors. GMCR currently trades at a 4.3 P/S ratio, and it wouldn't be surprising if SodaStream traded at more than their current 1x forward sales. Once investors realize that it might be a good idea to stick with the established home soda company, which has been embraced in millions of homes, SodaStream can be placed on its track to success.
SodaStream doesn't need to do anything spectacular or risky - they just have to stay with their current path and they could be successful.
Disclosure: The author has no positions in any stocks mentioned, and no plans to initiate any positions within the next 72 hours. The author wrote this article themselves, and it expresses their own opinions. The author is not receiving compensation for it (other than from Seeking Alpha). The author has no business relationship with any company whose stock is mentioned in this article.