By the end of 2014, mobile ad spending will comprise 84% of Twitter's (NYSE:TWTR) revenue, according to eMarketer Chairman Geoff Ramsey. In the U.S., mobile ad spending will exceed $58 billion by 2018, capturing 71% of all digital ads. Although Twitter's user growth has remained sluggish, its ad revenue growth continues to be robust.
TWTR has fallen more than 50% from the top it made earlier this year before it started bouncing back recently. The company's revenues are expected to increase by almost 150% from today's level in the next two years. We believe that the recent correction in the stock offers an excellent investing opportunity for long-term investors.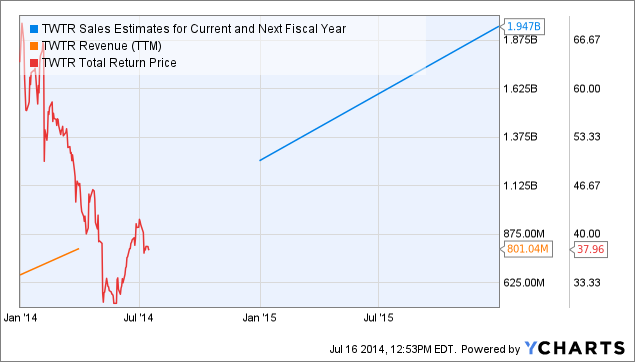 TWTR Sales Estimates for Current and Next Fiscal Year data by YCharts
Why Twitter is a "Buy" Despite Astronomical Valuation
Although Twitter's revenue grew more than 100% in the first quarter of 2014, the company has yet to make a profit. However, the company is expected to deliver an EPS of 26 cents next year. At the current price around $38, TWTR is trading at 144x its forward earnings. Despite this astronomical valuation, we believe that Twitter is worth buying at the current level.
In the past, we have seen such astronomically high P/E ratios for LinkedIn (NYSE:LNKD) and Facebook (NASDAQ:FB), and we have also seen that both companies were able to increase earnings matching with those high P/E ratios. We are optimistic about Twitter and believe that mobile ads will boost its bottom line in order to catch up with today's astronomically high P/E ratio.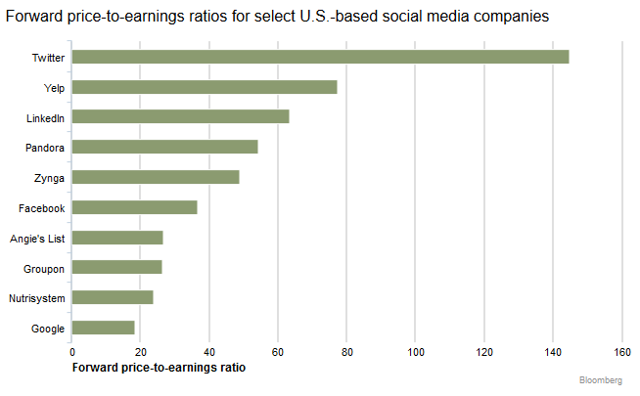 Mobile-App Install Ads to be Hugely Profitable
Twitter's recent release of mobile-app install ads, which appear in its news feed, could be a significant step for the microblogging company in establishing a stronger foothold in the mobile ad space. These ads provide links directly to apps on Apple's (NASDAQ:AAPL) App Store and Google (NASDAQ:GOOGL)(NASDAQ:GOOG) Play.
For Facebook, mobile-app install ads have remained immensely profitable, which Facebook introduced in late 2012. Facebook helped its advertisers target users based on various factors including age, gender and location. Twitter recently announced that it is acquiring TapCommerce, a mobile ad startup company that helps advertisers target users based on historical user activity. We believe that by acquiring TapCommerce, Twitter will be successful in helping advertisers target users. Twitter's vice president of global online sales Richard Alfonsi wrote about the acquisition:
Together with the TapCommerce team, Twitter will be able to offer mobile app marketers more robust capabilities for app re-engagement, tools and managed service solutions for real-time programmatic buying, and better measurement capabilities. Combined with our other ad solutions, advertisers will be able to drive conversions and ROI with mobile consumers on and off of Twitter, across the full user lifecycle - from acquiring new users through app installs, to engaging existing users who already have the advertisers' apps on their device. And if you're an everyday mobile user, we expect this will mean better and more relevant ads in the apps you use.
TV Ad Targeting to Generate Tremendous Sales
Twitter has integrated its platform with TV and frequently runs sponsored video clips connected to live televised events. In order to boost its video content, Twitter wants to create a "second screen" experience. Twitter developed TV ad targeting for this purpose through the acquisition of Bluefin Labs. TV ad targeting is a form of video that identifies someone who tweets about a show from his/her mobile device while watching a TV commercial, which eventually ends up as a digital sales promotion. Video is an integral part of generating ad revenues for Twitter, valued at around $10 billion.
The microblogging company recently revealed that the Germany - Brazil Semi Final in the Soccer World Cup 2014 was tweeted approximately 35.6 million times, breaching the previous record of the Super Bowl's 2014 24.9 million tweets. Such sports events are expected to immensely boost the company's ad revenue from TV ad targeting.
Twitter is Hiring Experts in the Field
Twitter's vice president of global online sales Richard Alfonsi left Google in 2012 to head Twitter's initiatives to target small- and medium-sized businesses. Recently Shailesh Rao and Stephen McIntyre left Google to lead Twitter's Asian and European ad sales initiatives.
Final Words
Competition hasn't yet started to intensify in the mobile space, with the three biggest players - Google, Facebook and Twitter - earning more than 60% of all the money spent on mobile ads in the U.S., said eMarketer Chairman Geoff Ramsey. We feel that TWTR's current price doesn't reflect Twitter's long-term growth potential.
Business relationship disclosure: The article has been written by a BB Research stock analyst. BB Research is not receiving compensation for it (other than from Seeking Alpha). BB Research has no business relationship with any company whose stock is mentioned in this article.
Disclosure: The author has no positions in any stocks mentioned, and no plans to initiate any positions within the next 72 hours. The author wrote this article themselves, and it expresses their own opinions. The author is not receiving compensation for it (other than from Seeking Alpha). The author has no business relationship with any company whose stock is mentioned in this article.