Wal-Mart (NYSE:WMT) is planning to use its own digital media platform for targeting audiences as well as helping suppliers. The company announced last week that the platform, known as the Walmart Exchange or WMX, is currently in beta phase.
Wal-Mart recently organized a meeting with around 200 of its suppliers' marketing executives to discuss how WMX could be used effectively in order to boost sales and cut costs. We believe that WMX will increasingly become an integral part of Wal-Mart's supply chain management. It is also expected to act as the company's own social media platform to lure customers by offering products at meaningful discounts.
How WMX could be Beneficial for Wal-Mart
Although it's not yet clear exactly what form WMX will take, what's certain about WMX is that such a digital media platform will help the big box retailer cut costs significantly. WMX will help the company share data with suppliers to provide relevant information about customers' requirements that can be fulfilled immediately.
Wal-Mart is sitting on huge amounts of customer data, which WMX can use to reach out to customers, or friends of the customers. In order to do this, WMX will rely on the combination of public data from the web, social data and proprietary customer-specific data.
Wal-Mart is Trying to be Customer Driven
WMX is Wal-Mart's play to apply "big data" to marketing, said Wanda Young, Wal-Mart VP-media and digital marketing. She added further:
[I]t involves using Walmart's own trove of data from Walmart.com to store sales to social-media platforms and third-party data. The retailer wants to fill in one of the gaps in that data with its Savings Catcher program designed to get shoppers to input their offline store receipts into their Walmart app, which will generate a database the retailer hopes will rival those of other retailers' loyalty programs.
For being truly customer driven, a retailer should be able to leverage customer behavior in shaping each of its strategic activities, such as product development, marketing, merchandising etc., in order to boost operational efficiency. WMX will help Wal-Mart achieve this, which will result in substantial cost reduction in the long run, boosting profitability on a sustainable basis.
WMX will Help Wal-Mart Become More Competitive
Since most of Wal-Mart's customers use multiple channels to make purchases, the company has multiple access points to tap in valuable insights about each customer. However, in order to exploit the opportunity to the fullest, Wal-Mart needs to have a social networking platform of its own. Such a platform would serve as a medium of idea exchange that will help the company identify potential customers based on behavior, not just demographics.
If the company really introduces a social networking platform, they will be in a position to make customers' shopping experience profitable by providing customer-specific discounts and exchange offers instead of today's product-specific approach, which in turn will make those customers more loyal. With more people interacting with each other on the platform, the company will be able to steal competitors' market share as well.
Conclusion
Wal-Mart's mantra of success in the longer run is to grow revenue steadily, keeping operating margin at a healthy level around 5%. However, it is not an easy job to continue to grow sales while keeping operating margin around 5% for decades.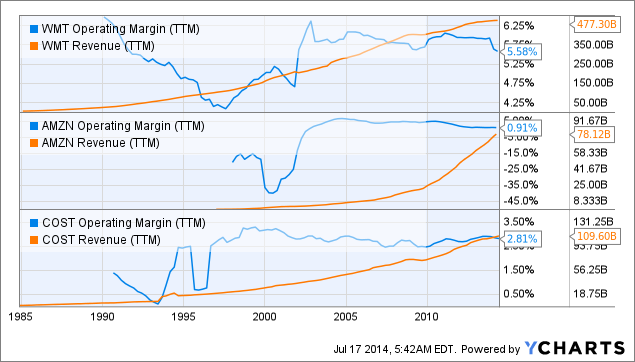 WMT Operating Margin (TTM) data by YCharts
Wal-Mart's competitors, such as Amazon (NASDAQ:AMZN) or Costco (NASDAQ:COST), were also successful in growing revenue steadily in the long run, but they failed to keep their operating margin at an elevated level consistently, like Wal-Mart. We believe that Wal-Mart's introduction of WMX will allow the company not to deviate from its historical goal.
Business relationship disclosure: The article has been written by a BB Research stock analyst. BB Research is not receiving compensation for it (other than from Seeking Alpha). BB Research has no business relationship with any company whose stock is mentioned in this article.
Disclosure: The author has no positions in any stocks mentioned, and no plans to initiate any positions within the next 72 hours. The author wrote this article themselves, and it expresses their own opinions. The author is not receiving compensation for it (other than from Seeking Alpha). The author has no business relationship with any company whose stock is mentioned in this article.