The following is a list of high yield dividend stocks that have seen insider buying over the last few weeks.

To create this list, we started with a universe of stocks with dividend yields higher than 3.0%. We then narrowed down the universe to only focus on stocks that have seen insider buying since August.

To give perspective on investor sentiment, we'll also include data on short float and performance.

Note that most of these stocks are Limited Partnerships (these partnerships may require management to buy in from time to time).

Insider trading data sourced from AOL Money, dividend yield data sourced from Google Finance. Short float and performance data sourced from Finviz.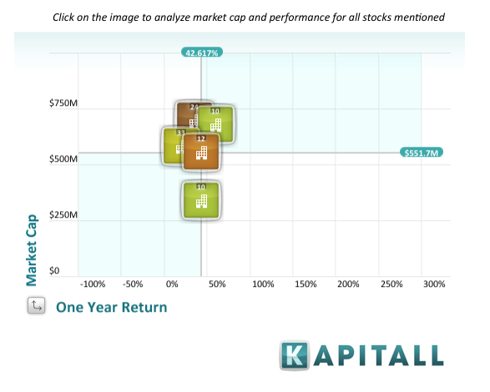 The list has been sorted alphabetically.

1. Calumet Specialty Products Partners LP (NASDAQ:CLMT): Oil & Gas Refining & Marketing Industry. Market cap of $763.81M, offering a dividend yield of 8.5%. Robert Funk (Director) and Ferdinand William Grube (NYSE:CEO) collectively bought $13.725M worth of stock between 8/17 - 8/25. Short float at 0.97%, which implies a short ratio of 1.34 days. The stock has gained 40.49% over the last year.

2. Compass Diversified Holdings (NYSE:CODI): Diversified Investments Industry. Market cap of $694.37M, offering a dividend yield of 8.2%. Various insiders collectively bought about $1.98M worth of stock between 8/4 - 8/19. Short float at 4.34%, which implies a short ratio of 6.5 days. The stock has gained 60.66% over the last year.

3. Martin Midstream Partners LP (NASDAQ:MMLP): Independent Oil & Gas Industry. Market cap of $626.49M, offering a dividend yield of 8.93%. Chris Booth (Officer), Robert Bondurant (Officer), Charles Still (Director), and Joe Averett (Director) collectively bought $50,893 worth of stock between 8/19 - 8/26. Short float at 0.41%, which implies a short ratio of 0.57 days. The stock has gained 30.7% over the last year.

4. PennantPark Investment Corporation (NASDAQ:PNNT): Diversified Investments Industry. Market cap of $346.53M, offering a dividend yield of 9.47%. Arthur Penn (CEO) and Aviv Efrat (NASDAQ:CFO) collectively bought $66,222 worth of stock on 8/12. Short float at 5.49%, which implies a short ratio of 4.56 days. The stock has gained 48.98% over the last year.

5. Vanguard Natural Resources, LLC (NYSE:VNR): Oil & Gas Drilling & Exploration Industry. Market cap of $669.71M, offering a dividend yield of 8.59%. Arcturus Holdings LLC (Director) bought $796,149 worth of stock between 9/8 - 9/10. Short float at 1.15%, which implies a short ratio of 0.95 days. The stock has gained 47.41% over the last year.

Disclosure: No positions