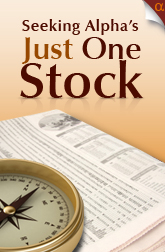 Several times a week, Seeking Alpha's Jason Aycock asks money managers about their single highest-conviction position - what they would own (or short) if they could choose just one stock or ETF.
---
Michael Murphy is founder and managing partner of Rosecliff Capital, a New York-based long/short hedge fund launched this year. He's spent more than 15 years in the securities industry.
If you could only hold one stock position in your portfolio (long or short), what would it be?
One of our top ideas and a stock we feel has significant upside potential is Wabash National Corp. (NYSE:WNC). Headquartered in Lafayette, Ind., Wabash manufactures and markets standard and customized truck trailers and related transportation equipment under the Wabash, DuraPlate, DuraPlateHD, FreightPro, ArcticLite, RoadRailer, Transcraft, Eagle, Eagle II, D-Eagle and Benson trade names. They further manufacture replacement parts and sell used trailers.
WNC stands to benefit from a recovery in the heavy- and medium-duty truck cycle that has already begun. Further, there is an opportunity to gain market share as orders pick up, and they will benefit from positive pricing trends that we expect to unfold in coming quarters.
Tell us more about the company behind the stock.
Heavy-duty and medium-duty truck industry fundamentals are set to turn, as a new truck cycle takes shape in the fourth quarter and into 2011. ACT Research is currently estimating 237K Class 8 truck builds in 2011, up from roughly 150K in 2010 and 118K in 2009. [Class 8 trucks are those over 33,000 pounds, including all tractor trailers.] In conjunction, they estimate trailer shipments to be 116K in 2010, up 46.8% from 79,000 in 2009, with further increases next year to roughly 170K. There is an obvious high correlation between trailers and Class 8 trucks. The increase in demand for trucks is being driven by two primary factors.
One is the anticipation of a continued (albeit slow) economic recovery as we head into 2011. This is being supported by recent economic data as the ISM Manufacturing Index has remained above 50 since August 2009, Industrial Production has increased month over month for 10 of the past 12 months, and GDP has remained positive for the past four quarters. In August, ACT reported that net orders for trailers were 10,946, up 55% year-over-year and up 2% month-over-month, and total trailer backlog increased 79% year-over-year.
And the other factor?
The other (and potentially more important) factor is the replacement cycle. The average age of trucks traveling America's highways is about 6.7 years, and a typical replacement cycle occurs after four years. During a replacement cycle, roughly 225K trucks are delivered and the trucks that require replacement need trailers attached to them. Much like trucks, the average age of dry and refrigerated vans has continued to increase and currently approximates 8.5 years. A typical trailer replacement cycle occurs after trailers are 6.5 years old.
The trailer replacement cycle is driven by wear due to weather and refrigerated units having lower effectiveness in terms of insulation. Currently, trailer backlogs for the industry have grown to roughly 4.9 months and trailer cancellation rates are some of the lowest on record.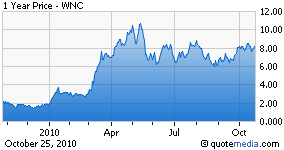 Channel checks indicate that used truck pricing is stable and trending higher. Management has stated that carriers continue to see improvements in demand, and quoting activity has been on the rise. Orders, which typically decline in the second quarter on a sequential basis (due to seasonality) rose in Q2 this year as their $377 million backlog was up 194.5% year over year and 27.8% month over month. During the third quarter production was ramped up and the company is positioned well for the expected orders that seasonally come in November and December.
WNC recently received a three-year order from Swift for new DuraPlate HD dry vans that calls for 3,100 units in the first year (2,500 to be built this year). In April, they secured an order with Prime that calls for 4,000 ArcticLite reefer [refrigerated] van trailers over 34 months (750 to be built in 2010). The increase in demand that WNC is seeing will result in price increases in 2011.
Not only will the company benefit from an improvement in the Class 8 truck market, but it will benefit from significant operational measures recently taken:
WNC slowed production to better align with demand, extended normal shutdown periods, reduced salaries by 40% since 2006 and reduced headcount (reductions and adjustments exceeding 70% of the hourly workforce).

It suspended the 401(k) matching contribution and suspended the dividend.

It developed an operational excellence strategy which will aid margins moving forward and result in $5.8 million in annual savings. The strategy is based on lean product standardization (thereby reducing part design variability by 50%) and lean manufacturing. Further, they have consolidated material warehousing to one location and eliminated 153 fork miles per shift. They further closed and sold an Anna, Ill., manufacturing facility and opened a new facility in Cadiz, Ky., that will ramp production in Q2.
The actions taken will save $35 million, and over 50% of the cost cuts are permanent. This is partially what led to the near-breakeven EBITDA results in the second quarter, and will lead to margin improvement going forward (gross margin in Q2 was 3.5% vs. -6.1% the prior year), and positive earnings in 2011 after three years of losses.
Moreover, the Retail and Distribution segment of the Company (21.4% of revenue) sells new trailers to smaller customers through 11 company-owned retail outlets, replacement parts and accessories, and used trailers, and provides upside for the company:
It increases the visibility of Wabash among small and medium-sized carriers, which are harder to sell to using a centralized sales force.

The average purchase price of a trailer or replacement part sold increases because discounts that are given to large fleets buying at wholesale are eradicated.

The company's replacement parts and servicing presence are higher operating-margin opportunities.

The ability to resell used equipment promotes new sales by permitting trade-in allowances, which offsets some of the new purchase cost.
How does your choice of Wabash reflect your fund's investment approach?
At Rosecliff Capital, we seek to identify capital appreciation through detailed fundamental analysis as we assess risk, gauge sentiment and identify securities with the most attractive risk/reward characteristics. We seek large returns in either large, mid or small-cap stocks whose underlying story or industry is underappreciated (or overappreciated) by the market, leading to valuation discrepancies with our internally derived estimates.
Our investment strategy is based upon a rigorous evaluation methodology that seeks to isolate the most compelling investment opportunities. We primarily utilize fundamental analysis with regard to equity investments in companies of varying geographies and market capitalizations to isolate those which we believe have the greatest potential for capital appreciation. In our analysis we obtain a thorough understanding of the business of the company, profit drivers, margin opportunities, pricing trends, market share, competitors and the overall financial health of the company.
We further make it a point to discuss the target company's prospects with management. A detailed analysis as to where consensus estimates are is then undertaken and those estimates are compared to our internally derived expectations. Upon studying the industry a company is in, and gaining insight into leading indicators, end markets, and important macro economic data points, we enter into a position, if appropriate. This is done with the intention of diversifying our portfolio in a risk-adjusted manner and carefully balancing longs, shorts and hedges.
WNC fits squarely within our strategy. At present, we feel the company is not being given credit for the imminent turn in one of this economy's earliest-cycle industries - trucks. As orders increase and the company returns to profitability we feel it has only begun to unlock its potential. We feel that Street estimates are on the conservative side and do not account for the market-share opportunities the company has in front of it. We expect a strong improvement in margins going forward, based on a sound underlying business with high barriers to entry.
Can you talk a bit more about the sector? How much is your selection based on the company's industry, as opposed to a pure bottom-up pick?
As mentioned, we feel the industry is at an inflection point, though the name is an inherent bottom-up pick. Wabash has taken significant steps to right-size the business and eliminate unnecessary costs. This will lead to significant leverage on the margin as we head into next year. Market-share gains will continue moving forward as well, and the company will get improved pricing as new contracts are negotiated for next year.
Further (and unappreciated by the Street), a major overhang for the stock has recently been eliminated. On July 17, 2009, Wabash entered into a Security Purchase Agreement with Trailer Investments, whereby Trailer purchased in aggregate 35,000 preferred shares at an average dividend of 16% for $35 million. They further received a warrant exercisable at $0.01/share for 24.8 million shares, representing 44.2% of issued and outstanding shares. In mid-September, Trailer investments sold the remaining 9.348 million shares they owned, completely eliminating the private-equity company's position in WNC and freeing up WNC to move forward with its strategic initiatives. Further, the liquidation by Trailer eliminated outstanding high-cost preferred stock and has resulted in increased liquidity for the company.
Moreover, WNC will benefit from federal income tax net operating loss carryforwards of $184 million, which expire in 2022 if unused, though there are limitations as to how much can be taken in any one year (these limits will not come into play until after 2012 at the earliest). The balance sheet continues to improve with a net debt-to-cap ratio of 25.2% and $6.8 million of cash.
How is Wabash positioned with regard to competitors?
Wabash is the only publicly traded trailer OEM. It had a 15.4% market share for total trailer shipments at the end of 2009. This was down from 22.3% in 2008 and 21.1% in 2007. Further, their market share for van trailers in 2009 was 21%, down nine percentage points from 2008 levels. However, this decline was due to larger declines in the dry van market compared to the refrigerated trailer market due to the recession, and market-share gains are expected to increase as dry van trailer volumes recover.
We expect market-share gains to pick up in the coming quarters and feel this has already begun to take place. In Q2 the company's market share was 19.6% vs. 16.4% the previous year. WNC deliveries increased by 2,200 units year-over-year and according to ACT the industry delivered 27,487 trailers (12,663 dry vans and 7,021 reefers = 19,684 vans, with the rest being flatbeds and other products), up by 7,956 units. Thus, the company received a 27.7% market share on incremental industry deliveries. We expect these trends to continue.
While Wabash's main competitors are Great Dane and Utility - who, combined with WNC, account for 56% of the market - there are high barriers to entry in the industry and increased competition is not a primary concern.
How does the stock's valuation compare to its competitors?
The stock does not have any true competitor for valuation purposes as it is the only publicly traded trailer OEM. It historically has traded at 4x-16x EV/EBITDA and is currently at 6.2x our 2012 estimates (next year will be the first year of profitability since 2007).
Does your view differ from the consensus sentiment on Wabash stock?
Current sentiment on the stock seems to be warming as the aforementioned private-equity company involved in the stock has sold their position. Our view does in fact differ from consensus in that we assume greater market-share opportunities and a healthy margin increase, though the company is not widely followed by the Street.
Does Wabash's management play a role in your selection? And how?
Management does play a role in our selection and we have had detailed conversations with senior management regarding the company. We only invest in companies with industry leaders at the helm and this applies to Wabash, as we are confident in management's experience in the trailer market and ability to implement strategic initiatives.
What catalysts, near-term or long-term, could move the stock significantly?
An economic recovery could and will significantly move the stock, but in the near term we expect order trends to be strong, especially as we approach the fourth quarter, a seasonally strong time for orders. Increases in ACT truck and trailer data will move the stock higher as well, as will increased freight volumes reported by trucking companies. A stronger-than-expected holiday season would further help the stock.
Short interest seems significant at 12% of float; do you think this is more a symptom of the stock's run up over the past year? Or is there anything in accounting and governance to be concerned about?
Short interest is high in part due to the run-up over the past year, but it is further due to the volatile nature of the stock. There is nothing in accounting or governance to be concerned about.
What could go wrong with your pick?
In the near term, we feel that the seasonality of orders and its effect on backlog is not fully understood by the street, and a sequential decline in the third quarter would be viewed negatively. [The company reports Q3 earnings next Tuesday at the close.] If this were to occur we believe an excellent opportunity in the name will present itself as orders historically decline in Q3 from Q2. Inquiries and quoting activity have been very strong and the Q4 order and backlog numbers will reflect those strong trends, leading to higher earnings in 2011.
Further, a double-dip recession or significant increased economic strain (which we view as unlikely at this point in time) would be an obvious impediment to share price gains.
Moreover, replacement demand for trailers is more discretionary than Class 8 vehicles. For Class 8 vehicles, once the mileage hits 500,000, the engine's warranty might expire, maintenance costs often increase and the risk of breakdown on the road increases. This can result in loss of revenue. For a trailer it is easier to push the cycle out another year. However, cycles are pushed out as it is, and will lead to the replacement cycle mentioned above.
Thanks, Michael, for sharing your choice with us.
Disclosure: Rosecliff Capital is long WNC.
Read more Just One Stock interviews »
If you are a fund manager and interested in doing an interview with us on just one stock or ETF position you'd hold, please email Rebecca Barnett.