[Originally published on 7/1/2014]
It's probably a good thing that we don't get a fourth look at GDP growth for the first quarter, because the third and final reading released last week was downright abysmal.
Weather was largely to blame as the so called "polar vortex" disrupted swaths of economic activity which plunged the recovery into a deep freeze during the first three months of the year.
But could bad weather actually be the major reason that caused the economy to contract by 2.9 percent – the worst annualized rate of growth in five years?
I mean we've seen real GDP growth expand in the past 11 consecutive quarters since the recession ended in 2009.
And bam… the economy all of a sudden shrinks by a whopping 2.9 percent!
Larger Picture...
To put it into perspective, we haven't seen such a strong rate of quarterly contraction in a non-recession economy in over five decades.
Yet the market completely shrugged off the results with the major indices actually finishing the session higher and within a whisker of all-time record highs.
The economy shrinks the most in five years…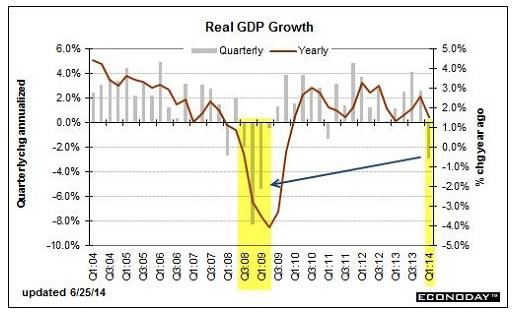 Now we all know that the market is essentially a discounting mechanism and because the first quarter is behind us, what really matters is what lies ahead.
So maybe Mr. Market is okay with the weather disruption excuse and is otherwise looking for growth to reaccelerate.
We just closed the books on the second quarter and we'll get the advance reading on GDP growth on July 30. Most economists are expecting growth to rebound with an annualized growth rate or around 3 to 3.5 percent.
And if that's the case – big whoop – because what that really means is that when you put both quarters together, the economy basically grew by less than one percent through the first half of 2014.
Maybe, we see growth continuing to expand by three percent or higher over the next couple of quarters. But with many signs of sluggish growth afflicting the entire global economy, I wouldn't place a high probability on that scenario.
New Record Highs
Why does the S&P 500 continue to hit new record highs?
The large-cap index recently made its 22nd record close of the year and now looks to set its sights on yet another historic milestone.
S&P 500 pushing towards 2000…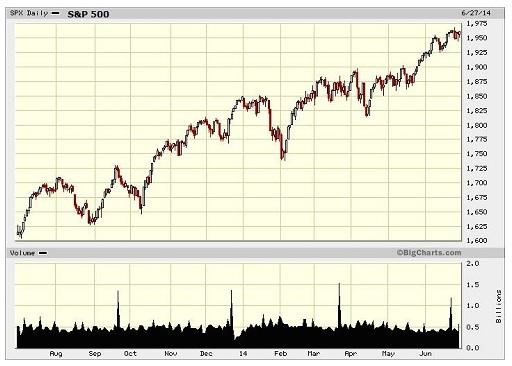 I think that the answer really lies in the direction of corporate profits.
And they continue to rise.
It's almost hard to believe how gross domestic product – the broadest measure of economic activity – could contract by 2.9 percent, yet corporate profit margins otherwise expanded in the same period.
You see, not only did we get the final revision to GDP, but we also got the final revision for Q1 corporate profits.
And guess what?
Companies actually managed to earn all-time record profits in the first quarter!
Corporate profits rise 6.8 percent (year over year)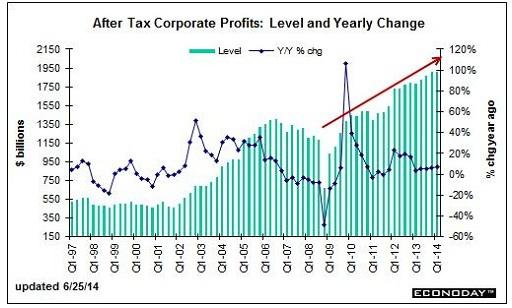 We'll soon be entering earnings season once again and S&P 500 profits are expected to reaccelerate from a lackluster first quarter.
Companies have been struggling to grow top-line revenues for many quarters, but management continues to find ways to grow bottom-line earnings.
Cost cutting, higher productivity and a tight grip on allocating human resources (labor) have helped maximize profits.
Strategic Financial Engineering
But probably the biggest thing that's helped keep the profit engine revving has been financial engineering. Companies are loaded with cash and they're using it aggressively to return cash back to shareholders in the form of stock repurchase programs.
You see, buying back stock or retiring a portion of the equity shares outstanding is directly accretive to earnings per share – and that means higher profits margins.
Take Monsanto Company (NYSE:MON) for example.
The company recently announced a massive $10 billion stock repurchase program over the next few years. That represents about 15% of the entire market capitalization of the corporation. By significantly reducing the share count, the repurchase is extremely positive to the bottom-line and as a result, the stock price soared on the news.
Monsanto Company is using its cash and debt to boost profit margins…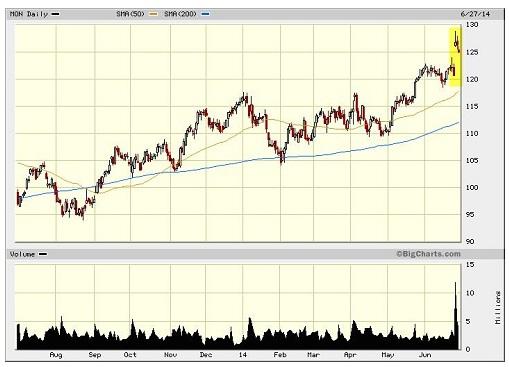 The bottom line is that we don't need to see robust economic growth for the market to continue moving higher.
What is needed is continued profit margin expansion and until that train leaves the station, the market is likely to keep on steaming higher.
Disclosure: None