[Originally published on 6/26/2014]
Ever since gold prices peaked around $1900 an ounce three years ago, holding gold and gold related securities has been an utter disappointment.
There are many reasons why investors are attracted to the precious metal. The biggest one, of course, is that gold historically has served as a store of value and a hedge against inflation and dilution of fiat currency.
And the big run-up to $1900 was largely fueled by the Fed's response to the credit crisis and the great recession. The central bank slashed interest rates to ZERO and began printing trillions of dollars of reserves that, in turn, flooded the banking system with massive amounts of liquidity.
It was the perfect scenario for rising gold prices.
Indeed, gold responded as one of the best performing asset classes in the three year surge leading to its peak in August of 2011.
But while the great run to $1900 an ounce was largely fueled by the Fed, the yellow metal got an extra boost by – you guessed it – the thundering herd.
That's right! During the summer of 2011, gold went parabolic as prices soared $300 an ounce in a three-month span.
Once again, the crowd got caught excessively bullish just when the bubble burst in the gold market.
And since gold peaked three years ago, it's otherwise been in a protracted bearish trend which all but sapped whatever enthusiasm was left from those who were badly burned.
Brighter Future For Gold?
But I have to tell you, once the froth and exuberance cleared away, gold prices have been in the process of forming a significant floor of technical support to just under $1200 an ounce.
And recently, gold prices have been showing relative strength. With gold trading near $1320 an ounce, it has broken near-term resistance and currently trades above key price points such as the 50-day and 200-day moving averages.
Gold is also up nearly 10% year-to-date, about four percentage points higher than the S&P 500.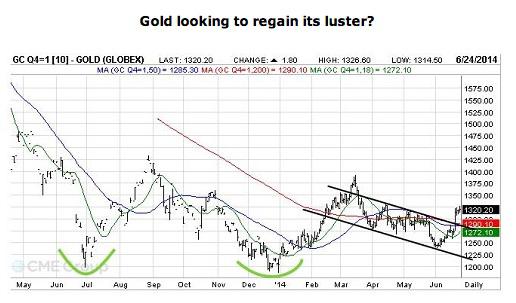 Why Gold May Continue Higher
The great conundrum over the past couple of years has been the lack of inflationary pressures in the economy when the Fed's been aggressively stimulating with several rounds of quantitative easing. The Fed's balance sheet has grown to nearly $4.5 trillion through its bond purchase program, yet the rate of inflation has been running below its two percent goal for months on end.
But that may soon change, sending gold prices much higher in the medium to longer-term.
You see, the consumer price index for May released last week showed that inflation increased at the fastest monthly rate in more than a year. The CPI also showed that prices on a year-to-year basis are up 2.1 percent which is the highest annual level since the fall of 2012.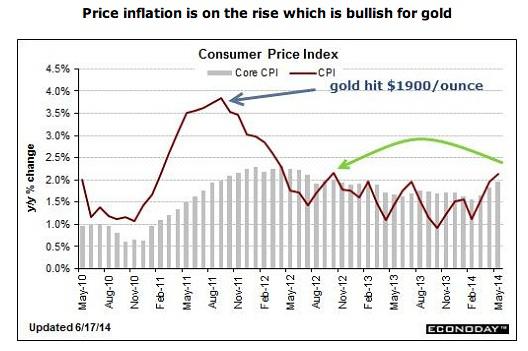 Also last week, the Fed released its latest policy statement. And in it, the Fed doesn't seem all too worried that inflation is going to overshoot its target anytime soon.
"Inflation has been running below the Committee's longer-run objective, but longer-term inflation expectations have remained stable."
When Fed Chair Yellen was asked about the consumer price index running hotter than expected in the May report during her live press conference, she all but dismissed the threat of inflation, calling the recent data "noisy".
But you know what else was noisy?
Gold prices went screaming higher not too long after the Fed Chair's comments. The metal popped over $41 an ounce in less than 24 hours, the biggest one day move in six months.
Either the gold market doesn't believe the Fed's thinking or perhaps it's picking up on the fact that the committee will find itself way behind the curve when it actually comes time to tighten policy and cool down prices when they overheat. Both scenarios are bullish for gold.
The Fed has also acknowledged the fact that it would tolerate prices rising above its inflation target for a little longer than normal to ensure the recovery takes firm hold.
It's been a sluggish recovery and after coming out of the first quarter of negative growth, the economy is setting up for a sharp rebound in growth and potentially a spike in inflation to go along with it.
Time To Get Bullish On Gold Again?
Having some exposure to precious metals in an investment portfolio should be considered. The question of how much of your assets to allocate is determined by your individual risk tolerance and preference.
But what I can suggest is that now may be a good time to build bullish positions that are levered to the prospect of rising gold prices over the longer term.
And right now, the gold miners look the most compelling and could offer tremendous upside. They've been out of favor and are priced with extreme pessimism which has created a very favorable risk versus reward opportunity.
You can target individual miners if you happen to be a savvy stock picker, or you could take a more balanced approach and buy a basket of gold miners through an exchange traded fund such as the Market Vectors Gold Miners ETF (NYSEARCA:GDX).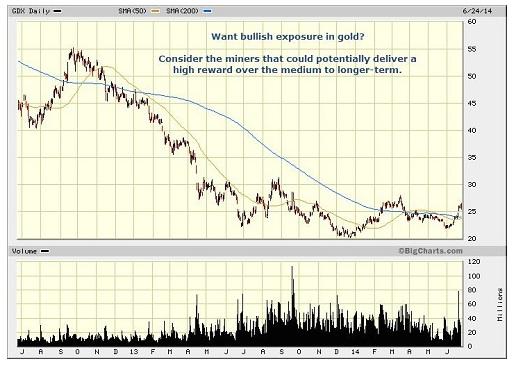 Disclosure: None