The last time I wrote about General Motors Company (NYSE:GM) I stated, "I'm not buying any additional positions as of today." Since writing the article, the stock has increased 4.13% versus the 1.12% gain the S&P 500 (NYSEARCA:SPY) posted. It's safe to say that I missed out on a great move up. GM designs, builds and sells cars, trucks and automobile parts globally.
On April 24, 2014, the company reported first-quarter earnings of $0.29 per share, which beat the consensus of analysts' estimates by $0.08. In the past year, the company's stock is up 1.92% excluding dividends (up 3.63% including dividends) and is losing to the S&P 500, which has gained 16.53% in the same time frame. Since initiating my position back on February 25, 2014, I'm up 4.44% inclusive of reinvested dividends and dollar cost averaging. With all this in mind, I'd like to take a moment to evaluate the stock to see if right now is a good time to purchase more for the consumer goods sector of my dividend portfolio.
Fundamentals
The company currently trades at a trailing 12-month P/E ratio of 19.95, which is fairly priced, but I mainly like to purchase a stock based on where the company is going in the future as opposed to what it has done in the past. On that note, the 1-year forward-looking P/E ratio of 7.88 is currently inexpensively priced for the future in terms of the right here, right now. Next year's estimated earnings are $4.71 per share and I'd consider the stock inexpensive until about $71. The 1-year PEG ratio (0.37), which measures the ratio of the price you're currently paying for the trailing 12-month earnings on the stock while dividing it by the earnings growth of the company for a specified amount of time (I like looking at a 1-year horizon), tells me that the company is inexpensively priced based on a 1-year EPS growth rate of 53.94%. The company has great near-term future earnings growth potential with a projected EPS growth rate of 53.94%. In addition, the company has great long-term future earnings growth potential with a projected EPS growth rate of 21.93%. Below is a comparison table of the fundamental metrics for the company for when I wrote all articles pertaining to the company.
| | | | | | | | |
| --- | --- | --- | --- | --- | --- | --- | --- |
| Article Date | Price ($) | TTM P/E | Fwd P/E | EPS Next YR ($) | Target Price ($) | PEG | EPS next YR (%) |
| 15Apr14 | 32.55 | 13.68 | 6.70 | 4.86 | 72 | 0.38 | 35.88 |
| 14May14 | 34.94 | 18.78 | 7.34 | 4.76 | 71 | 0.38 | 49.76 |
| 16Jun14 | 35.85 | 19.16 | 7.51 | 4.75 | 71 | 0.37 | 52.33 |
| 17Jul14 | 37.10 | 19.95 | 7.88 | 4.71 | 71 | 0.37 | 53.94 |
Financials
On a financial basis, the things I look for are the dividend payouts, return on assets, equity and investment. The company pays a dividend of 3.23% with a payout ratio of 65% of trailing 12-month earnings while sporting return on assets, equity and investment values of 4%, 19.9% and 3.7%, respectively, which are all respectable values. Because I believe the market may get a bit choppy here and would like a safety play, I believe the 3.23% yield of this company is good enough for me to take shelter in for the time being. Below is a comparison table of the financial metrics for when I wrote all articles pertaining to the company.
| | | | | | |
| --- | --- | --- | --- | --- | --- |
| Article Date | Yield (%) | Payout TTM (%) | ROA (%) | ROE (%) | ROI (%) |
| 15Apr14 | 3.69 | 50 | 4.7 | 24.6 | 3.7 |
| 14May14 | 3.43 | 65 | 4.0 | 19.9 | 3.7 |
| 16Jun14 | 3.37 | 65 | 4.0 | 19.9 | 3.7 |
| 17Jul14 | 3.23 | 65 | 4.0 | 19.9 | 3.7 |
Technicals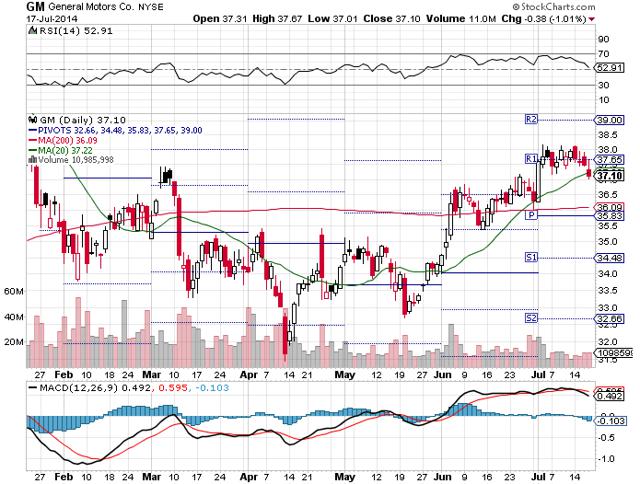 Click to enlarge
Looking first at the relative strength index chart [RSI] at the top, I see the stock muddling around in middle-ground territory with downward trajectory and a current value of 52.91. I will look at the moving average convergence-divergence [MACD] chart next. I see that the black line is below the red line with the divergence bars decreasing in height. As for the stock price itself ($37.10), I'm looking at $37.65 to act as resistance and the 200-day simple moving average (currently $36.09) to act as support for a risk/reward ratio, which plays out to be -2.72% to 1.48%.
Barron's Agrees With Me On Fundamentals
The financial weekly said that GM's stock is at rock bottom prices and that shares could increase by almost 30%. The article was written on the 15th of this month, so if we assume the closing price of $37.58 at the time, a 30% increase calls for a price of $48.85. I totally believe that increase can happen, but you have to look beyond the terrible headlines from the past couple of months. Month after month we continue to see that despite the recalls, consumers continue to flock to the showrooms and purchase the new vehicles as GM sales continue to increase. It's not just here in American, but Europe has also seen nine months of straight growth. Yes this year has been tough, but as I said you have to look beyond the recent headlines and look towards the future. Yes the company will write down costs, but those are onetime costs (at least I hope). Yes the 2015 estimated earnings continue to decrease as I've shown in the fundamentals table above, but at 7.88 times next year's earnings, I believe this stock is still inexpensive.
The company announced that it sold 2.5 million vehicles in the second quarter alone! That number is up 0.5% from last year. For the entire first half of the year, the company's sales were up 1.4% from last year, accounting for 4.9 million vehicles. On a year to year basis China sales increased 10.5%, US increased 2.5%, UK increased 3.7%, but Brazil was a drag by dropping 8.6%. You know what, it's also the high end cars which are leading the charge as well. Cadillac sales increased 11.7%, Buick increased 12.3%, while Chevrolet dropped 5.2%. Off these numbers alone I'd expect gross margins to increase when the company reports earnings next week.
Continued Pressure From Capitol Hill
The company was slated to give testimony to a Senate hearing today on why they didn't recall their vehicles earlier than they did. The company has already signed off on wrongful death payments involving deaths in accidents where the airbag didn't deploy dating back to 2007. The company has let go of the staff involved with these mistakes and rest assured there is a lesson to be learned from all of this. As an engineer, when you are designing something, you must ALWAYS ask yourself (and others involved in the design), "What bad thing can come of this?" before you implement an idea.
Conclusion
So as you can see, all the headlines at home are not really affecting sales abroad, and there is no doubt that this is a global company. Fundamentally, I believe the stock to be inexpensively valued on next year's earnings estimates and on earnings growth expectations while sporting great near- and long-term earnings growth expectations, however, 2015 earnings estimates have been dropping the past couple of months. Financially, the dividend is pretty big but I doubt it has much room to grow in the future. On a technical basis the stock seems to be experiencing bearish momentum, decreasing relative strength, and a not so good risk/reward ratio right now. I like the stock but I think it could pull back in the near future.
Because I swapped out Kraft (NASDAQ:KRFT) for GM in my dividend portfolio, it is only fair that I provide an update from the swap-out date. From February 25, 2014, GM is up 1.5% while Kraft is up 7.33%, and the S&P 500 is up 5.98%. As of now it looks like I'm losing on this trade but I'm in it for the long haul.

Click to enlarge
Disclaimer: This article is meant to serve as a journal for myself as to the rationale of why I bought/sold this stock when I look back on it in the future. These are only my personal opinions and you should do your own homework. Only you are responsible for what you trade and happy investing!
Disclosure: The author is long GM, SPY. The author wrote this article themselves, and it expresses their own opinions. The author is not receiving compensation for it (other than from Seeking Alpha). The author has no business relationship with any company whose stock is mentioned in this article.