Looking for high yield dividend growth? In our recent articles, we've covered several relatively new LP's, which have good prospects for sustaining and growing their distributions.
We just added another relatively new stock, New Source Energy Partners LP, (NSLP), to our High Dividend Stocks By Sector Tables, due to its 9%-plus dividend yield, and its bright future prospects for growing its distributions.
Oklahoma-based NSLP went public in February 2013, and is engaged in the acquisition and development of oil and natural gas properties in the United States. It operates as a subsidiary of New Source Energy LLC, which is controlled by David Chernicky, NSLP's largest shareholder.
NSLP should benefit greatly from the expertise of New Source LLC, which has completed and produced successfully from 98% of the wells it has drilled in Oklahoma's Hunton Formation since 1999.
In addition to making 6 accretive Exploration & Production acquisitions since its February 2013 IPO, NSLP also added an Oilfield Services division in Q4 2013, which has already ramped up its revenues, (up 50%), and EBITDA, (up 39%), in Q1 2014:

NSLP's Oil Field Services division specializes in "the pressure control platform and full service well testing and flowback services, in addition to renting critical equipment needed for well completion".
With US drilling growth booming, field services and completion spending will also see strong demand in the near and distant future, and expenditures are expected to top $2 trillion over the next decade: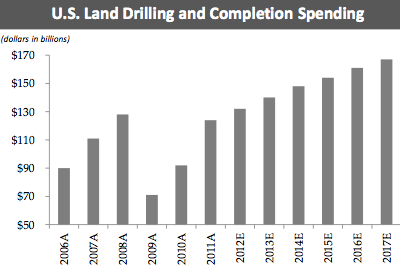 (Source: NSLP website)
Dividends/Distributions: NSLP has increased its quarterly distribution 3 times since its IPO, and is already 10% above its targeted minimum distribution. It should be going ex-dividend soon:

Strong Future Growth Expected: But, there should be even more distribution growth ahead. Here's how- in its June 2014 investor presentation, NSLP shows a major ramp up in Revenue and EBITDA for the 2nd half of 2014, due to more expected contributions from its new Services division. Indeed, the company announced on June 26. 2014 that it had acquired 2 Oklahoma-based services companies - Erick Flowback Services, and Rod's Production Services.
The table below compares NSLP's Services division EBITDA and Revenue forecast for the 2nd half of 2014, to NSLP's actual figures for the 2nd half of 2013. As you can see, the Services division's expected $76M is almost 3x what NSLP's E&P division achieved in the 2nd half of 2013. (We deducted the $3.74M in revenue that NSLP's new Oilfield Services division generated in Q4 2013.)
Even if the E&P division has flat performance, NSLP's revenue and EBITDA growth should be huge, and result in more distribution increases: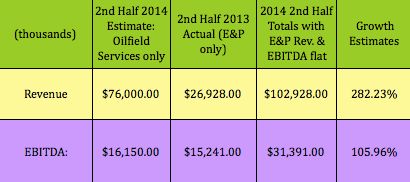 With the aforementioned 39% increase in Q1 2014, NSLP's Distributable Cash Flow jumped 32%, to $7.4M.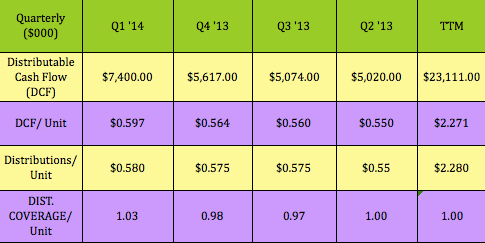 On the production side, NSLP has ramped up its Boe/day significantly over the past several quarters- NSLP'S Q4 2013 production was 4,019 Boe/day, 14% over Q2 2013. The company ramped up to 4,566 Boe/day in Q1 2014, a 13.61% increase over Q4 2013. They're projecting 4,700/Boe/day for the 2nd half of 2014, and 4,800 Boe/day for 2015.
Options: We haven't added NSLP to our Covered Calls Table, or to our Cash Secured Puts Table, as there are no options available yet.
Valuations: NSLP looks undervalued on a trailing PE basis, but not on a Price/Sales or Price/Book basis. However, if it gets anywhere near its 2nd half forecast, its Price/Sales ratio should come down, unless, of course, the stock price takes off.

This stock has had good support from the market since its IPO, year-to-date, and over the past month:

Financials: NSLP's Management Efficiency ratios are superior to industry averages. It recently issued more shares, which it used to pay down debt, 97% of which doesn't come due until 2017.

All tables furnished by DoubleDividendStocks.com, unless otherwise noted.
Disclaimer: This article was written for informational purposes only.
Disclosure: The author is long NSLP. The author wrote this article themselves, and it expresses their own opinions. The author is not receiving compensation for it (other than from Seeking Alpha). The author has no business relationship with any company whose stock is mentioned in this article.