Salesforce.com (NYSE:CRM) is trying to position itself to benefit from the cloud computing movement, and the market has rewarded its efforts thus far. However, it is now difficult to justify the valuation on CRM's shares, even if one makes exceedingly optimistic assumptions about the company's future.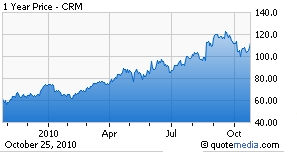 There are two key flaws in the bull case on CRM. The first is that there is little scalability in CRM's operating model. The second is that the company operates in a competitive industry that will only get more so. To justify a valuation like the one presently on CRM shares, a company needs rapidly increasing sales, an operating model to push sales growth through to the bottom line, and some competitive advantage to allow the company to capitalize on its strengths free of major threats.
CRM certainly has rapidly increasing sales. In the first half of its fiscal 2011 (the company's fiscal year ends on January 31), its sales increased 24.2%. Extrapolating this growth out to all of fiscal '11, CRM should do about $1.6B+ in sales. However, during this period, the company's operating income increased a comparatively paltry 5%, to $62.7M from $59.6M. The lack of scalability comes from how CRM must compensate its staff to drive its growth. Much of the pay to Salesforce.com's sales force is commission-based. Thus, the company's marketing and sales line item must increase at least as rapidly as its sales (in proportion thereto). Add to the scalability problem the fact that some of the tech big boys will likely enter CRM's space, and the growth story becomes much cloudier than most presently think it to be.
The short case for CRM becomes much more compelling when we take the issues outlined above in concert with the valuation on the shares. Let's assume for a moment that the company doesn't face any scalability problems/competitive headwinds. Let's also assume that the company doubles its sales (to $3.2B) in the next few years and drives significant expansion in its operating margin (from around 8% to around 18%) during the same period. Assuming a 35% tax rate, this gives us about $400M in net income (up from $80.7M in 2010 and $32.5M in the first half of 2011). If we discount these earnings at 5% (aka use a 20 P/E), we find that this earnings stream is worth $8B. Add $2B to that to adjust for the cash and securities on the company's balance sheet and for the next few years' earnings to get a present valuation for CRM of about $10B. This is about $74.63 per share, significantly below the level at which the shares currently trade. I'd argue that the assumptions that go into this valuation ignore the main business problems that CRM faces. If we took into account the scalability and competition issues, our valuation would be much lower.
CRM is a good business in an exciting industry, but its shares have risen far too much. Selling the stock at these levels is the wise thing to do (I shorted it at $104 and plan to add to the position if it rises more). But don't take it from me. Take it from company management, some members of which have been selling stock steadily for quite some time.
Disclosure: Short CRM