The following is a list of REITs that have seen a significant increase in short interest between 6/30 and 9/30.

To create this list, we started with a universe of REITs with market caps north of $300M. We then narrowed down the list by only focusing on stocks that have seen significant increases in the short ratio and shares shorted over the last three months.

Is this excessive pessimism justified? We won't be going into detailed analysis for each company. The goal here is to give you a starting point for your own analysis.

Short interest data sourced from AOL Money.
Click to enlarge: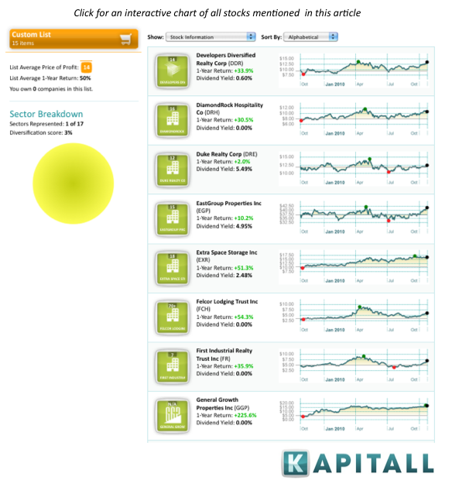 The list has been sorted by change in shares shorted. Note that all these changes occurred between 6/30 and 9/30.

1. First Industrial Realty Trust Inc. (NYSE:FR): Industrial REIT. Market cap of $443.84M. Short ratio increased from 5.3 days to 15.5 days, with shares shorted increasing from 5,150,000 to 12,220,000 (+137.28% change).

2. FelCor Lodging Trust Inc. (NYSE:FCH): Hotel/Motel REIT. Market cap of $576.48M. Short ratio increased from 0.8 days to 3.7 days, with shares shorted increasing from 2,100,000 to 3,830,000 (+82.38% change).

3. National Health Investors Inc. (NYSE:NHI): Healthcare Facilities REIT. Market cap of $1.31B. Short ratio increased from 4.6 days to 7.8 days, with shares shorted increasing from 637,659 to 945,060 (+48.21% change).

4. General Growth Properties Inc. (NYSE:GGP): Retail REIT. Market cap of $5.41B. Short ratio increased from 1.5 days to 3.2 days, with shares shorted increasing from 3,510,000 to 5,080,000 (+44.73% change).

5. Pennsylvania Real Estate Investment Trust (NYSE:PEI): Retail REIT. Market cap of $773.93M. Short ratio increased from 7.8 days to 15.3 days, with shares shorted increasing from 6,510,000 to 9,340,000 (+43.47% change).

6. EastGroup Properties Inc. (NYSE:EGP): Industrial REIT. Market cap of $1.12B. Short ratio increased from 4.9 days to 9.4 days, with shares shorted increasing from 1,170,000 to 1,590,000 (+35.9% change).

7. Diamondrock Hospitality Co. (NYSE:DRH): Hotel/Motel REIT. Market cap of $1.64B. Short ratio increased from 2.3 days to 5.3 days, with shares shorted increasing from 6,060,000 to 8,130,000 (+34.16% change).

8. Extra Space Storage Inc. (NYSE:EXR): Industrial REIT. Market cap of $1.42B. Short ratio increased from 4.3 days to 7.8 days, with shares shorted increasing from 4,730,000 to 6,320,000 (+33.62% change).

9. Duke Realty Corp. (NYSE:DRE): Diversified REIT. Market cap of $3.11B. Short ratio increased from 1.5 days to 4.4 days, with shares shorted increasing from 7,390,000 to 9,630,000 (+30.31% change).

10. Getty Realty Corp. (NYSE:GTY): Diversified REIT. Market cap of $888.62M. Short ratio increased from 4.7 days to 10.1 days, with shares shorted increasing from 917,486 to 1,180,000 (+28.61% change).

11. Lexington Realty Trust (NYSE:LXP): Retail REIT. Market cap of $1.06B. Short ratio increased from 5.6 days to 12.4 days, with shares shorted increasing from 9,180,000 to 11,410,000 (+24.29% change).

12. Tanger Factory Outlet Centers Inc. (NYSE:SKT): Retail REIT. Market cap of $1.96B. Short ratio increased from 4.2 days to 8.2 days, with shares shorted increasing from 2,380,000 to 2,780,000 (+16.81% change).

13. Developers Diversified Realty Corp. (NYSE:DDR): Retail REIT. Market cap of $3.35B. Short ratio increased from 2.6 days to 4.5 days, with shares shorted increasing from 11,030,000 to 12,470,000 (+13.06% change).

14. Nationwide Health Properties Inc. (NYSE:NHP): Healthcare Facilities REIT. Market cap of $5.04B. Short ratio increased from 1.8 days to 3.1 days, with shares shorted increasing from 2,560,000 to 2,850,000 (+11.33% change).

15. HCP, Inc. (NYSE:HCP): Healthcare Facilities REIT. Market cap of $11.5B. Short ratio increased from 3.2 days to 6.2 days, with shares shorted increasing from 14,830,000 to 15,920,000 (+7.35% change).

Disclosure: No positions