When we bought into Interclick (ICLK), the purest play in the fast growing Internet Display Advertising sector last year, we were ultimately disappointed with the end result. While we were happy to make 25% on this trade, we felt that bigger gains were possible if management were more seasoned and in tune with what Wall Street looks for from public companies. Well, twelve months later it now seems as though ICLK's CEO, Mike Matthews, has found religion. Spending on personnel has finally begun to slow down, setting the stage for a sizeable expansion in the company's underlying EBITDA margins and overall profitability. With margin expansion and GAAP earnings upon us in the coming quarters, it is our view that ICLK's stock is finally ready for a major move higher over the next 6-9 months.
To understand our renewed bullishness on ICLK, look no further than Google's (NASDAQ:GOOG) most recent earnings report. During its conference call, GOOG detailed how its display business was firing on all cylinders and was on track to do $2.5 Billion in revenues for the year. According to the company's management team, display advertising has quickly become a major driver of growth for them. This is not too surprising. In an economy that struggles to gain traction, advertisers are looking for a higher return on their ad dollar investments. With its purchase of Doubleclick a few years ago finally bearing fruit, GOOG seems to be finally cashing in on display's overall growth.
For the past few years, Interclick has put all of its efforts into maximizing the increased spending in the display space. The company is a pure play on the overall re-direction of ad dollars into this arena. It is our view that the company has positioned itself perfectly as we close out 2010 and move into 2011.
A big reason why we have avoided buying back into Interclick's shares over the past year is due to the fact that company management has spent and spent without any real consideration for the existing shareholders. While we understand what management was looking to build during this time, we question why they were not able to more delicately balance their long-term initiatives with the interest of current shareholders.
Turning to the present, it finally seems as though management has found religion. They have stopped spending aggressively on new personnel. This is significant since in the 18 months since we began following the company, there haven't been many new hires in the last quarter. During its early August conference call with investors, ICLK's management's team stated that their hiring needs were not as pressing because their new platform, the OSM (Open Segment Manager) Platform, had created significant operation efficiencies for the company that allowed them to be "much more strategic in our hiring practices."
Amazingly, one month later at the ThinkEquity conference, ICLK's CEO stated that the company still had the same headcount, slightly over 100 employees. Keep in mind, this is a company that doubled its headcount during 2009 and which started the year with intentions to quickly increase staff into year-end. Now, nearing the end of the year, the company seems to have reached its own internal inflection point with its technology that has allowed them to make do with a smaller number of employees than originally modeled for.
For a company that is poised to nearly double its revenues to $100 million this year, the dramatic slowdown in hiring will ultimately serve to act as a major lever for the company's EBITDA margins. To understand how this expected leverage will play out for the company, take a look at the graph below. Note how EBITDA margins in its most recent quarter, the company's second slowest quarter of the year from a seasonality perspective, rocketed to almost 13% of revenues:

INTERCLICK P&L FOR PAST 12 QUARTERS
Click to enlarge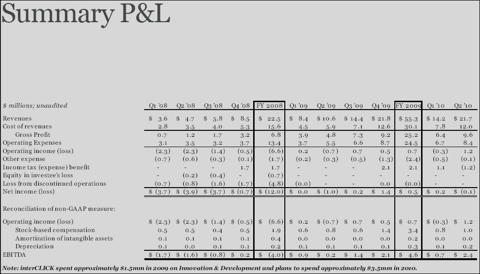 Source: Interclick.com

As institutional investors catch wind of the fact that ICLK has meaningfully cut back on its spending for the next few quarters, we expect to see major institutional in-flows into the name. Instead of EBITDA margins staying in the 10%-11% zone, over the next few quarters we feel that these margins will quickly trend to the mid-to-high teens. Ultimately, they should move above 20%.
Currently, analysts have only modeled for an 11% EBITDA multiple in 2011. As the Street sees the inherent leverage in the company's model in the coming quarters, expect analysts to quickly raise their EBITDA assumptions for the company and also their target prices for the stock.
One other consideration to keep in mind: at the end of this year, ICLK's management team will receive options that will convert into 5.2 million shares of stock with an exercise price in the high $2s. As a result, management now has a major incentive to get their stock price to move considerably higher. While they already own stock, as these options vest and move into position to become exercised, their ownership stake in the company will dramatically increase. Thus, there is now a major psychological impetus for management to stop spending: they want a higher stock price to cash in their options early next year.
On pace for nearly a doubling of revenues to $100 million in 2010, if ICLK can do $150 million in revenues in 2011 and achieve an EBITDA margin of 15%, this would net the company $22.5 Million in EBITDA. Put a 15X valuation to the company's EV/EBITDA estimate and you get a $10 stock, a near double from current levels.

We initiated a position in ICLK last week and will become aggressive buyers on pullbacks this week and next. ICLK has big visibility with its business months ahead of time, an important consideration that makes it very easy to sleep at night with this position. Also, management is extremely conservative with its guidance, deliberately low-balling numbers each quarter so that they can surprise to the upside shortly thereafter. Earnings are due to be released in two weeks. We expect a very upbeat report.

Disclosure: Long ICLK