Yesterday fellow Seeking Alpha contributor Adam Aloisi wrote an excellent article on the subject of REITs and rising interest rates. Aloisi used American Realty Capital Properties (NASDAQ:ARCP) as a case study on the potential impact of how REIT earnings could be impacted if interest rates rise too rapidly. Many fear the potential shock that REITs could suffer when interest rates begin to rise and as intelligent investors we must weigh the risks and returns as it relates to this "core" asset class.
Why "core" asset class? Some would argue that REITs are still an immature asset sector that should not be part of the primary food groups: equities (stocks), fixed-income (bonds) and cash equivalents (money market instruments). While others (like me) argue that REITs serve a place setting as a "core" asset class that should be part of the major food categories.
In Aloisi's article yesterday someone commented that he had given up on the "#1 cheerleader" and was following Aloisi now. I'm assuming that he was referring to me as the #1 cheerleader.
I think Aloisi does a terrific job covering the REIT sector (and other sectors) and I do not have an "ax to grind". However, I do not consider myself a "cheerleader" and the purpose for this article is to demonstrate why?
The Intelligent REIT Investor
Just over a year ago I decided that I was going to expand my writing passion into more profitable outlets. Most of us writers get paid very little to research and write web-based articles and when you compare the time and effort of posting an article to bagging groceries (my first job), it's most humbling.
So around a year ago I decided to launch a monthly newsletter aimed to educate and provide actionable intelligence for the average investor. So far, I have been pleased with the response and I now dedicate around a majority of my time on writing.
I am also writing two books - one based on REIT investing and another based on a very prominent real estate investor. I am frequently asked how I can devote so much time into writing and my answer is always: "That's Just My Passion".
Having dedicated over 25 years to commercial real estate investing, I have become a creature of habit. In addition, I have been fortunate to have great access to many high-level CEOs and other well-schooled industry insiders. The combination of experience, dedication, and passion has been the secret to my research platform.
But I'm No Cheerleader
Like real estate, I have always been around sports. I played college-level basketball and I currently coach my son's basketball team. I have served a number of positions on and off the court, none of which were cheerleading. As I see it, a cheerleader's primary job is to yell and scream and promote your team at all costs. Regardless of whether you have a great team or an awful team, the cheerleader's main goal is to be the most enthusiastic fan and get everyone to support the team.
In terms of investing, I would consider a "cheerleader" to be more of a public relations firm. The primary task for the PR agency is to assist their clients with persuading investors to maintain a viewpoint. More specifically, I consider NAREIT (The National Association of Real Estate Investment Trusts) to be a terrific place for investors to learn about REITs and gain valuable insight into macro-level REIT fundamentals. Keep in mind, NAREIT lobbies before national and state policymakers affecting the REIT and publicly traded real estate industry and with a constituency of over 2,000 members, NAREIT has a strong voice - the cheerleader. Here's the link to NAREIT.
Now while I have no affiliation with NAREIT or many other sources (SNL Financial, Yahoo Finance, FAST Graphs, Bloomberg, etc...) I utilize all of these resources I can in order to gain the most current and factual data that in turn allows me to make sound investment decisions.
So Why I am Prolific in Writing Articles?
As I alluded above, I consider REITs to be a major food group and although some may consider my frequent posts to be "cheerleading" my goal is not to be a platform to promote, but to educate.
You see, REITs were created by Congress over 50 years ago (in 1960) to give all individuals the opportunity to benefit from investing in income-producing real estate. REITs allow anyone to own or finance properties the same way they invest in other industries, through the purchase of stock. In the same way shareholders benefit by owning stocks in other corporations, the stockholders of a REIT earn a share of the income produced through real estate investment, without actually having to go out and buy or finance property. (source: NAREIT)
The IRS implements the REIT rules and oversees what qualifies as a REIT. The Internal Revenue Code requires a REIT to adhere to the following essential rules: at least 75 percent of the corporation's income must be earned from real estate as rent, real estate interest or from the sales of real estate assets; at least 75 percent of the corporation's assets must be real estate assets; and, at least 95 percent of income must be passive.
REITs are required to distribute at least 90 percent of taxable income annually to shareholders as taxable dividends. In other words, a REIT cannot retain its earnings. Like a mutual fund, a REIT receives a dividends-paid deduction so no tax is paid at the entity level if 100 percent of income is distributed. REIT shareholders pay taxes on dividends at ordinary rates versus the lower qualified rate.
All of these characteristics comprise the brand promise or value proposition for REIT investors. Because of the forced dividend component (required by law) REITs MUST payout at least 90 percent of taxable income and accordingly, this asset class tends to payout the highest dividends.
So If Not a Cheerleader, Why Do I This?
It's true, I publish a monthly newsletter and so it's a source of income for me to feed my family. In addition, my oldest daughter assists me with the newsletter and it's a source of revenue for her. But it's important to remember that I'm not selling you a new shirt or a new pair of shoes. I'm selling research and intellectual property so that you can make actionable investment decisions. Believe me, there are plenty of newsletters being sold today and it's a fiercely competitive business. I am continuously working to improve my newsletter and make it a best in class publication.
But whether you buy my newsletter, The Motley Fool's newsletter, or the thousands of others, here's my primary brand promise for REIT investing:
(1). The US economy is improving and this creates demand for commercial real estate. That means that REIT earnings (rental income) should continue to grow, Funds from Operations (or FFO) will from, and most importantly, dividends will keep growing.
(2). Construction in US commercial real estate is well below the normal (replacement) levels. So that means that new supply will be tight for a long time frame.
(3). REITs offer strong diversification benefits. Today REITs compare favorably to other investment vehicles in terms of "beta" (a common measure of volatility that reflects the movement of an asset class in relation to the broader market). We are seeing that today as Equity REITs have returned around 17% year-to-date while the S&P 500 returned around 8%.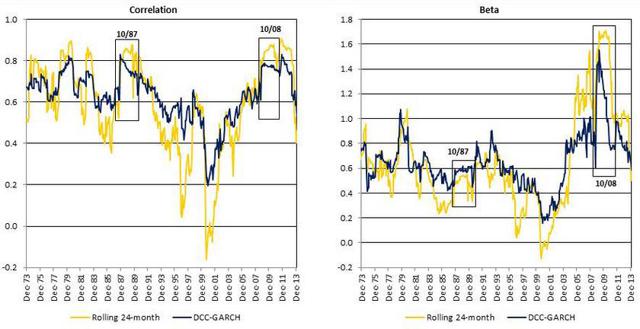 (4). REITs provide high yields compared with other sectors. Keep in mind, BDCs and MLPs are more volatile in the way they are structured and neither have the historical performance records of REITs. So far REIT investors, the value proposition consists of (i) share price growth, (ii) income, and (iii) diversification.
So while I may not be a "cheerleader" for REIT investing, I'm certainly a bullish proponent for the asset class. While some may remain hesitant with unstable economic conditions, I often remind investors to consider the fact that REIT price appreciation is the same as it was in 2007 and more importantly, total returns (for REITs) are ahead of 2007.
When you also consider the 40 year period, REIT returns are way ahead of the stock market. If you believe history will repeat itself, simply park money in REITs. Keep in mind, even the bad REITs (that make up the REIT index) outperformed the broader stock index.
Will You Sleep Well at Night With ARCP?
Each and every investor has his or her own risk tolerance level. One of the greatest attributes for Seeking Alpha is that investors are able to read and write comments that may lead to actionable investment decisions. I have written many articles on Seeking Alpha (this is 530th) and I can assure you that I have gained considerably more from the comments than I have with the articles.
As we all know, most investors are wired to be market timers in that we are all looking for fast profits with little or no effort. As I have gained more insight over the years, I have become much more risk-averse and my investment objectives are rooted more in long-term value investing than short-term trading.
A few weeks ago I picked up shares in American Realty Capital Properties. As a fellow investor (not a "cheerleader") I share Adam Aloisi's opinion that the company is "cheap on an FFO basis" and "underestimated/undervalued by the market". I also acknowledge that if ARCP was a safer stock the market would be giving investors less of an opportunity to find an adequate margin of safety.
Personally I "sleep well at night" owning ARCP because I have done my due diligence and concluded (my research) with my own risk tolerance limits for owning the shares. Will the thrill of victory be worth the agony of defeat? I don't the answer today but I do know that as of today, ARCP fills a position on my team and while I'm not the cheerleader, I'm the owner of the team and I work hard to protect my principal at all costs.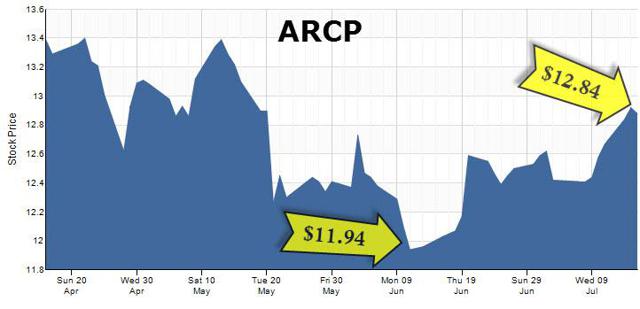 Finally, it's important to recognize that I invest in REITs and my primary goal is to protect money in the REIT securities that I own. Although I'm passionate about the real estate sector, I would never recommend that investors put all of their eggs in one basket. I do believe REITs are complimentary assets that should be a slice of every investor portfolio; however, every investor has his or her own level of risk tolerance. If I'm every called a cheerleader, I prefer to be called the cheerleader who is known for protecting principal at ALL costs. Good luck.
You can find my newsletter HERE.
Sources: SNL Financial and NAREIT.
Disclaimer: This article is intended to provide information to interested parties. As I have no knowledge of individual investor circumstances, goals, and/or portfolio concentration or diversification, readers are expected to complete their own due diligence before purchasing any stocks mentioned or recommended.
Disclosure: The author is long O, DLR, VTR, HTA, STAG, UMH, CSG, GPT, ARCP, ROIC, HCN, OHI, LXP, KIM, WPC, DOC, UDF, EXR. The author wrote this article themselves, and it expresses their own opinions. The author is not receiving compensation for it (other than from Seeking Alpha). The author has no business relationship with any company whose stock is mentioned in this article.