Colombia is one of the largest coffee producing countries and it will strengthen its hold on a third place ranking amongst world coffee producers next season, lifting its harvest to a seven-year high, while output is likely to remain lower in comparison to rival Indonesia. Colombian coffee production will hit 11.9m bags in 2014-15, the highest since 2007-08. The two international brands are aiming to gain a foothold in the key Latin American market. Within a few weeks of each other, two of the biggest names in the coffee business, Starbucks (NASDAQ:SBUX) and Nespresso will set up shop in the country of 47 million. Back in May, Starbucks announced that it was on track to open its first café in Colombia, in Bogota, in mid-summer 2014. Over the next five years, thanks to its joint venture with Nespresso, Starbucks plans to aggressively expand in Bogota and to other major cities in Colombia.
Performance and Outlook
In the second quarter of fiscal year 2014, Starbucks announced mixed results. Starbucks was successful in generating $3.87 billion in revenues, reflecting an increase of 9.1% year over year. The same store sales continued to grow by single-mid digits and for the quarter same store sales improved 6% around the globe beating analysts' estimates of a 5.4% increase. The innovative and new product line in the U.S. helped the company to deliver strong financial performance. On the other hand its rival, Dunkin' Brands (NASDAQ:DNKN), experienced poor same store sales and these numbers dropped 3.5% year over year. Supported by strong revenue growth and improved margins, the net income increased 9.4% to $427 million in comparison to the results reported in the second quarter of 2013. The quarterly earnings per share increased from $0.51 to $0.56 in the second quarter of 2013.
Starbucks made significant progress in terms of store count and introduced new products to target the market's needs. Starbucks is confident that it will be able to hit 10% revenue growth for the full year and anticipates same store sales will grow by a mid-single digit; this should be good enough to impress investors. With effective management and cost controls the operating margins for the full year will increase by 175 to 200 basis points compared to last year's numbers.
Starbucks has also revised its guidance for the full year due to strong performance in the last two quarters. The company expects earnings per share to be in the range of $2.62 and $2.68 which is higher than the previous guidance of $2.59 to $2.67. Starbucks has solid plans to expand into different markets around the globe. The company will spend around $1.2 billion in capital expenditure to add a net total of 1500 new stores, half of which will be located in China because this region offers a more lucrative opportunity than any other.
The Price Hike
The demand for coffee is set to increase as the consumption of coffee is booming around the globe. However, lower than expected production during the first few months of the current year has already set the coffee prices on fire. The fluctuation in coffee prices began with the start of 2014 when it was revealed that there would be less than expected production of coffee this year and that this would continue to the next year. After bottoming out at around $2.70 per kg, the price reached as high as $5 before taking a breather.
In response to the soaring commodity prices Starbucks announced in the last week of June that it would increase the prices of some of its drinks by $0.05 to $0.20 while the price of the packaged coffee Starbucks sells to grocery stores would be increased by $1. Despite having enough of a cushion nearly halfway through 2015 the increase in prices across its menu is just a win-win situation for Starbucks. The price increase is well justified because other companies including Dunkin' Brands have already raised their prices. After the price increase, Dunkin' Brands experienced a clear decline in customer traffic, however the situation is different for Starbucks. The company has not seen any reduction in customer traffic and this is because of strong brand recognition and customer loyalty.
Starbucks recognizes how loyal its customer base is; it also knows that the type of customer who goes to Starbucks has been, and will continue to be, willing to pay a premium price for the premium products the company has to offer. The last price increase at Starbucks was around a year ago, in June 2013, and third quarter same store sales increased 9% which is pretty evident of customer loyalty. If the same happens again, which is the most likely scenario, then Starbucks will only receive benefits from the price increase. The volatility in coffee prices and enough cushion will significantly increase the company's revenues and profit margins in the coming quarters.
Conclusion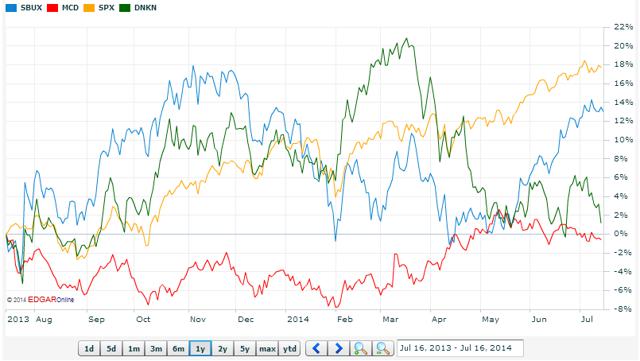 Source: NASDAQ
The Starbucks brand is well known and its comparable store sales have been good enough to attract investors' attention. It has outperformed the competitors but underperformed the S&P 500 in the last twelve months. Starbucks is currently trading at a premium because the company is increasing its store count around the globe. Due to expansion and a new product line the company's earnings per share are expected to grow by 18.36% in the next five years. The average analysts' price is $88.78 which gives rise to an upside potential of roughly 13% to its current price and that should be enough reason to buy this stock.
Disclosure: The author has no positions in any stocks mentioned, and no plans to initiate any positions within the next 72 hours.
Business relationship disclosure: The article has been written by a Gemstone Equity Research research analyst. Gemstone Equity Research is not receiving compensation for it (other than from Seeking Alpha). Gemstone Equity Research has no business relationship with any company whose stock is mentioned in this article.