Disney (NYSE:DIS) has comfortably outpaced the bull market over the last 5 years. Shares have more than tripled over this time period, with the divergence taking place after the second half of 2011.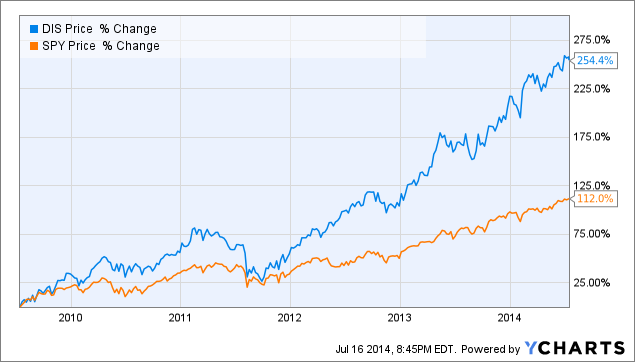 Since 2009, Disney has grown its revenues at an annualized rate of 5.7%, from $36.1B to $45B in 2013. However, operating income growth has been much more robust at 12.6%, from $6.7B to $10.7B. The company has managed to grow its operating margins by 6 percentage points (from 18% to 24%) over the time period. Shareholders have certainly been rewarded for this period of outperformance.
Through this article I aim to evaluate if Disney is a good investment for your money going forward. To do this, I performed a sum-of-the-parts valuation of Disney's business segments. In a richly valued market, I am always on the lookout for high quality companies with some margin of safety. Unfortunately, in the case of Disney, the valuation seems to suggest that even under very robust growth assumptions, the stock seems to be overvalued around 12%.
Business overview
Disney operates in five main business segments:
Media networks: This segment includes broadcast and cable TV networks, TV production operations, TV distribution, domestic TV stations and radio networks and stations. They generate revenue from fees charged to cable, satellite and telco service providers (such as Comcast), as well as from the sale of advertising time in programs. Operating expenses include programming and production costs, technical support costs, distribution costs and operating labor.
Revenue from this segment grew from $16.2B in 2009 to $20.4B in 2013. Operating margins also expanded from 29% to 33%. Going forward, I assume 4% revenue growth in this segment and slight margin expansion topping out at 35%. Revenue growth in this segment is contingent upon the company continuing to be successful in producing high-quality content and being able to command greater affiliate fees and advertising rates.
Parks and resorts: This segment comprises the Disney resorts and Cruise Line. Revenues are generated from admission sales to theme parks (with the associated sales of F&B and merchandise), room nights at hotels, cruise packages, and sales and rentals of vacation club properties. Costs include labor, depreciation, costs of merchandise and F&B, as well as sales & marketing, repairs, IT, utilities and cost of vacation club units.
Parks and resorts revenues grew from $10.7B in 2009 to $14.1B in 2013. I am assuming a 9% growth in this segment, with visitors growing around 4% annually and revenue/visitor growing 5% through a combination of increased admission fees and hotel/vacation rates. This segment is highly reliant on discretionary spending and hence is extremely sensitive to economic downturns. I am modeling fairly steady operating margins of 16% for this segment.
Studio Entertainment: This segment produces and acquires live-action and animated motion pictures, direct-to-video content, musical recordings and live stage plays. Revenues are generated through distribution of films in the theatrical, home entertainment and TV markets.
Revenues in this segment have been fairly flat over the last 5 years at around $6B. This is a highly cyclical business, and I am modeling 3% revenue growth for this segment with stable operating margins at 11%.
Consumer Products: This group generates royalty revenue by licensing characters from other Disney properties for use on consumer merchandise, as well as revenues from publishing children's books and magazines and comics, and sales of merchandise at internet shopping sites and retailers. This has been the fastest growing segment, from $2.4B in 2009 revenue to $3.5B in 2013. I am modeling 10% growth going forward, with margins increasing to 35% from 31% currently as the mix shifts to higher-margin licensing and royalties.
Interactive: This is Disney's smallest segment, which comprises of Games and Media. Interactive Games develops console, mobile, social and virtual world games. Interactive Media develops and publishes interactive family content. This segment touched $1B of revenue in 2013, though it was yet to be profitable. I assume 10% growth in this segment, with operating margins of 5%.
Consolidated revenues and operating income: The following graphs show my forecasts of segment revenues and operating income. Overall, I model revenues to grow to nearly $70B by 2020, with operating income growing to $16.7B and EPS to $5.5/share from $3.4 in 2013.

Source: 2009-2013 revenue and OI: DIS 10-K
Valuation
Using the above assumptions for segment revenue growth, as well as a discount rate of 9% and terminal growth rate of 3%, I get to a fair market value (FMV) of $75 for Disney. This would indicate that Disney is around 12% overvalued at current prices. I feel that my assumptions around segment growth are pretty aggressive, especially in the parks and resorts segment where I am assuming 9% growth through 2020 in a business that is highly sensitive to the economy. If this segment were to grow only 5% instead of 9%, the FMV would be $71 (or a 16% discount). One could argue that the other businesses, particularly media networks, are less sensitive and even somewhat counter-cyclical. However, the media network business would have to grow 7% annually over the next seven years to justify the current share price, which seems unlikely. Hence I believe my model is pretty balanced and even somewhat tilted to the upside.
The complete valuation model is attached below.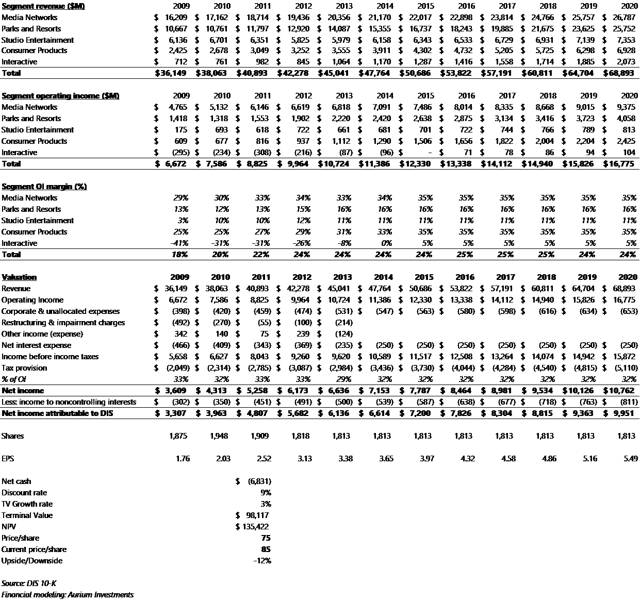 Summary
Disney is a high-quality company with several segments that are leaders in their lines of business. It has performed exceptionally over the last few years. However, the company's share price has moved even higher than the growth in its intrinsic value, creating a situation where the stock is overvalued even under assumptions of high future growth. It would be unwise to put new money into the stock at these prices, and prudent investors should wait for a decline. More aggressive investors can consider put options or start a small short position - it is unlikely to offer much downside at these levels.
Disclosure: The author has no positions in any stocks mentioned, and no plans to initiate any positions within the next 72 hours. The author wrote this article themselves, and it expresses their own opinions. The author is not receiving compensation for it (other than from Seeking Alpha). The author has no business relationship with any company whose stock is mentioned in this article.
Additional disclosure: I am short $60 DIS puts.