Newell Rubbermaid Inc. (NYSE:NWL) is scheduled to release its third-quarter 2010 results on Friday, October 29. The Zacks Consensus Estimate for the quarter is pegged at 41 cents a share.
Second Quarter Performance
Newell Rubbermaid logged a strong 23.4% growth in second-quarter 2010 GAAP earnings, reaching $130.4 million from $105.7 million in the year-ago quarter. Excluding special items, adjusted earnings per share came in at 51 cents, which easily surpassed the Zacks Consensus Estimate of 44 cents as well as the year-ago earnings of 47 cents. The strong quarterly performance was mainly attributable to increased core sales, improved productivity and better working capital management.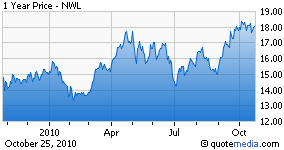 During the quarter, Newell recorded a modest 0.5% year-over-year decline in net sales, slipping to $1,496.2 million, falling short of the Zacks Consensus Estimate of $1,523.0 million. The decline was primarily caused by strategic product line exits undertaken by Newell in 2009, which reduced sales by 1.9%.
However, the reduction in net sales was partially offset by 1.5% growth in core sales that primarily benefited from improved market share, distribution wins and strong demand from Latin American and EMEA (Europe, the Middle East and Africa) markets.
Fiscal Year 2010 Guidance
Newell expects fiscal 2010 earnings between $1.40 and $1.50 per share.
Agreement of Analysts
In the last 30 days, out of the 15 analysts covering the stock, none of the analysts moved their estimates in either direction for the third quarter of fiscal 2010 and fiscal 2010. In the last 7 days as well, no analysts revisited their estimates keeping the consensus unchanged.

Magnitude of Estimate Revisions
With no earnings revisions by the analysts in the last 7 days and 30 days, the Zacks Consensus Estimates for the third quarter of fiscal 2010 and fiscal 2010 remain unchanged at 41 cents a share and $1.50 per share, respectively.
Surprise History
With respect to earnings surprises, Newell showed a favorable trend in the last four quarters. The company has recorded positive surprises in the trailing four quarters with a low of 0.0% to a high of 38.9%. On an average, the earnings surprise was a positive 21.1%. Based on the current flow, we expect the company to come up with healthy results in the upcoming quarter.
Our Recommendation
Newell Rubbermaid is one of the leading manufacturers of home and office products in the U.S. The company also possesses a strong portfolio of well established brands, such as Sharpie, Paper Mate, Dymo, Expo, Waterman, Parker, Irwin, Lenox, Rubbermaid, Levolor, Graco, Calphalon and Goody. Based on its strong brand portfolio, Newell Rubbermaid can expect robust earnings, should the market scenario change for the better.
The company is in the midst of a multi-year global restructuring program aimed at improving productivity, reducing overheads, streamlining distribution and transportation processes and exiting low-margin product categories. The program is expected to be fully implemented in 2010, and is aimed at realizing annualized savings in excess of $200 million. Consequently, Newell Rubbermaid can expect a steady improvement in its bottom-line in the future.
Newell Rubbermaid faces intense competition from numerous manufacturers and distributors of consumer and commercial products, such as Jarden Corp. (NYSE:JAH), Fortune Brands Inc. (FO), Cooper Industries plc (CBE), and Avery Dennison Corporation (NYSE:AVY).
The company is heavily dependent on a handful of customers, which includes large discounters, department stores, home centers, warehouse clubs and office superstores. This considerably reduces Newell Rubbermaid's pricing power against these giant retailers, thereby exerting pressure on margins and limiting profitability.
Due to its exposure to international markets, Newell also remains prone to currency fluctuation. The weakening of foreign currencies against the U.S. dollar may require the company to either lower prices or book profit margins in locations outside the U.S.
Newell Rubbermaid currently has a short-term Zacks #2 Rank (Buy) rating and a long-term Neutral recommendation