Glu Mobile (NASDAQ: GLUU) has been on quite the run of late. The stock has soared on the heels of back to back successful launches of its Kim Kardashian: Hollywood and Dino Hunter: Deadly Shores games that have topped the download charts. What is most impressive about these games' success is that they are essentially sequels to titles that Glu launched last year (Deer Hunter 2014 and Stardom: Hollywood). These "engine re-use" games have incredibly high margins because the major development cost was incurred during the build out of the game engine. What Glu has done is take an existing game and simply put a different spin/theme on it. Developers were then able to take what they learned from the previous games, and use that knowledge to enhance both game play and monetization methods.
This recipe is clearly a winning recipe, and Glu mobile has been one of the very few companies that have been able to accomplish it. Unlike movie sequels, these games are making in upwards of 2x the revenue of previous versions, and cost a lot less to make. Game play can be enhanced because of improving technology in smartphones and there is an immediate built-in user base for when the next sequel comes out. What we have even discovered is that when a new game is launched, it also increases the downloads and revenue of the previous versions which also tends to happen with movie titles.
In fact, Glu's new Kim Kardashian: Hollywood game is the 4th re-use of that particular engine, and is quickly becoming Glu Mobile's biggest hit ever. A quick look at the charts also shows that previous games with the same engine (Stardom: A-List, Stardom: Hollywood, and Zombies Ate my Friends) are gaining popularity again and moving back up the ranking charts.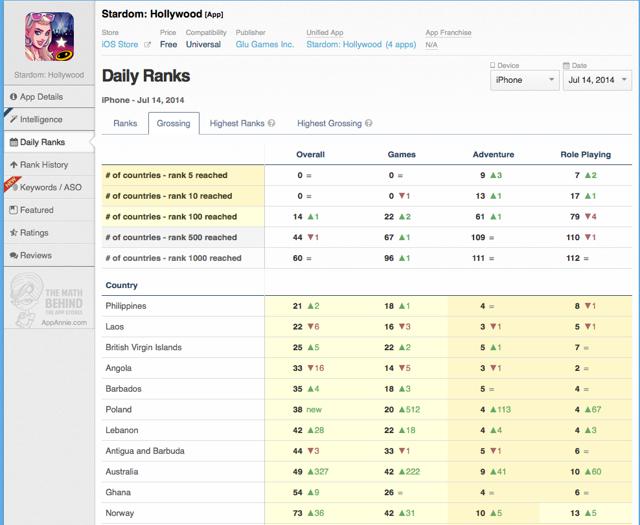 Because of this halo effect and the success of Glu's recent launches, I find the company to still be very undervalued despite its recent run.
Current Valuation Breakdown of Glu Mobile, KING and Zynga
First, let's take a look at the market's current valuations for Zynga (NASDAQ: ZNGA), King (NYSE: KING), and Glu Mobile. These figures show the current market cap and multiple implied based on where shares are trading in respect to 2014 revenues. I have also calculated the average value implied to each monthly active user (MAU) based on current figures.
The MAU number is significant because it is often a metric taken into consideration in the event of an acquisition. Because of heavy competition, and advertising dollars, users are becoming more valuable, and increasingly difficult and costly for companies to come by.
| | | | | | |
| --- | --- | --- | --- | --- | --- |
| Company | Mkt Cap | MAU | $/MAU | 2014 Rev (est) | Multiple |
| Zynga | $2.75 B | 123 M | $22.35 | $790 Million | 3.5 x |
| King.com | $6.3 B | 481 M | $13.09 | $2.6 Billion (est) | 2.4 x |
| Glu Mobile | $590 M | 64.5M | $9.14 | $158 Million | 3.7 x |
Formula: Mkt cap/MAU = $/MAU
As you can see, the market currently awards Zynga nearly the same multiple on revenues as it does Glu Mobile. This comes despite Zynga having declining user metrics and zero growth as it continues to struggle in the transition to mobile. Zynga's MAU's are also valued at almost 2.5x that of Glu's MAU base.
When compared to King, Glu's revenue multiple is higher, because it is a much smaller company with a higher beta and growth. King like Zynga, also has declining revenues and its user metrics are shaky due to an overdependence on its Candy Crush title. King's MAU value is also almost 1.5x that of Glu's.
While looking at these numbers, it is important to keep in mind that these figures are based on the numbers each company reported in their 1st quarter earnings releases. It is also important to note that Glu Mobile's new games launched this quarter were ranked #1 and #3 on the download charts… so we can expect that these metrics will jump drastically when Glu updates those numbers for the 3rd quarter. The company released a press release on July 16th stating the following company milestones had been reached that support great upside to both revenue, and user metrics:
GLU MILESTONE:
Set a new (single-day) total company revenue record
Highest single-day Daily active users (DAU) in company history of over 10 Million
Glu overall single-day revenues have exceeded the previous one-day record, each of the last 18 days
Dino Hunter: Deadly Shores and Kim Kardashian: Hollywood simultaneously achieved #1 and #3 chart position on U.S. App Store Top Free for iPhone
Milestones set by Dino Hunter: Deadly Shores
Dino Hunter set Single-day Glu record of over 1.5 million downloads globally from an individual Glu title
Glu record (5.7 Million+) downloads in first 5 days of global release
Milestones set by Kim Kardashian: Hollywood
Record Single-day revenue from an individual title, surpassing previous record set by Deer Hunter 2014
Single-day revenues from Kim Kardashian: Hollywood, have exceeded previous revenue record for 16 of the last 18 days
Highest sustained Average Revenue Per Daily Active User (ARPDAU) for a single title in its initial 18 days of worldwide release
The official press release can be viewed here.
So for those investors who are looking to either get into the stock of Glu Mobile, or those long holders that are trying to decide if they should take gains after this run or not, I decided to update my price targets using two different valuation metrics.
MAU Valuation Method
If we take a stripped down look at Glu based solely on the number of current monthly active users reported in the first quarter conference call, and disregard each the growing metrics, we come up with the following valuations compared to Zynga and King's current valuations. Zynga's MAUs are currently valued at $22.35 per MAU and $KING's MAUs are valued at $13.09 each. So based on the value given to these two companies, Glu's reported 64.5 Million MAUs would value them at:
| | | | | |
| --- | --- | --- | --- | --- |
| Company Comparison | MAU | $/MAU | Mkt Cap (est) | Share Price |
| Glu w/Zynga's Valuation | 64.5M | $22.35 | $1.44 B | $15.81 |
| Glu w/King's Valuation | 64.5M | $13.10 | $845M | $9.26 |
If Glu's MAUs were valued at the same rate as Zynga's MAUs
64.5 Million MAU x $22.35/user = $1.44B or $15.81 a share
If Glu's MAUs were valued at the same rate as King's MAUs
64.5 Million MAU x $13.10/user = $845M or $9.26 a share
So based on a monthly active user valuation, Glu at $6.50 has a lot of room to run… and that's before pricing in the millions of new users it is gaining from its new game releases.
Valuation as a Multiple of Projected 2014 Revenues
Using a different metric, I have calculated the fair value price of Glu Mobile based on its peers as an estimate of 2014 Revenues. While I included Zynga, Natural Motion, KING, and Machine Zone (Maker of Game of War: Fire Age) for comparison. Natural Motion's or Machine Zone's figures are likely the best comparison given those companies most closely resembles that of Glu Mobile.
I also must point out that Natural Motion was acquired by a competitor (Zynga), which is important in and of itself, as it signals the anticipated consolidation in the mobile gaming sector. Scale has proven to be a key driver of success in mobile gaming, as the largest companies continue to top the charts and take an increasingly larger piece of the revenue pie. Given Glu's small size and recent profitability, I suspect it will be one of the next in line to be acquired, as there are very few other players in mobile with the capabilities, partnerships, user base, and experience that Glu has.
| | | | | |
| --- | --- | --- | --- | --- |
| | My 2014 Revenue Estimate | Previous Revenue Multiple | Estimated Mkt Cap | Estimated Price per Share |
| Glu Mobile | $300 M | 3.7 x | $1.11 B | $12.17 |
So calculating these figures can help give an estimate of a possible acquisition price based on Glu's current metrics. Also note that my numbers include an anticipated boost of 2014 revenues by management either on or before the 2nd quarter conference call on July 30th. I calculate that 2014 revenues will be north of $300 Million, up from previous guidance of $150 Million. With reports that Kim Kardashian alone could make $200 Million this year, Dino Hunter doing well, and another 15 or so game releases this year, I find this number to be quite attainable, and likely exceedable.
(If you have your own estimates, you can do the same math by taking your 2014 Revenue estimate for Glu, multiplying it by the peer revenue multiple, and calculating the adjusted market cap. You would then divide that number by the number of shares outstanding (currently 91.2M) to calculate the equivalent price per share.)
| | | | | |
| --- | --- | --- | --- | --- |
| Company Comparison | Glu's 2014 Rev (est) | Rev Multiple (of other company) | Mkt Cap (Implied) | Share Price (Implied) |
| Glu/Zynga | $300 M | 3.5 x | $1.15B | $12.61 |
| Glu/Natural Motion | $300 M | 7 x | $2.1 B | $23.03 |
| Glu/KING | $300 M | 2.4 x | $720 M | $7.90 |
| Glu/Machine Zone | $300 M | 5 x | $1.5 B | $16.45 |
As a note on Machine Zone, this company is currently privately held but the valuation is significant given it just completed a round of funding (entire details from WSJ here)
For those of you unfamiliar here is a list of the games it creates: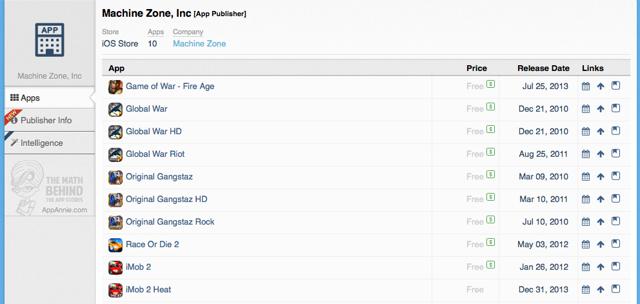 *Source: App Annie
You will notice that the company only has 10 Games in its library, though Game of War: Fire Age is the #3 grossing game on the app store. By comparison, Glu has 70 games currently live in its library, and Kim Kardashian: Hollywood is already right behind Game of War in the 3rd spot at #4 Grossing. Glu also has Dino Hunter at #21 grossing, and last years Deer Hunter is still near the top at #54 grossing.
Since I follow Glu's charts closely, I noticed that Kim Kardashian: Hollywood appears poised to make a lot more than the $293,515 a day from iOS in the U.S. as it was able to move to the number 3 spot for a short period before moving back to the #4 spot.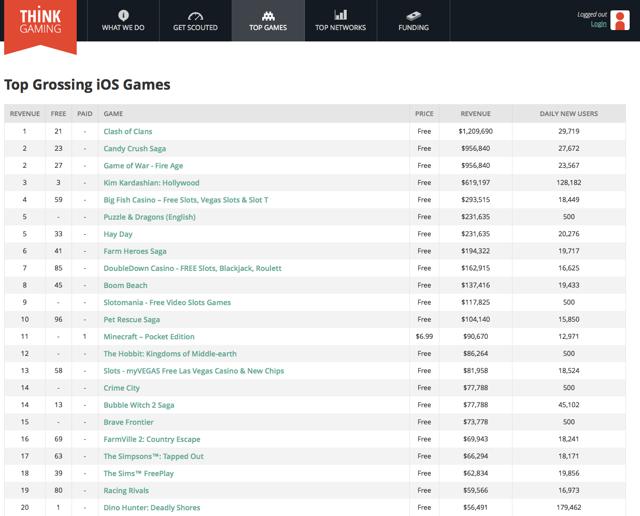 *Source: ThinkGaming.com
What you will also notice, is that Kim Kardashian: Hollywood is bringing in almost 6x the daily new users on iOS in the U.S. than any other game in the top 10, including Clash of Clans, Candy Crush, and Game of War.
If the Kim Kardashian game can take that #3 spot and hold it, then the stock is due a much higher valuation, as revenue (according to Think Gaming) from the #3 game is more than double the revenue generated from a game in the fourth position.
When you take the following information I found into consideration, I think it is only a matter of time.
The Kim Kardashian game is spreading like wildfire on social media, and according to @ttlyteala the addictiveness of the game is becoming a problem.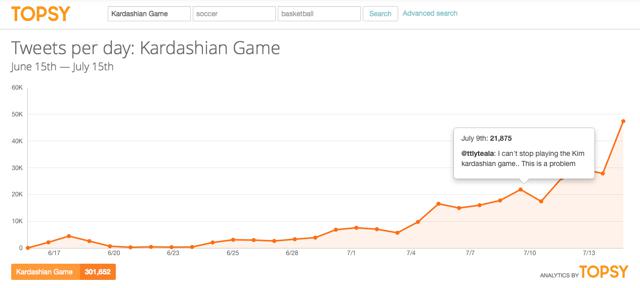 *Source: Topsy
The game is setting records with almost 53,000 5 Star reviews.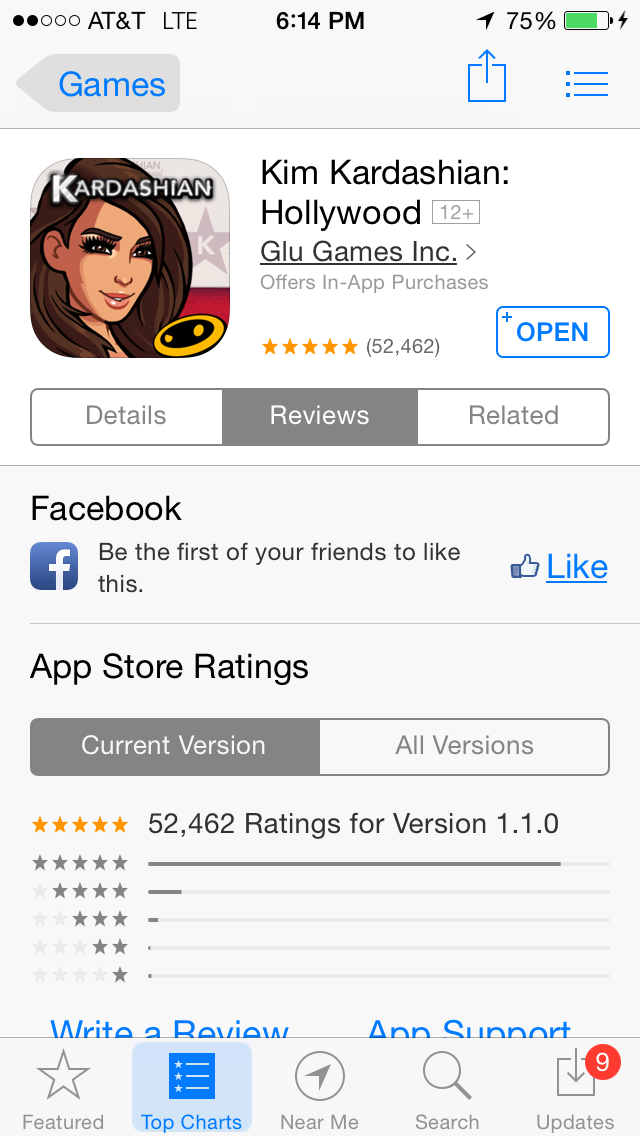 *Source: Apple App Store
I encourage you to check it out and read some of them to see what people are saying about the game.
The grossing numbers across the globe are also still climbing rapidly. The Game is currently in the top 5 grossing in 22 countries, and in the top 100 Grossing in 86.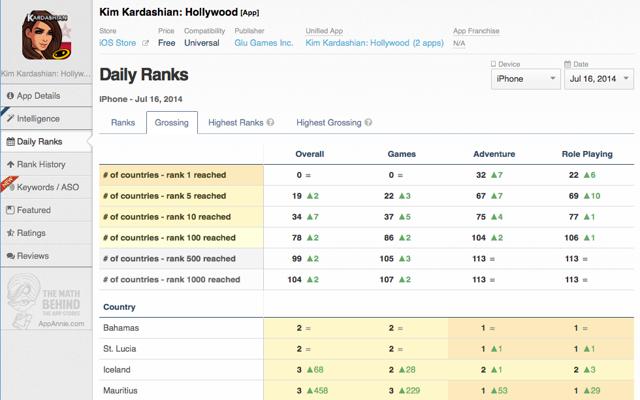 *Source: App Annie
Future Growth
To show the growth in revenue from all companies, it is easy to see that Glu's growth greatly outpaces that of both King and Zynga. Because of its growth and small size, the company should actually receive a much higher price multiple than its slow growing (and declining) billion dollar competitors. Again, keep in mind that this is also just based on growth from the fourth quarter of 2013 to the first quarter of 2014. Glu's growth will be much higher in the 3rd quarter when Kim K and Dino Hunter revenue is included. (I will re-calculate this same valuation when those numbers are released.)
| | | | |
| --- | --- | --- | --- |
| | Q4'13 Revenue | Q1'14 Revenue | % Revenue Growth |
| Zynga | $176 M | $168 M | -4.5% |
| King | $602 M | $607 M | +0.8% |
| Glu Mobile | $42.8 M | $47 M | +9.8% |
Conclusion
Glu has experienced its share of struggles, but these figures tell me that the company is still very undervalued. Mark Gomes, a long time supporter of Glu Mobile as well. It is currently his top core pick in his famed Poised to Triple Portfolio. His recent article "Glu Mobile's Q3 Revenue Could Double the Consensus View" makes a similar case to mine and calls for a $10 valuation of Glu. While I respect Mark and his research, he admits that even his figures are likely conservative.
While the market may continue to undervalue the company for a long time to come… turning sentiment in the stock, successful game launches, improving monetization, and an exploding user base, gives me strong conviction that the company's valuation could recover to fair value sooner rather than later. It appears that even my most conservative estimate calls for 50% upside from here.
This article is based on my own opinion and research, but I encourage you to take a closer look at this small cap company in a rapidly growing high margin industry... even after the recent run, I anticipate it will create some serious returns for investors in the near term, particularly when management reports that it beat 2nd quarter estimates, and is doubling both its 3rd quarter and full year 2014 guidance on July 30th.
Disclosure: The author is long GLUU. The author wrote this article themselves, and it expresses their own opinions. The author is not receiving compensation for it (other than from Seeking Alpha). The author has no business relationship with any company whose stock is mentioned in this article.