This is a series of articles to find BDCs to include in my updated "Total Return Portfolios" for Q3 2014. Please read "Part 1" for complete description of the portfolio but basically it is for investors that want dependable regular dividends and the potential for special dividends as well as long-term capital appreciation from increased stock values. The other four portfolios that I will cover in following articles are "High Yield", "Risk Averse", "Value" and the "Underdog" portfolios that will be updated on my "Portfolio Updates" page. This article will combine equity participation and the dividend coverage results from the articles listed below to discuss the potential for special dividends.
Historical Special Dividends
The following table shows the amount of dividends paid or committed to pay over the last three years. Currently only Main Street Capital (NYSE:MAIN), Fidus Investment (NASDAQ:FDUS) and FS Investment Corp (NYSE:FSIC) have committed to pay dividends in the coming quarters but there are others that will likely announce future special dividends. I have also included the historical dividend coverage discussed in Part 2 and my "optimal leverage" analysis that uses the current cost structure and capital expenses for each BDC, along with the amount of equity as of March 31, 2014 (or most recent), a debt-to-equity ratio of 0.80 and the current portfolio yield to project income and expenses. For more information on this approach to projecting dividend coverage, please read "BDC Dividend Coverage Part 1".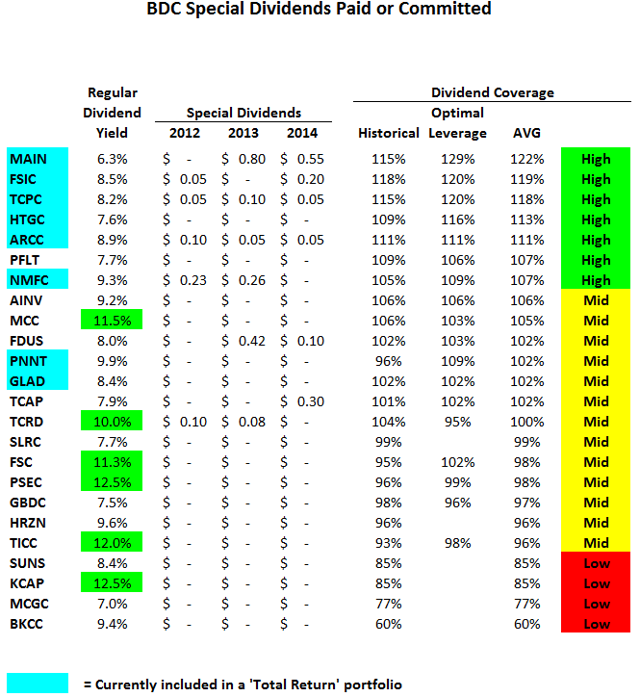 Two things stand out from the previous table: BDCs with higher amounts of dividend coverage are more likely to pay special dividends and higher yield BDCs do not pay special dividends. Obviously this makes sense for many reasons but investors should keep in mind the potential for special dividends is important because it is additional yield and implies that the company has better coverage of the regular dividends and are less likely to cut in the future.
Undistributed or "Spillover" Earnings
Another indicator of potential special dividends is the amount of undistributed or 'spillover' earnings that the company has. This is basically the amount of income or gains that have exceeded the dividends paid over a given period of time and if these amounts are consistent and/or growing it is usually a sign that management is being fiscally prudent. If the company does not pay these amounts in a timely manner they could be subject to a 4% excise tax.
The CEO of MAIN recently discussed these amounts on the last earnings call: "During the course of our last conference call, I referenced our spillover taxable income of $44 million at year end. At the end of the first quarter, we estimate that our spillover taxable income was $46 million. We continue to expect that we will pay semiannual supplemental dividends in addition to our regular monthly dividends, as long as we are in a significant spillover income composition." I believe that MAIN's ability to continue to build spillover income while paying large special dividends is a good sign.
The following are some recent quotes from CEOs of other BDCs that are paying special dividends and I believe these are indicators that the company is doing well:
FDUS: "This quarter, due to our spillover income and realize capital gains, we are pleased to report that on May 5th, our board of directors declared two special cash dividends totaling $0.10 per share. These are in addition to the regular quarterly dividend for the second quarter of $0.38 per shares which is payable on June 27, 2014 to stockholders of record on June 13, 2014."
FSIC: "Earnings exceeded our distributions during the quarter. After paying distributions of $0.22 per share, we had undistributed net investment income and realized gains of $0.58 per share, an increase of $0.05 per share since year-end. As we previously announced, subject to Board approval, we expect to distribute a portion of our excess income and realized gains in the form of two special cash distributions totaling $0.20 per share with one $0.10 distribution to be paid on August 15, 2014 to stockholders of record as of July 31, 2014 and the second $0.10 distribution to be paid on November 14, 2014 to stockholders of record as of October 31, 2104. We believe our strategy can support repeatable and sustainable generation of realized capital gains and as we have done historically, we expect to continue to make distributions to the extent we have excess income and gains."
Triangle Capital (NYSE:TCAP): "I think, if you look at the $18.4 million of long-term capital gains we realized during 2013, we have on a per share basis that's somewhere about $0.66 per share on the existing share count. We've announced two special dividends or distributions that collectively comprised $0.30 share, so there certainly is a logical question of what we might do with the remaining $0.36 per share."
TCP Capital (NASDAQ:TCPC): "As of March 31, 2014, the quality of our portfolio remained strong, with no debt investments on non-accrual status. After paying our first quarter dividend, which totaled $13.0 million, we closed the first quarter with tax basis undistributed ordinary income of approximately $28.1 million." Undistributed income for TCPC was $24.2 million the previous quarter.
Higher yield BDCs such as Prospect Capital (NASDAQ:PSEC) use these amounts to cover dividends for quarters that net investment income does not exceed dividends paid. Over the last three quarters PSEC has used this reserve to cover dividends and on the last call the CEO mentioned that there was still about $0.22 per share left. Investors should keep in mind that higher yield BDCs pay higher dividends and are less likely to pay special dividends because they use onetime earnings and gains as a reserve for future coverage shortfalls.
Equity Participation
In Part 4 of this series I discussed how the amount net asset value ("NAV") per share growth for BDCs usually comes from having equity participation in the portfolio companies and gains from these investments can be onetime dividends or capital gains from increased values and can be distributed as special dividends. Certain BDCs have made this a priority when originating loans and FSIC has taken this to a new level and one of the benefits that its portfolio companies have by offering equity participation is full access to consulting services from the GSO/Blackstone platform.
Special Dividend Potential
The following table shows the dividend coverage from the previous table, the current amount of equity and whether or not the company is growing these amounts, the historical and projected special dividends for 2014 and the combined yield with regular dividends.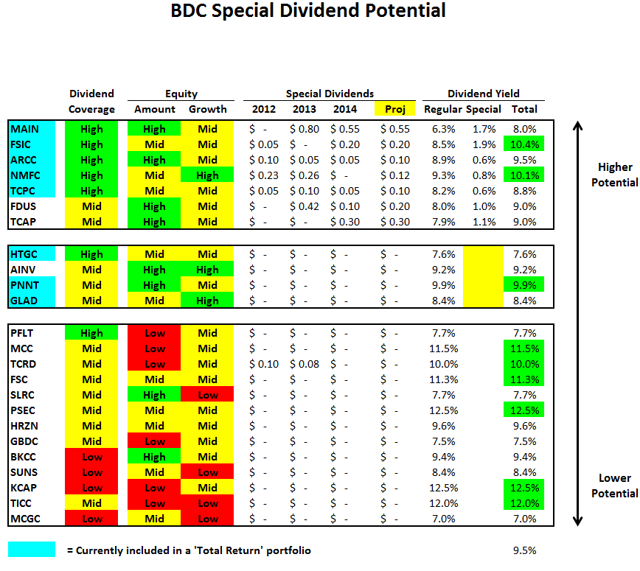 As you can see many of the BDCs that are currently in my total return portfolios are near the top including MAIN, FSIC, TCPC, Ares Capital (NASDAQ:ARCC) and New Mountain Finance (NYSE:NMFC) most of which have already committed to paying special dividends. FDUS and TCAP have paid and/or committed to dividends as well and will be considered for the total return portfolios. Hercules Technology Growth Capital (NASDAQ:HTGC), Gladstone Capital (NASDAQ:GLAD), Apollo Investment (NASDAQ:AINV) and PennantPark Investment (NASDAQ:PNNT) also rank higher in this analysis but HTGC would most likely be the only one to pay a special dividend in 2014. However AINV, PNNT and GLAD will probably have higher amounts of NAV growth or increase dividends instead of offering an extra dividend payment.
Higher yield BDCs such as PSEC, Fifth Street Finance (NYSE:FSC), Medley Capital (NYSE:MCC) and TICC Capital (NASDAQ:TICC) would most likely use extra income and gains to build a cushion in case of future declines in portfolio yield and these companies already pay high enough dividends that investors should be more concerned with dividend and NAV sustainability. THL Credit (NASDAQ:TCRD) fits into this camp as well and has paid special dividends in the past but is starting to have coverage issues. Again, MCG Capital (NASDAQ:MCGC), KCAP Financial (NASDAQ:KCAP) and BlackRock Kelso Capital (NASDAQ:BKCC) rank near the bottom of this analysis for many reason but mostly due to lack of dividend coverage with no hope of paying special dividends and will not be considered for these portfolios.
The rest of this series will combine the previous articles including NAV and dividend growth potential to come up with projected total returns by BDC. At that point I will use this information to come up with risk adjusted expected returns and apply it to relative valuations for each company to identify which BDCs should be included in my risk averse total return portfolio and a portfolio with higher amounts of risk but higher potential returns. The key criteria that I will be analyzing in the upcoming articles are:
Projected total returns
Risk to reward ratio
Relative valuations
I will try to cover each of these areas using available public information as well as my own analysis and I will most likely be investing in all of these BDCs personally. Investors should only use this information as a starting point for due diligence and please see my frequently updated "Index to BDC Articles" for more information.
Disclosure: The author is long ARCC, FSC, FSIC, GBDC, HTGC, MAIN, NMFC, PFLT, PNNT, PSEC, TCPC. The author wrote this article themselves, and it expresses their own opinions. The author is not receiving compensation for it (other than from Seeking Alpha). The author has no business relationship with any company whose stock is mentioned in this article.