During the Dot-com bubble, executives of publicly-traded companies were able to boost the market caps of their companies simply by adding an "e-" prefix and/or a ".com" to the company's name. Insider enrichment was irrelevant to the success or failure of the operational business. Whether or not the business was making money, insiders were exercising stock options and disposing large amounts of stock to naive investors who believed in these up-and-coming internet companies. In the end, most of these public dot-com companies went bankrupt and average investors suffered tremendous losses.
This occurs most often in the lesser regulated micro-cap markets during Wall Street manias. There are less stringent listing requirements for the over the counter bulletin board ("OTCBB") or pink sheets and thus it is neither difficult nor time consuming to turn an idea into a publicly-traded "development stage" company. This enables opportunists without a moral compass to take an idea, quickly turn it into a public company and generate enormous amounts of cash by selling shares of stock with little-to-no value to the risk-tolerant public with an appetite to invest money into new and upcoming ventures.
Market manias like the tulip bubble in 1637 or the dot-com bubble occur time and time again on Wall Street and within the past year we have experienced a marijuana bubble where any pipe dream of an idea that sounds even remotely interesting can command an outrageous market cap just as long as the company continues alluding to it being a part of the marijuana industry.
During the past several months, dozens of micro-cap companies announced entries into the medical marijuana marketplace. To no surprise, many of these public companies generate little-to-no revenue and some fail to even have an operating business. Their primary purpose is to enrich insiders and larger shareholders at the expense of average investors.
FINRA recently reissued an alert to warn investors about marijuana stock scams and the Securities and Exchange Commission has also ramped up its efforts to protect investors from unscrupulous insiders and stock promoters by suspending 11 self-proclaimed marijuana companies to date. It is likely that the SEC will continue to suspend highly questionable marijuana companies from trading and we have identified MediJane Holdings, Inc. (OTCQB: OTCQB:OTCPK:MJMD) as a top candidate for a possible SEC trading suspension. Of all the current micro-cap companies trading in the medical marijuana sector, we have chosen MDMJ as a top candidate for a trading suspension based upon a highly misleading stock promotion campaign whereby Globalvision Communications LLC is managing an online weekly advertising budget of up to $200,000. The advertising budget is being funded by one or more large MJMD shareholders that intend to sell their shares. We see no reason why this could not be considered to be a pump & dump scheme according to the legal definition set forth by the U.S. Securities and Exchange Commission. Furthermore, we have identified numerous red flags unrelated to the promotional campaign that will be outlined throughout this report.
We maintain a very negative outlook and believe that MJMD shares will fall by more than 90% before the end of the year. If you own shares of MJMD, get out now because the stock will inevitably collapse by more than 90% back towards its intrinsic value. If you are a short-biased trader, we consider MJMD to be one of the most lucrative short ideas of the year.
About The Company
On Feb 28, 2014, the company received written consent from the board of directors and 51.47% of the company's voting securities to change the name of the company from Mokita, Inc. to MediJane Holdings, Inc. Ronald Lusk was appointed as President & CEO of the company in tandem with the proposed name change and was issued 5,000,000 shares of common stock pursuant to an exemption from registration requirements under Rule 506 of the Securities Act of 1933.
MediJane Holdings issued a press release on Mar 21, 2014 regarding the company's entrance into the medicinal marijuana sector through a license agreement with Phoenix Bio Pharmaceuticals Corporation. In exchange for 26,000,000 restricted shares issued to Phoenix Bio Pharm, MediJane retained an exclusive North American license for all cannabinoid products, delivery systems and intellectual property developed by Phoenix Bio Pharmaceuticals. Medicinal cannabis products covered under the License Agreement include oral extracts, vaporizers and inhalers, transdermal patches, creams, gels, lotions and any other products or active ingredients sourced through Phoenix Bio Pharm affiliates or third party suppliers or licensors. According to the company, "MediJane products are designed to give doctors the ability to provide patients accurate and effective doses of cannabinoids to manage and treat pain and other specific illnesses."
The company has issued a multitude of press releases since their entrance into the medical marijuana sector on Mar 21, 2014 including, but not limited to:
MediJane MediStrips Now Available for Sale at GoKush.com in California
(June 27, 2014)
MediJane Holdings Finalizes New Medical Cannabis Medi-Strips Product Line
(May 23, 2014)
MediJane Holdings Signs Distribution Agreement With GoKush
(May 14, 2014)
MediJane Holdings Finalizes Agreement to Distribute Canna-Mist Sublingual Cannabinoid Spray
(May 6, 2014)
The company also joined the National Cannabis Industry Association, retained Peacock Meyers for intellectual property and trademark protection, began its California expansion strategy, added botanist and product formulator Pamela Clum to the Advisory Board, appointed Russell G. Stone as the company's new Chief Operating Officer and Lewis Humer as the company's new Chairman of the Board.
As of July 17, 2014, MediJane Holdings advertises three products listed on the company's website:
Daytime Plus CBD: Designed to help in the treatment of chronic pain and inflammation.
Canna-Mist: Designed to help in the treatment of chronic pain and inflammation.
MediStrip Relaxation: Developed as a fast acting mood calming dissolvable oral strip with the added benefit of relieving pain and inflammation.
Additionally, on July 15, 2014, the company announced the completion of the final formulation of its new Canna Liniment product line of topical analgesics. The products are made with cannabis oil, wintergreen essential oil and menthol and are formulated for the ailment of chronic pain and muscle soreness.
The company indicated a total 89,525,000 common shares outstanding as of June 13, 2014, valuing the company at $71,620,000. Unfortunately, MediJane issued a notification of late filing in a form 12b-25 dated July 15, 2014. Since the company was not able to timely complete its financial statements to electronically file form 10-Q, there is very limited public information regarding the ongoing operations of the company.
Going Public To Cash In On Marijuana Mania
MediJane Holdings does not cultivate marijuana. They also do not engage in the research and development of their own independent cannabinoid products. They own no U.S. issued patents. According to the company, MediJane is in the business of "marketing and distributing" products within the medical marijuana industry.
As a "going concern" company with very limited capital to allocate towards an effective ad campaign, it will be nearly impossible to build an easily recognizable brand identity and become a thriving "marketing and distributing" company unless a substantial capital infusion takes place. Even in the unlikely event that the company can attract a large capital infusion, shareholders are almost guaranteed to face substantial equity dilution since the company's lack of tangible assets eliminates the possibility of favorable debt financing.
If the company is able to capture brand recognition, their licensing agreement with Phoenix Bio Pharmaceuticals only covers North America so it will be nearly impossible for MediJane Holdings to leverage Phoenix Bio's licensing agreement into a thriving business.
However, as we described above, during stock market manias it is possible for unscrupulous insiders and shady promoters to enrich themselves even if they are fully aware that their operational businesses are doomed for failure.
GeoInvesting did a fantastic job pointing out several highly questionable affiliates of MediJane Holdings in a previous report so it is not the least bit unreasonable to consider the possibility that the officers of MediJane Holdings along with the founders and large shareholders may reap large sums of money even if the business flops.
Phoenix Bio Pharmaceuticals And Conflicts of Interest
Lewis "Spike" Humer was appointed as Chairman of MediJane Holdings, Inc. (OTCQB: MDMJ) on April 25, 2014. He also acts as the CEO of Phoenix Bio Pharmaceuticals Corporation, a counter-party that granted MJMD exclusive licensing rights throughout North America for their cannabinoid products, delivery systems and intellectual property.
A major red flag is that according to the Colorado Secretary of State, Phoenix Bio Pharmaceuticals Corp. was formed on Mar 9, 2014.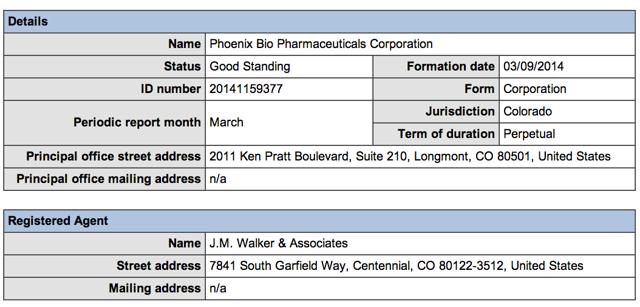 Recall from an earlier section that Phoenix Bio and MediJane entered into a licensing agreement on Mar 21, 2014 and that Phoenix Bio received 26,000,000 shares of common stock as part of this transaction which took place just three weeks after the formation of Phoenix Bio Pharmaceuticals and a mere three days after Phoenix Bio registered a domain name to create a website.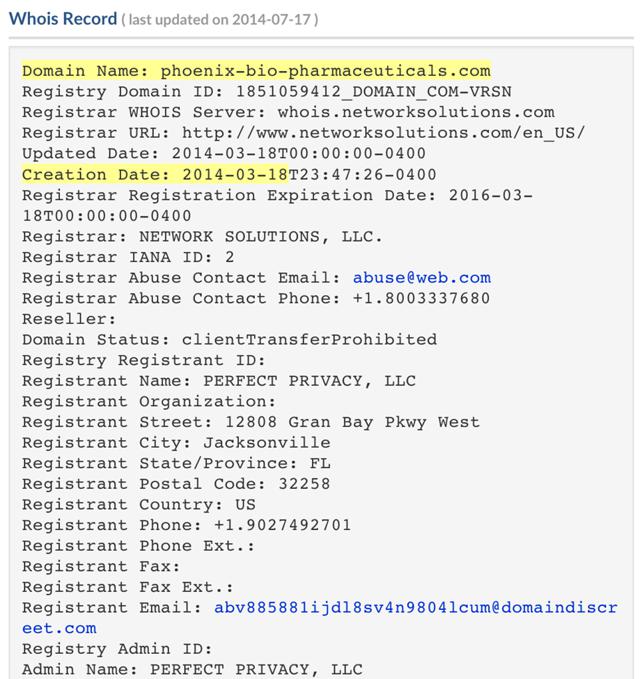 GeoInvesting Team's report on MJMD also raised some red flags about Phoenix Pharms Capital Corp., another Colorado entity listing Lewis Humer as CEO. It appears as if Phoenix Pharms Capital Corp. is capitalizing on Wall Street's marijuana mania by acquiring dirt cheap shares in publicly-traded marijuana companies that either end up being subject to paid stock promotion campaigns or publish very fluffy and immaterial news.
Phoenix Pharms Capital Corp. was formed on Oct 31, 2013, right as marijuana mania was getting underway. The company lists their address as 4450 Arapahoe Avenue, Boulder, CO 80303. This is the same address used by Cannabis Therapy Corp. (OTCQB: CTCO). Both Cannabis Therapy and MediJane Holdings have compensated the penny stock promotion firm Emerging Growth LLC in order to tout each respective company.
MJMD: In Bed With 420 Clinics Lacking Permits
Take a glance at the homepage for www.GoKush.com and you'll notice the MediJane Holdings logo in several prominent locations. GoKush.com LLC is a California-based 501(c)(3) non-profit founded by Mac Bagby. On March 13, 2014, MediJane and South Pacific Resources, Inc. DBA GoKush.com LLC entered into an agreement whereby GoKush became the company's online ordering platform for the ordering and re-stocking of MediJane products in exchange for 200,000 shares of MediJane in addition to a yet-to-be -determined delivery surcharge on each order.
Mac Bagby also operates 420cc.org, the website for 420 Cannabis Card Corporation. The company was previously in trouble for not possessing a FNP Permit required by law to practice medicine in California.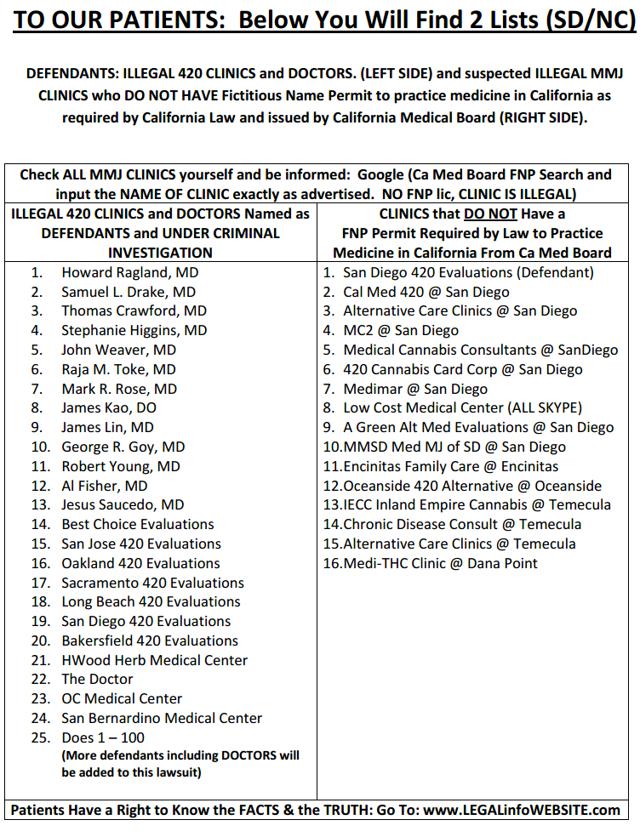 The California Secretary of State also lists the corporation as being suspended. However, 420cc.org is still online, their telephone number is still operational and a google search reveals an active web presence.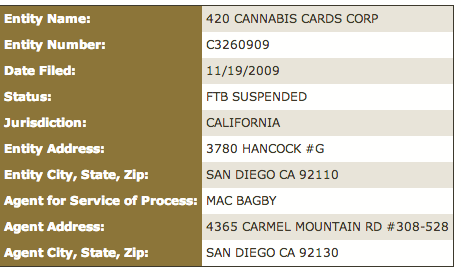 This affiliation with Mac Bagby and GoKush.com could prove to be detrimental to MediJane's brand identity and long-term operational results.
Picture of $MJMD Chart
You can see that trading in MediJane Holdings Inc started seeing really increased volume on July 9, 2014. You can see it was around this time emails started to land linking to this landing page. Coincidence with the time of the emails and increased volume in MediJane Holdings Inc ? Absolutely not.
Emails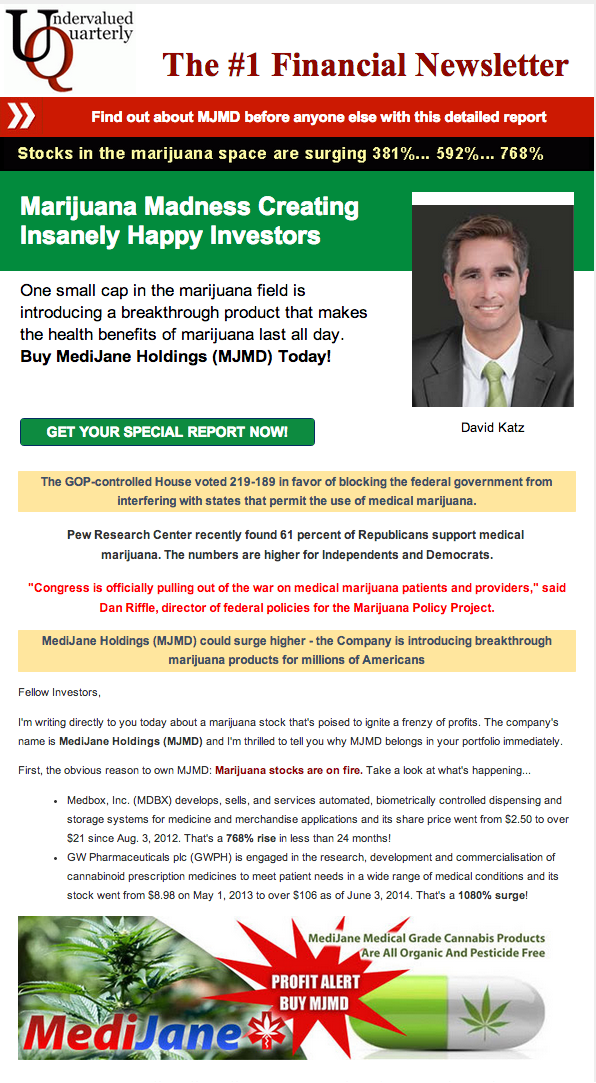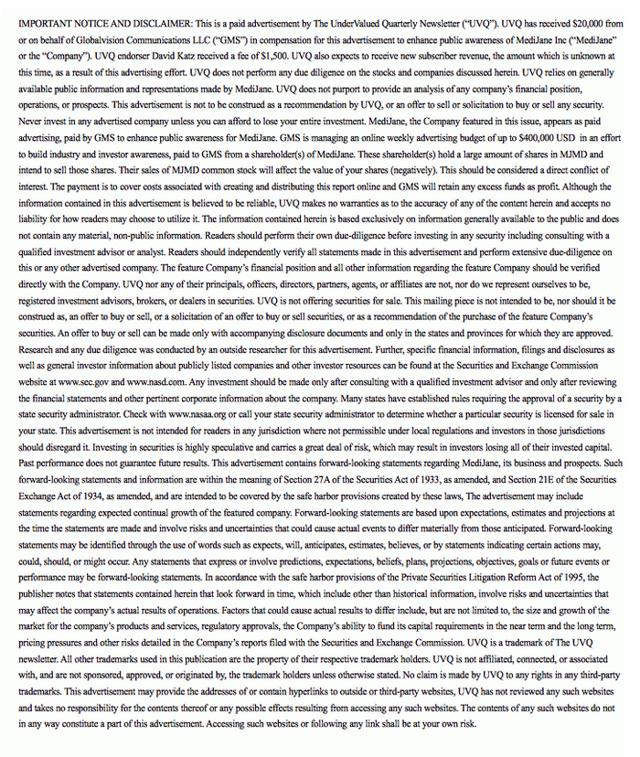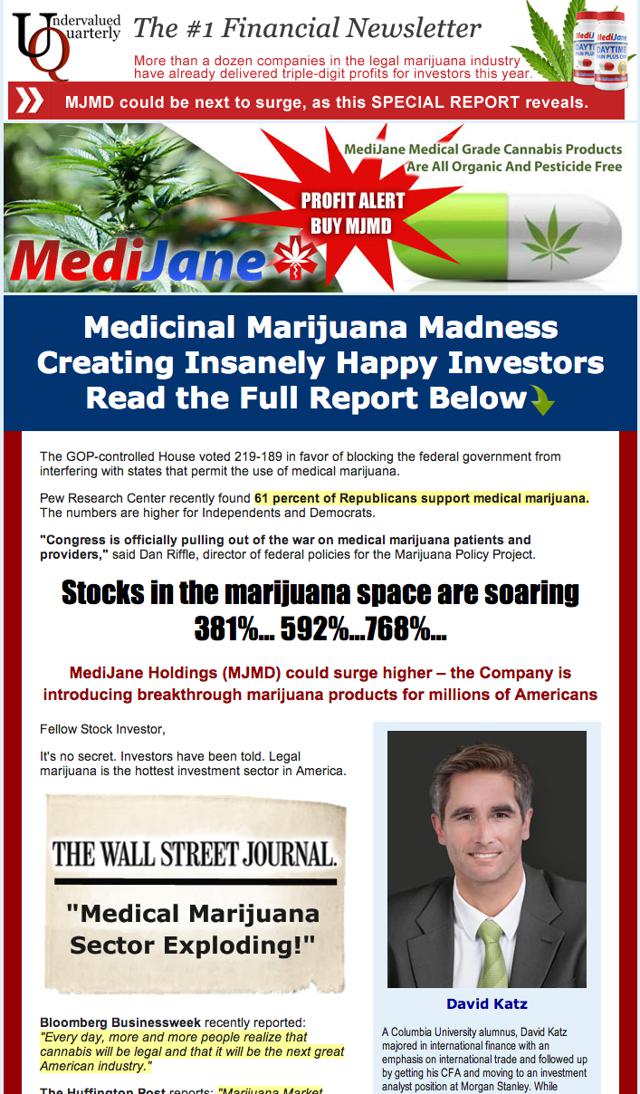 Landing Page Disclaimer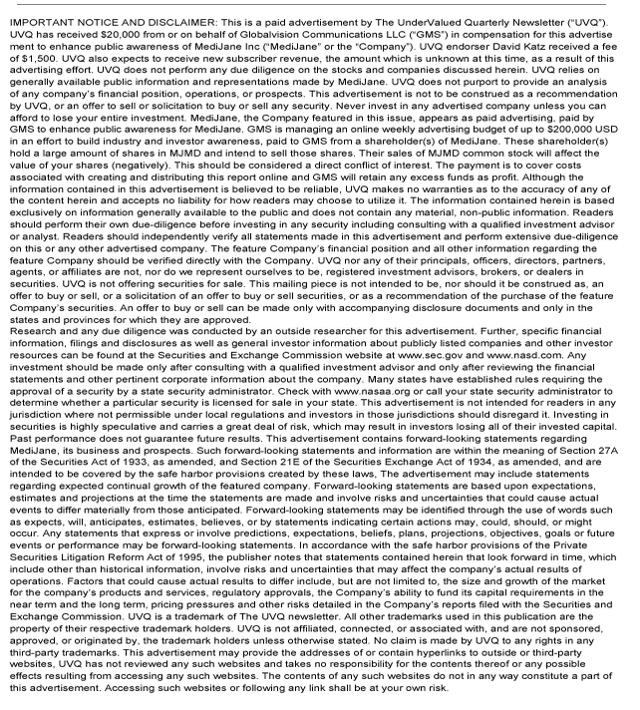 Go here to see details about the landing page.

You can see obviously someone is interested in increasing public awareness for MediJane Holdings Inc. The disclaimer points out an insider paid for the promotion and holds a large amount of shares he intends to sell. This is obvious, why else would someone spend cash to increase public awareness? I also find it suspicious they have not listed the total promotion budget. There are 33,000,000 free trading shares out there. At these levels, those shares are worth about 27 million! It is worth it to them, because if they can bring in buyers and liquidate their shares around these prices, that can mean millions in profits! Running pump and dump schemes is a lucrative business, and that is why we see it way too often. My job is to wake you up.
Past Promotions
I cannot find any landing pages from undervaluedquarterly before. I have only found an unsuccessful ZENO promotion. However, going through my past articles you can see how ugly all the stock promotions ended up no matter who it was from so expect the same from this one. My past article I wrote on WindStream Technologies, Inc. dropped 65%+ within 3 days after my article was published. When these promotions go south, they go south quick as you can see below.
My Recommendation
If you own shares of this company, get out now. Do not hope that you can hang on to sell them to a greater fool. These shares are worthless. I have showed you that the reason for the promotional mailers indicates that the individuals behind this stock scam are trying desperately to unload their worthless shares onto the unsuspecting public and book a huge profit before the inevitable collapse. If you are a more sophisticated investor and can get a borrow on these shares, then I believe that shorting this name will be highly lucrative for you. In this stage of the promotion, with the stock halt risk, it is not worth staying long overnight to make $.05-$.10 more in gains when there is a risk of 70% in losses. You have been warned.
Disclosure: The author is short MJMD. The author wrote this article themselves, and it expresses their own opinions. The author is not receiving compensation for it (other than from Seeking Alpha). The author has no business relationship with any company whose stock is mentioned in this article.
Editor's Note: This article covers one or more stocks trading at less than $1 per share and/or with less than a $100 million market cap. Please be aware of the risks associated with these stocks.