I originally recommended General Electric (NYSE: GE) on May 18/09 (IWB #2914) at $13.04. The stock closed Friday at $16.06. (All figures in U.S. dollars.)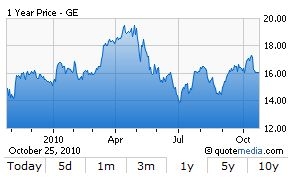 I recommended this stock in May 2009 when it was at $13.04. It subsequently rose to almost $18 before pulling back last week when the company posted third-quarter profits and revenue that were lighter than expected.
On the other hand, the outlook was upbeat as GE reported orders improving in a number of its segments by 9% and the company said it was the first time in two years that it had seen growth in both equipment and service orders.
However, the market is unforgiving. These days, near misses are punished immediately and that was the case here. Profits dipped to $2.06 billion, down from the $2.49 billion earned a year prior, and quarterly revenues dropped by 5%. The market thumped GE, driving down the price by 5% in one day. Still, it is $3 higher than when I recommended it.
I liked the fact that operating earnings rose by 29% to $3.16 billion or 29c a share so I'm reiterating my buy recommendation with the same target of $18 over the next six months.
Action now: Buy.

Disclosure: Author is long GE