Advanced Micro Devices Inc. (NYSE:AMD) reported Q2 earnings yesterday, and there were hits and misses. The company reported revenue of $1.44 billion, up 24% over the Q2 2013 results. Gross margin was 35%, down from the 40% it achieved last year. Operating income was $63 million, and non-GAAP operating income was $67 million. The company achieved a net loss of $36 million or loss per share of $0.05. Non-GAAP net income was $17 million or $0.02 per share, disappointing analysts who were expecting $0.03 per share. Below is the company's historical financial performance.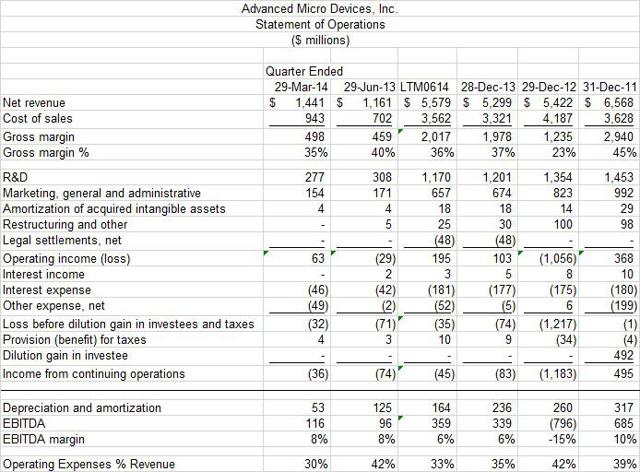 Despite a 24% increase in revenue, EBITDA margin of 8% was flat in comparison to Q2 2013.
Q2 2014 results were also negatively affected by other expenses of $49 million, which were higher in comparison to the $2 million of other expenses for Q2 2013.
The company's revenue guidance for Q3 2014 also disappointed the market. AMD expects revenue to grow 2 percent sequentially, plus or minus 3 percent. According to 247wallst.com:
This puts the mid-point of revenues at $1.47 billion, with a range of about $1.42 billion to $1.51 billion. Thomson Reuters has a consensus estimate of $1.57 billion.
The projection indicates that AMD may not be rebounding as expected from the shift in consumer tastes from computers - the company's bread and butter - to mobile devices.
Valuation
The shares sold off after-hours, declining over 18% to $3.82 per share from Thursday's close of $4.57 per share. Its after-hours share price would give the company a market capitalization of about $2.9 billion. Including long-term debt of $2.1 billion, AMD's enterprise value is approximately $5.0. That said, the company's enterprise value to revenue and EBITDA through the last 12 months to June 2014 ("LTM0614") are 0.9x and 14x, respectively.
Conclusion
AMD's revenue growth during Q2 2014 was impressive. However, its gross margin declined, the company missed on its earnings target and revenue guidance for Q3 2014 was underwhelming. At 14x EBITDA, which includes the after-hours sell-off in the stock, I believe the stock is fully valued. AMD is a hold.
Disclosure: The author is short AMD. The author wrote this article themselves, and it expresses their own opinions. The author is not receiving compensation for it (other than from Seeking Alpha). The author has no business relationship with any company whose stock is mentioned in this article.