By Bryan McCormick
US stock index futures are fractionally lower this morning after Asian markets finished weaker. News from Australia that the government might block Singapore's bid for the ASX sent shares tumbling.
Europe is also in the red across the board. One bright spot was better-than-expected UK economic growth, but that has not sparked a shares rally.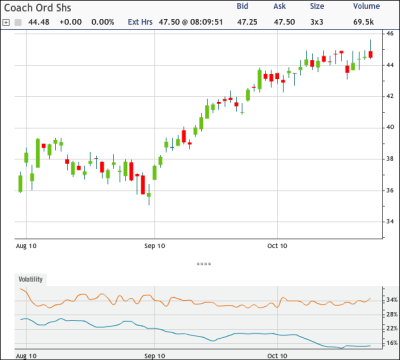 Instead, the UK pound is the principal beneficiary and the only currency in the dollar index basket that is stronger against the dollar. The dollar has edged back up from yesterday's lows, which has put a lid on crude and materials pricing in commodities.
In earnings news, DuPont (NYSE:DFT) turned in a better-than-expected report that has sent the shares higher by 1 percent. Coach (NYSE:COH) beat consensus analyst EPS expectations in its report, with that stock up more than 3 percent.
At the other extreme of earnings news so far, Plum Creek Timber (NYSE:PCL) failed to meet consensus for the reported quarter and lowered its full-year outlook. The stock is down more than 5 percent as a result.
One situation to watch is Lexmark (NYSE:LXK). Although the company's third-quarter results and fourth-quarter forecast were both above consensus, it is down nearly 6 percent after announcing that CEO Paul Curlander is retiring.
Just crossing is US Steel (NYSE:X), which appears to have missed expectations. That bellwether stock for steelmakers and other industrial metals makers is down nearly 5 percent.
For tomorrow, a few of the notable S&P 500 companies reporting include Automatic Data Processing (NASDAQ:ADP), Akamai (NASDAQ:AKAM), Comcast (NASDAQ:CMCSA), ConocoPhillips (NYSE:COP), Flowserve (NYSE:FLS), General Dynamics (NYSE:GD), International Paper (NYSE:IP), Norfolk Southern (NYSE:NSC), Procter & Gamble (NYSE:PG), Symantec (NASDAQ:SYMC), and Visa (NYSE:V).

Disclosure: No positions