No sooner did I get finished writing a piece about the evolution of Microsoft (NASDAQ:MSFT) and the role that Satya Nadella was going to play at the company, than he came out and told the market the company was going to be slashing 18,000 jobs over the next year. Most of the jobs, it's being reported, are part and parcel with the Nokia (NYSE:NOK) business that Microsoft acquired earlier this year.
It's never a good thing when jobs are sacrificed to help a company's bottom line. This was an argument that I had over and over when discussing Bank of America's (NYSE:BAC) restructuring heading into 2014. Unfortunately, it's the way of the business world - companies, over time, become bloated and complacent. Somebody needs to get them back to their fighting weight once again. This is what Mr. Nadella is doing in Microsoft's case.
His way of going about this reminded me of someone ripping a band-aid off quickly to save the pain, as opposed to doing it little by little. Nadella set the tone with his email, no doubt, and then he swiftly acted upon it just days later. Nadella looks to be a strong leader, from the get go, for Microsoft. The company is expecting a restructuring charge of $1.1 to $1.6 billion.
Microsoft's memo to employees said:
The first step to building the right organization for our ambitions is to realign our workforce. With this in mind, we will begin to reduce the size of our overall workforce by up to 18,000 jobs in the next year. Of that total, our work toward synergies and strategic alignment on Nokia Devices and Services is expected to account for about 12,500 jobs, comprising both professional and factory workers. We are moving now to start reducing the first 13,000 positions, and the vast majority of employees whose jobs will be eliminated will be notified over the next six months. It's important to note that while we are eliminating roles in some areas, we are adding roles in certain other strategic areas. My promise to you is that we will go through this process in the most thoughtful and transparent way possible. We will offer severance to all employees impacted by these changes, as well as job transition help in many locations, and everyone can expect to be treated with the respect they deserve for their contributions to this company.
This move will help the company focus more on the mobile and cloud initiatives that Mr. Nadella seems to be building his tenure as CEO around already.
Analyst seem to agree that 18,000 employees - of Microsoft's 125,000 - was certainly a large number. Most people had been tossing around estimates of about 6,000 job cuts after Mr. Nadella's email that was out earlier in the week. This is the equivalent of simply chopping off about 14% of the entire company. Surely, Mr. Nadella "speaks softly and carries a big stick."
For the longest time, investors have opined over what the future of the Nokia division and the Xbox division of Microsoft were going to be. Nadella made the right move in my opinion, to embrace Xbox and to significantly trim the company's Nokia division.
Investors sure did seem to like the news. Microsoft was up as much as 4% yesterday before the geopolitical unrest came to light mid-day and roped in a lot of the U.S. equities. As you can see here in yesterday's trading, Microsoft was one of the few equities that managed to eke out a gain: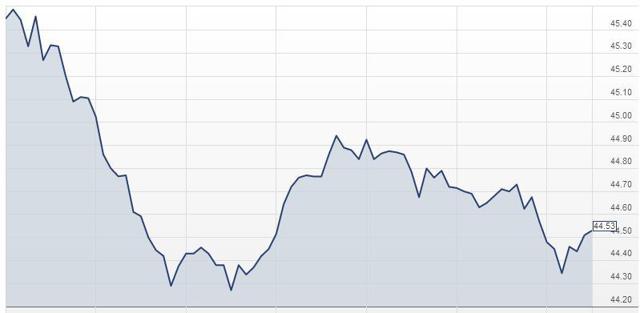 USA Today, this morning, noted that analysts applauded the idea:
Daniel Ives, analyst with FBR Capital Markets, says the "larger than expected" layoffs hints at Nadella's plans to simplify Microsoft's infrastructure.

"Under the Ballmer era, there were many layers of management and a plethora of expensive initiatives being funded that has thus hurt the strategic and financial position the company is in, especially in light of digesting the Nokia acquisition," Ives says.

"Nadella is using today as an opportunity to make sure that Microsoft is ready and well positioned to embark on its next chapter of growth around mobile and cloud," Ives says.
Investors certainly seemed to feel the same way.
Regardless, I love the way that Nadella has made this company his in the short time that he's been there. Investors obviously feel the same, as you can tell by the stock performance since Nadella has taken the helm just months ago.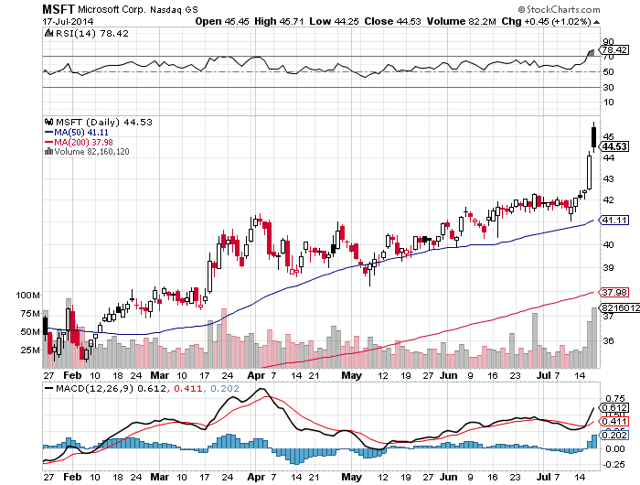 I've been calling Microsoft a buy since Mr. Nadella took over. This move only goes to reaffirm what I've previously said about the company - that it's likely to be a great, low beta, dividend paying name for any portfolio from here moving forward. Microsoft looks like it's going to be ready to scream under Mr. Nadella's leadership.
Microsoft is trading up $0.03 in early pre-market trading on Friday.
Best of luck to all investors here.
Disclosure: The author has no positions in any stocks mentioned, and no plans to initiate any positions within the next 72 hours. The author wrote this article themselves, and it expresses their own opinions. The author is not receiving compensation for it (other than from Seeking Alpha). The author has no business relationship with any company whose stock is mentioned in this article.