On February 25, 2014, RealPage (NASDAQ:RP) plummeted 23% to a new all-time low in response to an extremely disappointing year-end earnings report. At that time, I cited RP as a great buying opportunity and was frankly surprised at how fast the stock recovered. In another five trading days, the stock jumped 16.5%. The stock lilted into May earnings, but perked right back up afterward. It soon finished the recovery from February's losses following a positive response to May's earnings release.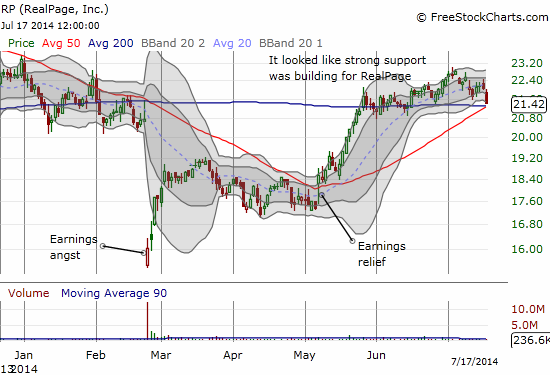 RealPage looked like it was consolidating after a strong relief rally from post-earnings angst in February.
Source: FreeStockCharts.com
Unfortunately, RealPage issued yet another earnings warning. In after-hours trading on July 17, 2014, RP dropped in reaction to as low as $16, before bouncing back to around $18. While the odds are high for another post-angst bounce, I do not think RP will experience the kind of sustained recovery it did after February's disappointment. RP is looking like a business with fundamental issues that may take a very long time to resolve… if it ever does.
RP's guidance for its second-quarter results are now non-GAAP total revenue of $93.8M to $94.8M, a 13% miss at the mid-point; and adjusted EBITDA of $11.5M to $12.5M, a whopping 52% miss at the mid-point. In the first-quarter earnings announcement, the company guided as follows for the second quarter:
Non-GAAP total revenue: $106.0 to $108.0M
Adjusted EBITDA: $25.0M to $25.5M
Non-GAAP net income: $12.1M to $12.4M, or $0.16 per diluted share
The company also provided guidance for the full year. Presumably, this guidance will also come down when RP releases its full results for the quarter.
The company blamed "weakness in leasing velocity and marketing products" as primary drivers of the revenue and profit misses. This explanation is a very large surprise. Leasing velocity came up as an issue during the fourth-quarter earnings conference call. The perplexing story around a drop in leasing velocity is what originally grabbed my attention to the RP story. At the time, RP explained that, much to its surprise, landlords emphasized renewals over new leases, despite record occupancy rates. The disinterest in signing up new renters at higher rental rates mystified even its in-house economist. So I was very surprised that leasing velocity did not get mentioned in the last earnings call and analysts in attendance even failed to ask about it (according to the Seeking Alpha transcript of the earnings call). To see it come up again as an excuse for whiffing big on guidance is a worrying sign that RP's problems on this score are more deeply entrenched than I had hoped.
Marketing DID come up in the last earnings call, but as a point of promise:
"There are simply a lot of pent-up demand for LeaseStar organic lead generation tools, as well as our Portal family of products, as customers continue to shift marketing dollars towards organic lead generation and improving their resident experience."
Now, just two months later RP is lamenting that "… owners are spending less in marketing and advertising due to low vacancy and resident turnover rates. Against this back drop, during the second quarter of 2014, the company took actions that resulted in lower revenue per transaction, primarily in the contact center, while increasing market share." The low vacancy rates and low resident turnover rates are not new, so the risk to marketing revenues and related leasing activities should not be new either. Even more worrisome is the implication that RP had to take down pricing in order to go after market share.
Taken together, these two drivers sound like deeply entrenched problems that will NOT turn around anytime soon. However, RP expressed a lot of hope that a slew of new product offerings will help shift the tides back in its favor, even as it also (implicitly) confirmed that competitive pressures are a problem (see reference to pricing actions).
"We intend to stay the course on our sales expansion investments and complete the rollout of the richest product development backlog in our history. During our second quarter conference call, we will provide additional details of our action plan, our progress with respect to new product introductions, sales force expansion and pricing actions taken to expand market share going forward."
Suddenly, these new products are more important than ever. However, in the last earnings call, RP mentioned that it did not expect revenue contributions in 2014 from several of its new products. So now analysts will likely want specifics on how and when new products will help the business.
Given RP'S growing risk profile, I do not think an investment in RP is worth the risk without a very steep discount to current valuations and/or until the company proves some early successes and wins with its battery of new products. Before the earnings warning, RP was trading at a 26 forward P/E, 4.8 price-to-sales, and 5.4 price-to-book (data from Yahoo Finance).
Ironically, RP began the month by announcing that quarterly growth in rental rates had reached a 14-year record at 1.9%. This robust market put pricing power in the hands of landlords, even when new developments are competing for tenants. In metro after metro, RP describes hot rental markets with high occupancy rates and very strong demand. If the company cannot perform in this environment, one has to worry about the longer-term performance of the company.
For reference for the next earnings call, I post below some additional highlights from the last one.
The company spent a lot of time during the short call discussing its "slew" of new products. Analysts were keenly interested in the company's progress in improving sales execution. The bottom line came in this exchange at the very end of the conference call (from Seeking Alpha transcripts):
[Analyst]:"… is this still a 20% to 25% organic growth story for on-demand revenue?

[Stephen T. Winn - Founder, Chairman, Chief Executive Officer and President]: We believe the market supports our target growth objectives, which is 20% to 25%. We're way under penetrated. And this is about execution, not lack of demand for the products and services that we offer."
When asked why the company has so much confidence in its growth rate, Hill responded:
"… we continue to compete in an under-penetrated market. Most of our products and services are very under penetrated into the market. And so, we view the increase in our sales headcount will continue to provide bookings acceleration, as we exceed through the back half of the year. So that's what provides us the best visibility into the full year. And then, also, as it relates to the revenue growth acceleration, revenue percentage, that is, as we get through Q2… we expect there to be a continued pickup."
Notice that RP subtly implied that Q2 could be problematic, even though it maintained the SAME guidance from the February earnings call that caused so much angst. Clearly, the market was in a better mood in May than in February. As the chart above shows, the stock jumped in response to the last earnings announcement. In a condition of under-penetration, (fickle) hope can indeed spring eternal.
The assumed market opportunity is large:
"no product center is more than 20% penetrated into the total multifamily opportunity of 18 million units, and we're still in the beginning stages with respect to penetrating the single-family opportunity of 25 million units and the vacation rental opportunity of 3 million units. So we've got a lot of room to run. And to that end, we are increasing our focus in marketing sales and our implementation teams."
This growth engine seems broken. RP is now in the "show me" penalty box relative to its supposed ability to realize these opportunities.
Next, an analyst asked for an assessment of what went wrong in Q4. Here is the response:
"… we are addressing the sales expansion. I think that is very important. And so, we've got to spigot wide open on hiring sales reps, and it does take a while for them to become productive, but that's happening and we plan to continue to hire more reps. We are improving the implementation teams. They've now had another quarter of operating under the new organizational leadership that was put in place in July of last year. And so, we're seeing increased - or improved execution in the implementation area… And we're migrating away from the traditional way of lead generation to newer organic channels. And those products are performing very well, and we're optimistic that LeaseStar will perform well for us going forward."
Sales execution was not mentioned in the earnings warning, so an update on this will be critical in the next earnings call. It seems to me that a double-digit revenue drop implies at the very least that the sales ramp is not occurring as well as RP had hoped.
Stay tuned and be careful out there!
Disclosure: The author has no positions in any stocks mentioned, and no plans to initiate any positions within the next 72 hours. The author wrote this article themselves, and it expresses their own opinions. The author is not receiving compensation for it (other than from Seeking Alpha). The author has no business relationship with any company whose stock is mentioned in this article.