This morning NQ Mobile (NYSE:NQ) announced that it had fired its auditor, PricewaterhouseCoopers Zhong Tian LLP ("PwC") and hired Marcum Bernstein Pinchuk LLP as its independent auditor. This came after PwC advised NQ that there were "questions related to electronic data collected by the Investigation Team that would require it to expand the scope of its work and, if investigated further, may cause it to be unwilling to rely on management representations in connection with its audit work." Essentially, PwC doesn't trust the validity of the data provided by the independent audit team.
NQ should not be bought today
If the auditor doesn't trust the data used to create the financial statements, investors cannot properly project the company's future earnings and should not be investing in the stock. This is the worst-case scenario from our analysis "Auditors Didn't Find Fraud At NQ Mobile, But A Restatement Isn't Ruled Out"
Comparing the two audit statements shows increasing concern by PwC
A look at the two prior auditor opinion statements shows that PwC had increasing concerns. Two sentences appeared in the auditor report for 2013 that should have been a flag to investors: In our opinion, "the Company maintained, in all material respects, effective internal control over financial reporting as of December 31, 2012." Later in the audit report, it goes on to say, "Because of its inherent limitations, internal control over financial reporting may not prevent or detect misstatements."
The change in language was a message in a bottle
In our opinion, these two statements indicate that management controlled the data collection and prepared the statements and the auditor felt the need to express concern that misstatements could be occurring without going so far as to state that the misstatements were occurring. Like a message in a bottle, the change in language of the audit report was out there waiting for someone to find and recognize.
The image below is a side by side comparison of the audit reports.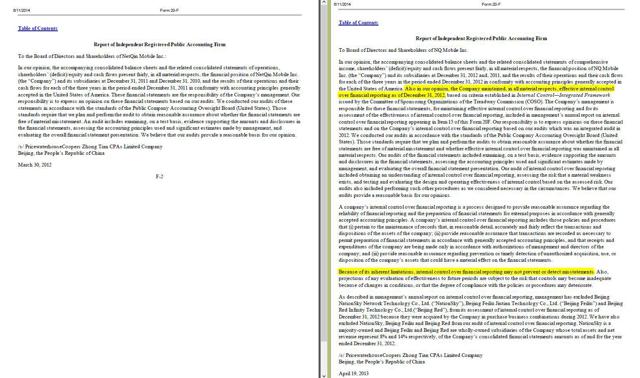 PwC did its job. It expressed concern that a problem could exist. It would have been better for investors if its mandate had been to describe its concerns in more detail but that was not the case. It's our job as investors to do our homework and watch the fundamentals, especially when greed is overcoming fear.
Disclosure: The author has no positions in any stocks mentioned, and no plans to initiate any positions within the next 72 hours. The author wrote this article themselves, and it expresses their own opinions. The author is not receiving compensation for it (other than from Seeking Alpha). The author has no business relationship with any company whose stock is mentioned in this article.