The market came under pressure yesterday after news broke regarding Malaysia Airlines Flight 17 being lost over Eastern Ukraine. All signs point to the plane being shot down with an advanced weapon, and some of the stories coming out of Europe have tied the tragedy to the Ukrainian rebels which are appearing more and more as if they are actually Russian forces. If that is true, and we stress 'if' because at this point the only evidence supporting the connecting of these dots are a few bread crumbs and not a smoking gun, then this would be Russian sponsored terrorism. That is the worry at this point and if a Russian connection is made then we will probably see further market turmoil before the diplomats can work something out.
As portions of the market recovered during the session, investors began feeling better about the market until there were roughly 15 minutes left in the trading session and Israel announced it was launching a ground offensive into Gaza to destroy rocket stockpiles and other infrastructure used by extremists.
Chart of the Day:
The Russell 2000 is looking pretty bad after having run into resistance in the 1,200 to 1,210 range once again. Technically, it looks bad but if one is a believer in the domestic market, which the Russell 2000 is heavily weighted towards, then buying on the pullback might once again turn out to be a good idea. The iShares Russell 2000 ETF (NYSEARCA:IWM) is the way we like to play the index.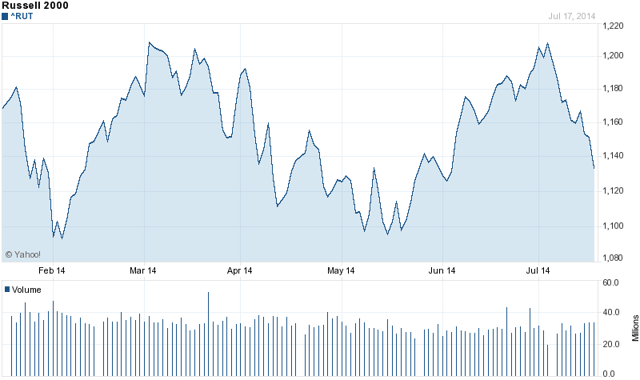 Click to enlarge
Source: Yahoo Finance
We have economic news today, and it is as follows:
Michigan Sentiment (9:55 a.m. EST): Est: 84.0 Act: 81.3
Leading Indicators (10:00 a.m. EST): Est: 0.5% Act: 0.3%
The Asian markets are mixed today:
All Ordinaries -- up 0.17%
Shanghai Composite -- up 0.17%
Nikkei 225 -- down 1.01%
NZSE 50 -- down 0.07%
Seoul Composite -- down 0.07%
In Europe, the markets are lower this morning:
CAC 40 -- down 0.13%
DAX -- down 0.68%
FTSE 100 -- down 0.28%
OSE -- up 0.48%
Possible Impact From Israel
Historically, Israel has been very good at not getting bogged down in battles and wars. They try to make quick work of the missions they undertake and avoid entering into conflicts which would either highlight or create chinks in their armor. With that said, we think that the excursion into Gaza will play out smoothly and result in a decisive victory for Israel, but if this were to drag out, we would not be surprised to see the Nasdaq begin to track lower as its large contingent of Israeli stocks could potentially become an anchor. We think that the PowerShares QQQ (NASDAQ:QQQ) in this scenario would outpace the broad Nasdaq Composite, as there are numerous small Israeli-based biotech and technology companies.
Wintel Is Winning
Not everything is rosy for Microsoft (NASDAQ:MSFT) and Intel (NASDAQ:INTC) right now, as Microsoft continues to adjust its model and Intel's battle in mobile drags out, but not everything is bad either. Both companies' stocks have been on a tear lately and with the market for Windows-based computers appearing to have bottomed, investors are betting that the winning streak continues.
Microsoft and Intel have both had a good 2014 as the companies have made moves to return more capital to shareholders while also seeing their core businesses improve.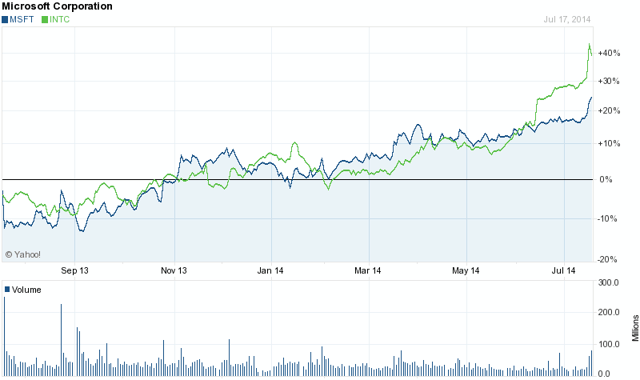 Click to enlarge
Source: Yahoo Finance
Looking at Intel's earnings and conference call this week would lead us to agree with that line of thinking, but the quarterly results from Advanced Micro Devices (NYSE:AMD) were so bad it now makes us wonder if the market for computers is not quite as strong as we thought. It now appears that at least some of Intel's strength was the result of weakness at Advanced Micro Devices and not market growth.
Disclosure: The author has no positions in any stocks mentioned, and no plans to initiate any positions within the next 72 hours. The author wrote this article themselves, and it expresses their own opinions. The author is not receiving compensation for it (other than from Seeking Alpha). The author has no business relationship with any company whose stock is mentioned in this article. IWM has previously been recommended.