SunTrust Banks (NYSE:STI) is one of many mortgage lenders that has faced government investigation in the wake of the subprime mortgage crisis. While it is undeniable that wrongdoing occurred in the mortgage industry, the scope and intensity of government action has been relatively mild, with regards to SunTrust.
Lucrative Government Investigations
Whether self-serving or purely selfless, these governmental investigations have certainly proven lucrative. Regulators have issued record-breaking fines against a number of major mortgage lenders. For example, Citigroup (NYSE:C) was fined $7 billion. JPMorgan Chase (NYSE:JPM) agreed to pay a whopping $13 billion in a record settlement.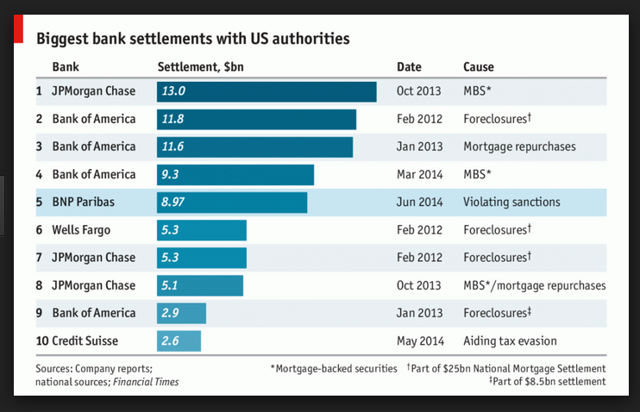 (Source: online.wsj.com)
SunTrust's Relatively Small Settlement
In comparison, the terms of SunTrust's announced settlement are fairly easy. To settle the government's criminal investigation, the bank has agreed to pay up to $320 million, most of which will fund consumer relief and housing counseling.
The federal investigation stemmed from questions regarding SunTrust's activities in regards to the Home Affordable Modification Program (HAMP). One of the Obama administration's signature projects in 2009, HAMP was intended to spur banks to modify loans for homeowners dealing with a systemic financial crisis.
Three Elements In Restitution Package
SunTrust's settlement is an unusually thorough package, combining three different elements: restitution, remediation and preventive measures. Under the terms of the announced settlement, most of the money levied by the government will go into a fund for the compensation of borrowers affected by SunTrust errors.
According to prosecutors, SunTrust was unacceptably slow in handling borrowers' HAMP applications. Additionally, SunTrust allegedly misrepresented the truth in its dealings with homeowners.
A Differentiated Case
SunTrust has certainly differentiated itself from institutions that have faced similar investigations. In some cases, companies respond to allegations like these with dogged hostility and defiance. In dealing with the investigation, SunTrust has demonstrated responsibility and integrity. Furthermore, SunTrust has shown absolute willingness to help customers with legitimate grievances against the lender. In its corrective actions, SunTrust is demonstrating good will and the desire to repair and strengthen its bonds of trust with the public.
Government Satisfaction
At least one government official involved in the SunTrust case has expressed satisfaction with the mortgage lender's corrective actions. During these difficult periods, organizations prove whether or not they have outstanding management. Moving forward, SunTrust will operate under a good deal of scrutiny, both from the public and from regulators. In this environment, the lender will have strong incentives to keep itself from falling into a pattern of complacency and carelessness. More importantly, this company's internal corporate culture seems well-disposed to making critical process improvements.
Conclusion: SunTrust Looks Healthy For Investors
SunTrust has taken praiseworthy steps towards proving its capacity for self-correction. Whether or not one believes that regulators have treated SunTrust fairly, it is clear that this company is capable of reinvention and reform.
Of course, a healthy management culture only counts if it is paired with strong fundamentals.
The company boasts $179 billion in assets and a market cap of $21 billion. Year-to-date, STI has gained 11%.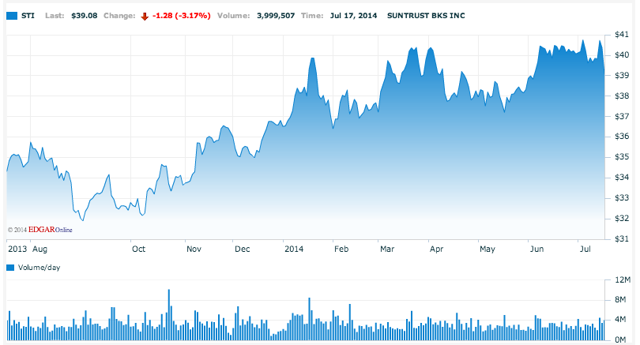 Source: Nasdaq.com
As a payer of dividends, STI provides investors with a secure ongoing income stream not offered by non-dividend-paying companies.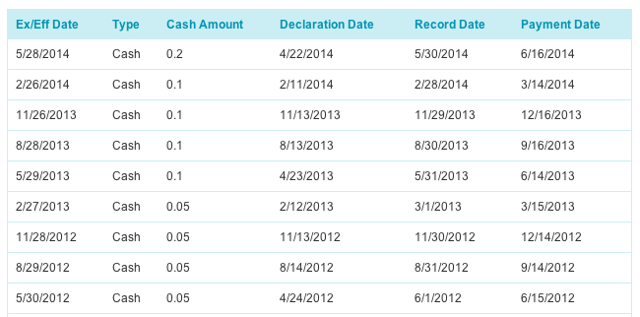 Source: Nasdaq.com
Furthermore, SunTrust's payout ratio is a healthy 10% and could likely continue payouts if growth continues.
In 2012, SunTrust's earnings-per-share ratio increased by 230% and 2013 also saw the company achieve a strong EPS.
SunTrust reports earnings next on July 21. Ahead of the event, Oppenheimer, Compass Point, and RBC Capital have all reiterated Outperform or Buy ratings in 2014; in January of this year, Barclays upgraded STI from Underweight to Equal Weight.
Pre-earnings could be as good a time as any to get a piece of STI moving forward in 2014.
We invite readers wishing to join the discussion on SunTrust and other major bank settlements to click the +Follow button above the title of this article, and those looking for the latest updates to click +Get real-time alerts.
Disclosure: The author has no positions in any stocks mentioned, and no plans to initiate any positions within the next 72 hours. The author wrote this article themselves, and it expresses their own opinions. The author is not receiving compensation for it (other than from Seeking Alpha). The author has no business relationship with any company whose stock is mentioned in this article.