By Craig Bowles
Overview
Juniper Networks (NYSE:JNPR) is slated to report 2Q 2014 earnings after the bell on Tuesday, July 22nd. The earnings release is expected at approximately 4:05 p.m. EST followed by a 5:00 p.m. conference call available at Juniper Investor Relations. The company designs, develops, and sells products and services for high-performance networks worldwide.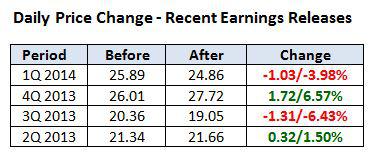 Outliers & Strategy
Key measures:
Non-GAAP Earnings Per Share: Company guidance is for $0.36 to $0.39. The Street estimate is $0.38 (range $0.36 to $0.39) (source: Yahoo! Finance). Consensus is up from $0.36 three months ago.
Revenues: Company guidance is for $1.20 bln to $1.23 bln. Analysts expect an increase of 6.0% y/y to $1.22 bln (range $1.20 bln to $1.24 bln).
Adjusted Earnings Per Share Guidance for 3Q 2014: The current Street estimate is $0.44 (range $0.39 to $0.47).
Revenue Guidance for 3Q 2014: The current Street estimate is $1.26 bln (range $1.23 bln to $1.28 bln).
Juniper insiders sold 142,552 shares over the last six months. The company increased their stock buyback program in March. Shares worth $2 billion are to be repurchased (including the current ASR program) by the end of the first quarter of 2015.
Jupiter's P/E of 27.8 compares to a 52.4 5-year average and an industry P/E 40.7, Price/Book of 1.9 compares to a 2.0 5-year average and an industry 2.7, Price Sales of 2.7 compares to a 3.3 5-year average and an industry 2.3, and Price/Cash Flow of 13.1 compares to a 13.7 5-year average and an industry -5.1.
Juniper shares have a 1-day average price change on earnings of 7.12%. Options are pricing in an implied move of 4.57% off earnings.
Recent News
07/14 Riverbed Technology's weak guidance could be isolated to the company but may be a warning for the sector, according to a post by WallStCheatSheet.com.
06/18 Morgan Stanley initiated the company at Equal-weight due to the new "aggressive" operating plan having earnings growth that is too high and increasingly competitive market for the "cloud builders" segment, according to a post by Benzinga.com.
06/4 Juniper Networks and Aruba Networks announced they have signed a strategic agreement to deliver open, converged wired and wireless network solutions.
05/30 Palo Alto's $175M settlement over patent violations with Juniper is seen as a positive for both companies (despite no royalty payments), according to a post by Zacks.
Technical Review
Juniper has been somewhat trendless the last decade, but remains above the highs of the previous two years even after the recent softness. Sector concerns have the stock testing below the recent balance in the $24.50 to $25.50 area. Upside has been seasonally limited to early year highs acting as resistance, which this year is just above $27. Downside has various support areas between $22 and $16. (Chart courtesy of StockCharts.com)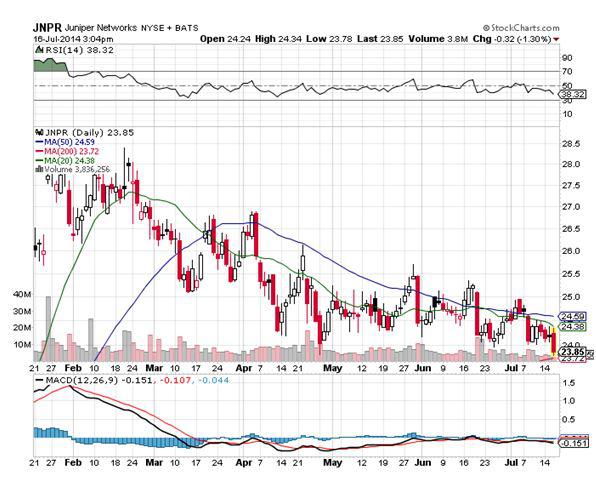 Summary
Juniper is undergoing some restructuring of their operations and faces intense competition in the cloud segment and security areas, so investors have some uncertainty. The company has beaten estimates three of the last four quarters, but traders have low expectations this quarter, so even meeting estimates could be viewed as a positive if next quarter's guidance is toward the high end of expectations.
DISCLAIMER: By using this report, you acknowledge that Selerity, Inc. is in no way liable for losses or gains arising out of commentary, analysis, and or data in this report. Your investment decisions and recommendations are made entirely at your discretion. Selerity does not own securities in companies that they write about, is not an investment adviser, and the content contained herein is not an endorsement to buy or sell any securities. No content published as part of this report constitutes a recommendation that any particular investment, security, portfolio of securities, transaction or investment strategy is suitable for any specific person.
Disclosure: The author has no positions in any stocks mentioned, and no plans to initiate any positions within the next 72 hours. The author wrote this article themselves, and it expresses their own opinions. The author is not receiving compensation for it (other than from Seeking Alpha). The author has no business relationship with any company whose stock is mentioned in this article.