Today, we are going to review the outlook for cotton and how that will affect the iPath Dow Jones-UBS Cotton Total Return Sub-Index ETN (NYSEARCA:BAL).
Outlook for cotton
Let's start with a little cotton history. If you refer to the first chart below, you will see that cotton saw a huge run-up beginning in 2010 and ending in 2011. During this time period, China was effectively building their reserves of cotton. They purchased much of the world's excess cotton, and in turn, drove speculation, increasing its price.
Fast-forward to today, and China is trying to liquidate reserves of cotton, thus having the opposite effect on prices. I view this as a negative outlook for cotton. The remainder of 2014 will be spent figuring out how China's new policy will affect imports of cotton.
U.S. farmers have proven they take into account relative prices when making planting decisions. This will provide longer-term price support for cotton. Cotton planting begins in February in south Texas and ends around late June in the cotton belt. The growing season takes from 150-180 days. By now, the entire U.S. crop of cotton has already been planted.
The Wall Street Journal, in this article, cites manufacturers' move to synthetics. They state that cotton would need to "plunge" before manufacturers would make the switch back. Since the writing of that article, cotton is down 28%. A steep reduction, but not a plunge. Polyester, a cheaper alternative, is now selling much closer to the price of cotton.
Indian cotton production by land area is down 47% this year. This is a combination of lower prices and drought conditions. However, production and stock in the U.S. continues to remain high. Worldwide cotton production and stocks are higher, while consumption is down.
Cotton Index
Here is a look at the Dow Jones UBS Cotton Sub-index price history.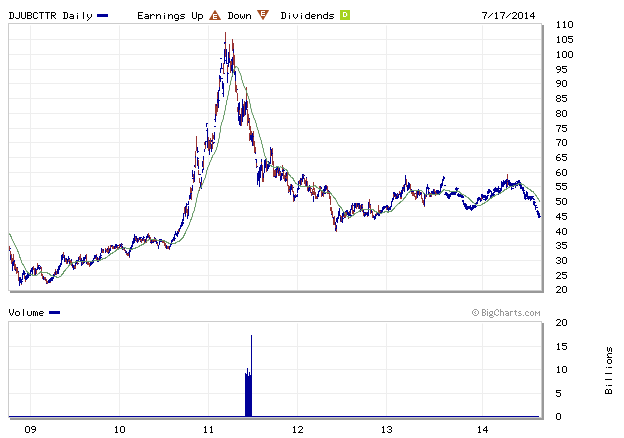 (Chart obtained from MarketWatch.com)
As we can see below, BAL has done an excellent job of following its underlying index, minus the standard expense of the fund.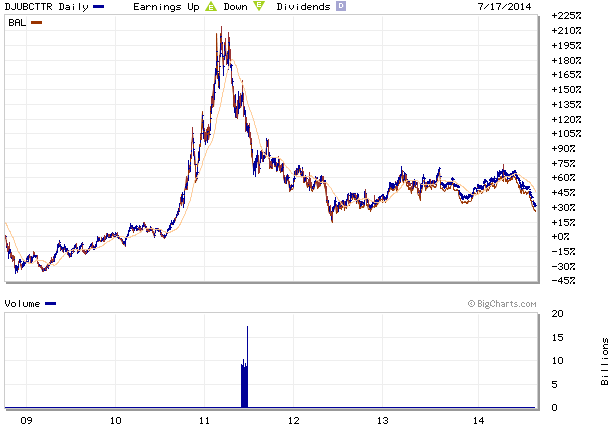 (Chart obtained from MarketWatch.com)
BAL Outlook
With cotton sitting at price levels not seen since 2012, BAL might seem like an attractive investment. In the short-term, I would caution on further price declines in cotton.
My assessment of current conditions determines a lot of headwinds for cotton prices. I see cotton finding a floor towards the end of 2014. Once farmers make adjustments and China stops reducing reserves, I expect cotton to slowly start making gains again. My outlook for this would be towards the middle of 2015.
For these reasons, I recommend avoiding BAL until cotton prices stabilize.
Economic Conditions
Economic conditions always bear watching. A slowdown in growth from China and/or the United States would have a negative effect on cotton prices. Consumer spending in the U.S. has been subdued for the first half of 2014. Clothing retailers have generally reported weak sales, and some have lowered outlooks. For cotton, these conditions deserve monitoring.
Final Note
Thank you for reading! Please follow me on Seeking Alpha and check out my other articles. I always appreciate feedback, so if there is something you would like me to research, just click "Send Message" at the top of the page next to my picture. I promise to get back to you. Have a great and profitable day!
Disclosure: The author has no positions in any stocks mentioned, and no plans to initiate any positions within the next 72 hours. The author wrote this article themselves, and it expresses their own opinions. The author is not receiving compensation for it (other than from Seeking Alpha). The author has no business relationship with any company whose stock is mentioned in this article.