Business
Right now, all of my investable funds are in Express Scripts (NASDAQ:ESRX), the largest pharmacy benefit management company in the U.S. I am very confident in the stock, but have been frequently performing preliminary research on various other high quality companies over the past few months to see how they stack up. A big part of my ESRX thesis is my view that the PBM industry is highly-consolidated, possesses significant barriers to entry, and benefits from the continued highly-predictable trend of increasing drug and broader healthcare costs in the U.S. Express Scripts is not the only PBM player and so it makes sense that I check out the other major PBMs, of which Catamaran (NASDAQ:CTRX) is one.
Catamaran describes itself as a:
leading provider of pharmacy benefit management ("PBM") services and healthcare information technology ("HCIT") solutions to the healthcare benefit management industry.
Basically, other PBMs, managed care organizations, self-insured employer groups, unions, government entities, and the like enter into contracts with Catamaran whereby Catamaran will process drug claims for the client, use its purchasing scale to negotiate lower prices from drug manufacturers, push for generic drugs, and implement other practices that lower costs and improve healthcare outcomes for the people the client represents. Catamaran and other PBMs are the middlemen of the healthcare industry and as such, are low margin businesses that are believed to save their clients and the overall healthcare system more than the sliver of the pie that they take. Catamaran also provides healthcare IT whereby it essentially just licenses the technology it uses in its PBM operations to other companies or handles some IT processes that other companies wish to outsource.
Again, I am very bullish on the PBM industry. Here is a pretty comprehensive excerpt from my original ESRX article:
Enviable Prospects

Some of the clearest trends in the US right now directly and undeniably benefit ESRX. I looked at data from 1995-2012. All data comes from worldbank.org.

Life expectancy has been increasing and is 'expected' to continue to increase:

Health expenditures, both public and private, have been increasing as a percentage of GDP and are expected to increase to 19.9% in 2022 according to the Centers for Medicare & Medicaid Services:

Health expenditures per capita have also been increasing consistently:

So Americans are living longer and paying more for their healthcare. From one of Express Scripts' investor presentations:

We are needed now more than ever.

This is so true. Rising healthcare costs make a business with the primary purpose of reducing healthcare costs more critical than ever.
Because cost savings through negotiating scale is by far the most important function of PBMs for their clients, scale is critical to success in the industry and creates a very high barrier to entry. A big part of why I love ESRX is because it is the largest PBM with market share quoted at as much as 40%. Catamaran is not as great there with only 9% share, but I don't think there is any denying that the company is also a major established player in the PBM industry and it is somewhat differentiated with its exceptional IT systems expertise.
I was a bit bothered to find that CTRX CEO/Chairman Mark Thierer makes $12.1M compared to ESRX's George Paz at $13M, despite the size difference and George Paz being highly regarded as one of the best CEOs in any industry over the past decade.
Overall, I like CTRX's business slightly less than ESRX mainly because of the critical size/scale difference in ESRX's favor, but I still think CTRX is a high quality company in an excellent industry that I'd be comfortable owning at some price.
ROIC
ROIC is the best quantitative measure of business quality in my opinion and so I like to take the time to calculate a number I am comfortable with. I used the following calculation:
EBIT(1-t) / (Total Assets - Goodwill - Current Liabilities + ST Debt)
I got 21.7%, which is very good considering 8-10% is probably average and where growth begins to create economic value.
Valuation
Catamaran's growth over the past few years is legendary. 5 year CAGRS are as follows:
EBIT: 52%
Operating Cash Flow: 51%
Revenue: 67%
EBITDA: 57%
EPS: 31%
There has been a lot of M&A activity (very common in PBM industry) and resulting share dilution, but the growth rates are still very impressive on a per share basis. Growth has tempered a bit more recently: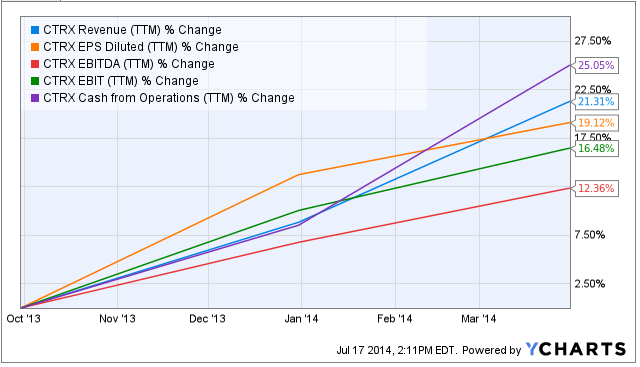 I think the company is probably capable of 15-25% per share growth going forward. Considering that and the company's 20%+ ROIC and high quality business, I'd see the stock as very cheap in the 15-18x range and fairly valued in the 21-25x range. Shares currently trade at the following valuation multiples:
P/NOPLAT: 25.23
P/CFO: 16.6
EV/EBITDA: 13.6
EV/ FY14E EBITDA: 12.5
P/ FY14E Adjusted EPS: 20.4x
Some difficulty is created by the company's significant amortization of intangibles. Management believes this is not a true cost and excludes it from its adjusted EPS figure but some investors might think otherwise. I tend to agree with management. There is a similar discrepancy at ESRX with P/FCF at about 12x and P/E >20. However, even excluding the amortization of intangibles, CTRX trades at >20x the adjusted EPS full year guidance. Based on that, the stock does not seem expensive, in fact probably slightly discounted, but not obviously and largely so to suit me. If I saw CTRX trading at 15x FY14E adjusted EPS I would proceed to spend the next 2-3 days performing rigorous due diligence and probably eventually move half my ESRX funds over to CTRX, but, alas, that is not the case.
Conclusion
I am highly bullish on the PBM industry and its largest occupant, ESRX. Much of my ESRX thesis translates to Catamaran and I believe the company is a high quality enterprise in its own right. My calculation of 21.7% ROIC aligns with this conclusion. However, the stock seems insufficiently discounted, in my view, so I am moving on for now. I will set a price alert at $39 and reevaluate the stock if it gets there at some point.
Disclosure: The author is long ESRX. The author wrote this article themselves, and it expresses their own opinions. The author is not receiving compensation for it (other than from Seeking Alpha). The author has no business relationship with any company whose stock is mentioned in this article.