Kellogg Company (NYSE:K) has recently been downgraded by Goldman Sachs from neutral to sell, with a target price of $59. Goldman Sachs believes that Kellogg is about to be badly affected by the declining trend of cereal usage and cost-cutting initiatives. However, the company believes that cost-reducing plans (Project K) will ensure future growth. Investors are unsure of whether or not they should invest in the stock. The following analysis of the company's future will help investors to have faith in Kellogg's and invest without doubt.
From Neutral to Sell
Firstly, focus on Goldman Sachs' downgrading of a leading cereal company, despite the fact that the company is expanding globally. In 2013, Goldman Sachs upgraded Kellogg's from an underperform rating to neutral during the first quarter, due to the company's cost-effective Project K plan. After the results of the first and second quarters, Goldman Sachs stated that company lowered its FY14/FY15/FY16 EPS estimates by 4%/6%/6% and stands at 3%/6%/6% below consensus.
In my opinion, this downgrading of the company's stock was based on a short-term analysis. A company like Kellogg's is planning ahead to overcome the decreasing usage of cereals in the US by reducing costs and moving into the snacks business.
Project K
The company started Project K to reduce costs and increase efficiency. It was initiated because the company was worried about its top line, as estimates stated that cereal usage was decreasing by 1 percent every year. Therefore, the company came up with a 4-year cost-saving program to increase productivity. This plan includes optimizing its supply chain infrastructure, consolidating common processes or business services across multiple regions and functions, cutting its global workforce and creating a new global focus.
Furthermore, it is estimated that $425-475 million will be saved by 2018. By the end of 2014, investors will see plant operations shut down at the company's cookie factory. The company will cut two snack lines from a separate snack plant in Cincinnati by the end of the current year. Along with that, the company also intends to close plants in Australia and its RTE cereal plant in Canada. The company also plans to expand its cereal and snacks plant in Thailand.
More recently, the company announced a planned closure of its London, Ontario plant earlier this year and revealed plans to build a new Pringles plant in Malaysia. The company's plans to close its existing plants should not be considered as missteps. The company is reducing its assets and planning to improve.
Cost-reduction plans in various regions and segments will be used as an investment in various growth-oriented projects. It is believed that the company's investment will drive future growth in revenues, gross margin, operating profit, and cash flow. This reduction of costs will help the company to pay less tax, and will thus result in increased earnings.
Future Projections
All the efforts by the company's management will keep their focus on their major revenue generating segment, morning food. Kellogg's is working hard to offer benefits to its investors through dividends and price appreciation. It is doing so by showing remarkable quarterly and annual performances. The recent quarters proved tough for investors to retain their firm faith in the company's future, but the plans in motion should help investors remain faithful. The company's current payout ratio is 35 percent, which is favorable for investors, as the company is expected to show 20.7 percent annual sustainable growth with a trailing twelve-month ROE of 59.34 percent. Although the company's next quarters are not expected to show significant growth, the company will definitely see a boost in its bottom line of 31 percent growth.

Valuation
The multiple-based valuation method has been used for Kellogg's stock valuation. The following table shows the valuation results, driven by certain assumptions. Kellogg's stock is undervalued, thus it is a perfect opportunity for investors to buy it before it is bought out.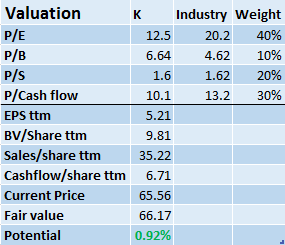 Effectiveness of Project K
The table below shows the positive effects of Project K on the company's costs figures. Annual costs figures are divided into various segments.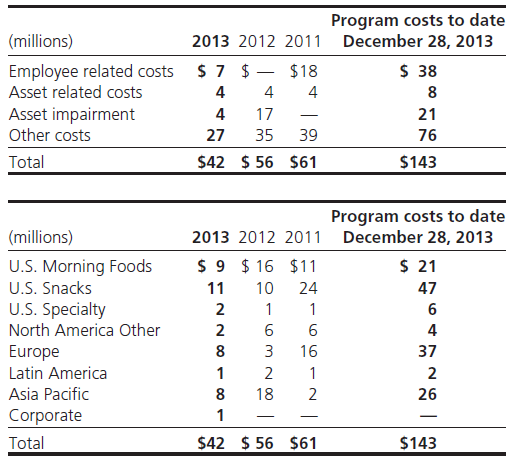 (Source: 10-K 2013 Annual Report)
The cost details above predict that the company is focused more on reducing the costs of its workforce in its core business segment. It was stated by Kellogg's management that they have planned to cut 7% of the company's global workforce and train its remaining employees to be innovative and more effective.
Conclusion
Regardless of the downgrading of Kellogg's stock, the company will be outperforming its competitors in the next quarter, as well as by the year-end because of its cost-optimization strategy. The cost-cutting strategy determines the company's growth prospects and profit margin. Kellogg's stock price is undervalued, so investors should step forward to purchase this stock, because it guarantees gain in the future. By the end of 4 years, Project K will lead Kellogg's stock price to $80 per share.
Disclosure: The author has no positions in any stocks mentioned, and no plans to initiate any positions within the next 72 hours.
Business relationship disclosure: The article has been written by a Gemstone Equity Research research analyst. Gemstone Equity Research is not receiving compensation for it (other than from Seeking Alpha). Gemstone Equity Research has no business relationship with any company whose stock is mentioned in this article.