Buy Pick of the Day: Entegris Inc. (NASDAQ:ENTG)
Analysis: We are taking a look at Entegris for our Buy Pick after some very solid earnings from the company and a push well over $5. The company reported earnings and revenue that beat estimates. Revenue came in at $178M versus the expectations of $172M. The company earned 0.19 per share, which was better than the 0.18 EPS. The company, further, had very strong Q4 outlook, which beat the street as well with EPS of 0.17 - 0.19 versus expectations at 0.16. The outlook over anything else is helping push the stock up 6% in pre-market trading.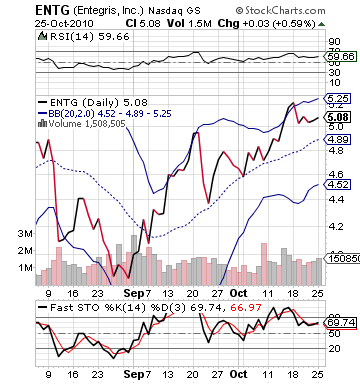 While I typically never want us to get involved with big gap ups, unless we are short selling, Entegris is different. The reason is that the stock has moved well into a safe $5 zone where investors, mutual funds, and institutions are more likely to buy it up in the same way Krispy Kreme (KKD) has been bought up with heavier volume/demand. ENTG should start today and move up throughout the day as the same thing happens to it.
The company, further, showed some very positive signs in pre-market already when it dipped to 5.30 area near 8:50 AM. Immediately, the stock jumped back to 5.40. Futures are down, which makes this pick a it more risky; however, it will most likely only cause a slight dip to start before the stock rallies.
Technically, while the stock is about to break out of its upper bollinger band, there is reason to believe that it can get 2-3% at least out of the gate. The company, for one, is actually oversold despite its overvaluation. The stock has seen its buyers drop off moving into earnings. Many of those on the sideline (like me) are ready to jump back into ENTG now that we have seen its tremendous earnings and outlook.
Get in early but watch for a small dip to start the day.
Entry: We are looking to enter at 5.30 - 5.40.
Exit: We are looking to exit after a 2-3% gain.
Stop Loss: 3% on bottom.
Short Sale of the Day: Schnitzer Steel Inc. (NASDAQ:SCHN)
Analysis: It is a very poor day for the steel industry. Three of the big names (AK Steel (NYSE:AKS), Arcelor Mittal (NYSE:MT), and US Steel (NYSE:X)) all reported earnings this morning. AKS is down near 5.5% after reporting a major quarterly loss at 0.54 cents per share. This was well below expectations at -0.34. The company forecasted more losses to come and was very negative. Arcelor Mittal reported a huge earnings beat, but its weak Q4 outlook has it down more than 6% this morning. US Steel reported a loss of 0.35 per share vs. expectations of only a loss around 0.24 per share. The company has more weak Q4 outlook, and it is down near 6%.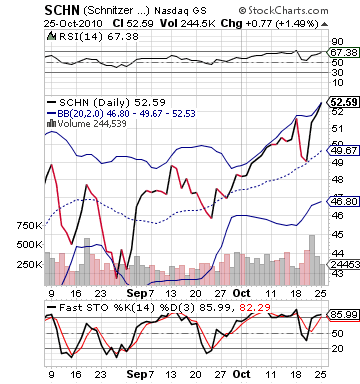 So, one could say that it was not a great morning for steel producers. The companies were not expected to do much in the way of wow anyone, but the Q4 outlooks were even worse than some had expected. Companies, in the sector, are not looking good either. One company, however, is near its upper bollinger band and extremely overvalued after its outstanding earnings report. That company is Schnitzer Steel (SCHN).
The company is not a main line producer like AKS, MT, and X. Rather, SCHN is a scrap metal salvaging company that uses old steel and recycles it. Still, the company is affected by the steel companies in the scrap and ferrous processes. This morning's news should take a hit on the company's recent 7% gain after earnings. That gain has put the stock at an RSI over 64 and has made it overbought on stochastics. With today's news, profit taking and a pullback are in order.
We want to jump in right away on this one.
Entry: We are looking to enter at 54.90 - 52.30.
Exit: We are looking to cover on a 2-3% decline.
Stop Buy: 3% on top.
Disclosure: No positions