Agnico-Eagle Mines (NYSE:AEM) has mining operations in Canada, Finland and Mexico which are favorable locations for miners because of economic and political stability. This is one of the reasons why Agnico has been able to operate at a low production cost, leading to better margins, in spite of the falling price of gold in the market. The company has strengthened its balance sheet via its recent acquisition of Osisko Mining in a joint bid with Yamana Gold (NYSE:AUY). This acquisition will add another low cost mine, the Canadian Malartic mine, to Agnico's existing portfolio and improve its production and revenue figures in the future.
Acquisition
Agnico Eagle was involved in a bidding war with Goldcorp (NYSE:GG) which was also trying to get its hands on the Canadian Malartic mine at a low price. The company's joint acquisition of Osisko with Yamana may prove to be a good decision, as the mine has a life of 14 years and a production of around 600,000 ounces of gold every year (50% of which will be Agnico's share). Furthermore, this mine is already operational which means that Agnico and Yamana will not have to incur developmental expenses, thereby diminishing the start-up risk associated with mines.
Agnico will pay C$501 million ($465 million) while the remaining amount will be paid with its common stock. Yamana Gold will pay on an equal basis, which will give both these companies a 50% stake in Osisko. According to Agnico, this addition will provide a growth of approx. 20% from 2014 through 2016. Furthermore, the mine will also improve the reserve levels of the company and place it just behind Eldorado and Yamana in terms of gold reserves in the Mid-Tier trench.
(click to enlarge)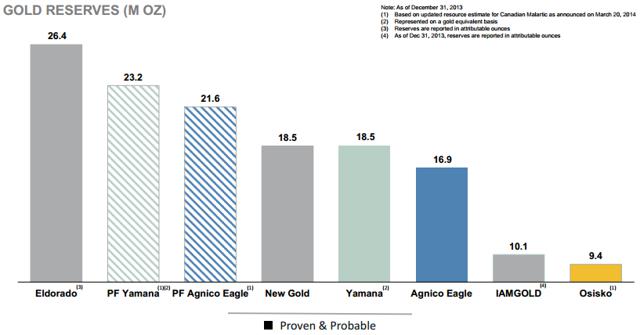 Source: Yamana Gold
This shows that Agnico has made the right decision at the right time which will improve its shareholders' value and enable it to compete with Goldcorp's production figures by decreasing the production gap between both companies by a considerable amount as shown below.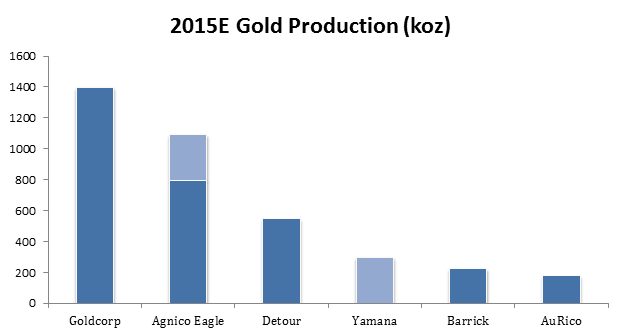 Source: Yamana Gold
Financials
Agnico has improved its revenue by 13%, turning losses into a net income of $109 million based on quarterly results. Furthermore, the company appears to be determined to improve its financial position even further, as it reduced its long-term debt from $1 billion to $920 million. Even though gold prices were low (compared to last year), Agnico still managed to report positive results and this has improved its liquidity and debt positive Q/Q.
| | | | | |
| --- | --- | --- | --- | --- |
| | Agnico | Goldcorp | Industry | Sector |
| Quick Ratio | 2.51 | 0.76 | 1.49 | 2.45 |
| Current Ratio | 4.19 | 1.05 | 6.00 | 2.99 |
| LT Debt to Equity | 29.62 | 7.58 | 43.37 | 16.33 |
Agnico has a better liquidity position than Goldcorp despite having a higher LT debt to equity ratio. AEM's leverage ratio is also below the industry average.
Work-in-Progress
Agnico Eagle is enhancing the production from its existing mines. It is aiming to identify and dig out high grade ore from deep inside the LaRonde mine, for which purpose it is installing a conveyor system from level 293 to 280 (set for completion in 2016). The LaRonde mine experienced a high cash cost of $537 per ounce during the first quarter of 2014 due to temporary closure. Agnico is trying to increase the production of the Kittila Mine, by spending $65 million during 2014, through ongoing expansions which will be completed in mid 2015. So far, the company has spent $21.9 million in the first quarter alone, while the production has decreased to 38,552 ounces and the cash cost has increased to $795 per ounce. In total, Agnico has spent $98.8 million during the first quarter on different mines. It has increased the previous CapEX guidance to $431 million (from $416 million) to increase productivity at the La India mine, spur the development of Goldex, and to accelerate waste stripping at the vault deposit at Meadowbank.
These expenses might not have shown any upside during the first quarter, but they will prove to be a factor in future growth by increasing production levels and reducing the production costs, leading to better margins.
Valuation
In its recent quarterly report, Agnico Eagle declared a total cash cost of $537 per ounce. This figure looks impressive, but it does not account for the sustainable cost that company has to incur in order to keep its mines operational along with other costs, including administration and amortization, which are directly related to the mining process. We believe that the true cost to produce an ounce of gold equivalent unit is $853.
| | |
| --- | --- |
| | 1Q 2014 |
| Gold oz. | 366,421 |
| Silver oz. | 880,000 |
| Zinc lbs. | 4,541,523 |
| Copper lbs. | 3,425,984 |
| Gold Equivalent once | 391,971 |
| | |
| | Amount in $'000 |
| Costs | 334,285 |
| Impairment Charges | - |
| Taxes | 45,053 |
| Total Costs | 379,338 |
| Total Cost per Equivalent ounce | $968/ oz. |
| Cost per Equivalent ounce (excluding other costs) | $853/ oz. |
*GEO assumes gold plus the gold equivalent of silver using a ratio of 64:1, Zinc using a ratio of 1400:1 and 400:1 for gold equivalent of copper
Agnico Eagle stated the average realized gold price to be $1,308 per ounce for the first quarter 2014 which leaves a margin of $455 per ounce, resulting in a considerable cash flow. This shows that the company is on the right path, as such high margins will enable it to spend capital on acquisitions or improving the production levels of its mines, creating a better value for the investor.
Amount in $ Billion

Agnico-Eagle

Goldcorp

Market Cap

7.11

23.11

LT Debt

0.92

1.48

Cash and Cash Equivalent

(0.21)

(1.00)

Enterprise Value

7.82

23.59

EV/EBITDA

12.21

29.16
We are using an EV/EBITDA multiple to compare the two companies because miners usually carry a high debt burden on their financial statements which leads to high interest rates. EBITDA shows the true earnings figure, excluding interest and tax expenses, which vary from country to country and allows for a better comparison. Agnico Eagle has a lower EV/EBITDA multiple than Goldcorp which indicates that it has the potential to grow in the future, as its closest peer is near a 30x multiple, highlighting the capacity for growth in the industry.
Risks
Agnico seems to be a good investment, but there are uncontrollable factors which can severely impact valuations. As a miner, it is heavily dependent on the price of gold and any fluctuation can cause a decrease in share prices. While gold prices are dependent on the strength/weakness of the dollar, they do fluctuate when there is a global crisis or disaster, increasing or decreasing company's margins. These events are very hard to predict and can increase or decrease the price of gold. Moreover, Agnico is a multinational which makes mine locations very important. Output as well as production costs associated with a certain mine can get affected if the host country is going through political turmoil or a crisis.
Conclusion
Agnico Eagle is expecting to surpass the higher end of its production guidance of 1,175,000 ounces to 1,205,000 ounces. The acquisition of Osisko Mining will be completed by early June 2014, which means that the Canadian Malartic mine will provide production for around 6 months this year, enhancing the existing production guidance by 133,000 ounces. Last year, the Canadian Malartic mine provided 475,277 ounces of gold at an average cost of $747 per ounce (as per our estimates) which means that it will not have a negative impact on the production cost of Agnico Eagle. According to the company, this acquisition will provide a growth of 20% through 2016 which is a substantial figure in relation to the value paid for the acquisition. It has better earnings and financial position than Goldcorp and is a healthier stock which has the potential to grow in the future. Analysts were expecting the stock to reach $39.17, but recently it has surpassed that mark which supports our recommendation for this stock.
Disclosure: The author has no positions in any stocks mentioned, and no plans to initiate any positions within the next 72 hours. The author wrote this article themselves, and it expresses their own opinions. The author is not receiving compensation for it (other than from Seeking Alpha). The author has no business relationship with any company whose stock is mentioned in this article.