Most of the market is expecting stabilization in the personal computer industry. This expectation is quite reasonable because a significant number of small-to-medium level organizations are upgrading with new systems. Microsoft (NASDAQ:MSFT) recently ended support for Windows XP and also reminded users of the date it will end support for Windows 7. The new Windows operating system requires a comparatively higher-end hardware configuration than Windows XP and Windows 7. So as organizations continue to upgrade their systems the demand for personal computers will improve.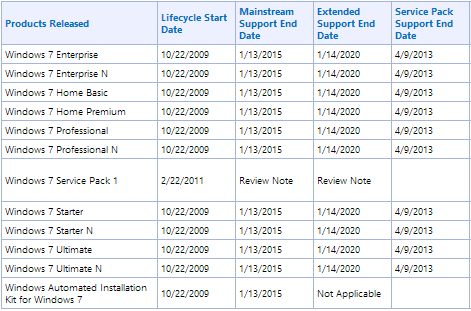 Source: Microsoft Support
According to research firm International Data Corporation (IDC), the primary reason behind the revival is the fact that corporations are upgrading to new computers at a fast pace and in the last quarter a 6.9% increase was seen in the U.S. market. The stabilization of the PC market is the fuel for Intel Corporation (NASDAQ:INTC) and there was a marginal gain in the second quarter, overcoming two years of lackluster performance. So the strengthened position of the overall PC market will benefit Intel and strengthen its future prospects.
Second Quarter Results
Even though the chip maker is growing in the new segments, PCs still remains Intel's bread and butter and it derives 70% of its total revenue from this segment. This is the reason why Intel's future is highly dependent on the PC industry. The chipmaker is making sincere efforts to revive PC computing with new form factor innovation, lower price points, longer battery life and free choice of OS. Also, emerging markets promise some solid growth for Intel compared to developed markets where demand is still low.
Intel recently announced second quarter results for fiscal year 2014 and the numbers delighted investors to some extent. For the second quarter, Intel successfully generated $13.8 billion in revenues reflecting a healthy increase of 8% from the figure achieved in the second quarter of fiscal year 2013. The strong financial performance was a result of an effectively executed strategy and improved demand in the PC market.
According to research firm Gartner, after two years of decline, PC sales stabilized in the second quarter and this lifted revenues for the PC client groups. The segment delivered $8.7 billion in revenues with 9% sequential and 6% year-over-year growth as the sales volume climbed 9%.
Intel showed robust growth across its business segments, except the mobile communications group which is facing stiff competition. The company hopes to maintain its market share in the PC market and the lucrative server market while expanding further into the embedded Internet of Things. Meanwhile, the emerging market for Chromebooks generated 5% to 6% of overall consumer laptop sales in 2014 and that number will continue to rise.
The data center group is Intel's key growth driver. For the second quarter, the data center group generated $3.5 billion in revenues with a 14% sequential and 19% year-over-year increase. Data center spending is set to increase at a decent pace in the coming years so this will be an ideal opportunity for Intel to capture a larger data center market. Another opportunity that Intel is trying to explore deeper is Internet of Things. According to IDC, Internet of Things will become an $8.9 trillion market in 2020 and the Internet of Things installed base connected will be 212 billion. This is a very lucrative opportunity for Intel and in the recent quarter the company's Internet of Things revenues of $539 million increased 12% sequentially and 24% year-over-year. Intel's recent initiative will help the company grow in a segment with over billions of dollars in revenues.
Share Repurchases and Dividends
Although Intel has been facing challenges, the company is still very keen to return cash to investors. Intel has returned a massive $90 billion to investors through its share repurchase program in the last ten years. Now the company intends to increase these numbers and the board of directors recently authorized an increase of $20 billion to its share repurchase. The company will repurchase $4 billion worth of shares during the third quarter with additional repurchases in the fourth quarter.
Intel pays stable dividends and for the current quarter the company paid $1.1 billion in dividends. The company has not increased the dividend since the fourth quarter of 2012 but this is justified. Now as since the company's performance improved, the next dividend increase is ahead. Also for dividend investors Intel is the better option because the company's dividend yield is 2.84% with annual dividends of $0.90 per share. Microsoft pays dividends of $1.12 per share with a 2.64% yield and IBM pays dividends of $4.40 per share with a 2.33% yield.
Conclusion
This year will be the third year that the PC market experiences a decline. The PC market may hit the bottom and will eventually return to single-digit growth. Things may go well in the future and Intel is quite confident about the market's expected recovery. Intel's expectations for the third quarter beat analysts' expectations. Intel is hoping that revenues for the current quarter will be $14.4 billion, plus or minus $500 billion, while on the other hand analysts, on average, estimated $14.1 billion.

Source: ycharts
Although the stock struggled in the last few quarters, it is still as good an investment opportunity as its competitors because it has performed well in terms of total return, assuming the dividends are reinvested. In the last twelve months Intel went up 43.86% while in comparison the S&P 500 went up 19.91%, Microsoft went up 23.15% and International Business Machines (NYSE:IBM) went up 2.41%.
Intel is fairly valued in terms of its price-to-earnings multiple but may look a bit pricey in comparison to IBM. The stock is trading at a forward PE of 14.89 times while Microsoft is trading at a forward PE of 14.87 times and IBM is trading at a forward PE of 9.53 times. This price to earnings is well justified because for the next five years Intel's earnings per share will grow 6.80% which is quite reasonable. Improvement in the PC client group, strong growth in the server business and the progress in Internet of Things are Intel's bright spots which make this stock a long-term buy.
Disclosure: The author has no positions in any stocks mentioned, and no plans to initiate any positions within the next 72 hours.
Business relationship disclosure: The article has been written by a Gemstone Equity Research research analyst. Gemstone Equity Research is not receiving compensation for it (other than from Seeking Alpha). Gemstone Equity Research has no business relationship with any company whose stock is mentioned in this article.