DISH Network (NASDAQ:DISH) has been consistently delivering decent top-line growth and the trend is expected to continue in the future due to its promising growth initiatives. Despite the saturation of the U.S. Pay-TV Industry, with its competitive video offerings, the company has been progressively strengthening its pay-TV results. Moreover, the company has a strong H-Block spectrum to diversify its wireless business. Furthermore, DISH is consistently growing the broadband segment's operations despite the competitive industry environment. However, if the Time Warner Cable (NYSE:TWC) and Comcast (NASDAQ:CMCSA) merger succeeds, it will increase industry competitiveness.
Pay-TV
Over the past few years, DISH has been reporting decent growth in its core business, pay-TV. Through its best-in-class video offerings, the company has managed to make the best of its mature pay-TV segment, which is constantly adding to its top-line growth. By the end of 1Q14, the company stood third amongst its peers in terms of video subscribers. Moreover, the pay-TV price increases have also added to the company's ARPU growth. In addition, DISH's pay-TV segment managed to lower its churn to approximately 1.5%, primarily due to its customer retention efforts, including, consistently providing outstanding customer services and by ensuring strict control over piracy. Furthermore, the DISH pay-TV segment has also benefited from the ongoing migration of subscribers from cable to satellite, AutoHop DVR and its consistent promotional offers. The following table shows the gradual growth in DISH'S pay-TV ARPU and improvement in churn.
| | | | | | |
| --- | --- | --- | --- | --- | --- |
| | 1Q13 | 2Q13 | 3Q13 | 4Q13 | 1Q14 |
| ARPU (Y-O-Y Growth) | 3% | 4.3% | 5.4% | 4.8% | 5% |
| CHURN | 1.47% | 1.67% | 1.66% | 1.53% | 1.48% |
Source: Company's Quarterly Earnings Report
Moreover, DISH is taking initiatives to ensure the long-term growth of its pay-TV business. The company has intelligently responded to the changing dynamics of the Pay-TV Industry with its year-end OTT launch plan. The plan is going to target urban adults aged 18-35 so that they can watch videos on demand and pay only for their streamlined packages. Although the company's OTT plan currently has many deals in place, I believe DISH needs to add more variety in its OTT content offerings, which will portend well to grow its pay-TV revenues by attracting more pay-TV subscribers in the near future.
Furthermore, DISH has decided to facilitate its users to pay for satellite TV services in digital currency, Bitcoin. I believe the company's decision to accept Bitcoin payments could slightly improve the company's revenues and subscribers, as it lowers the amount of merchant transaction fees (credit card transaction fee).
However, DISH is also conscious about pay-TV market saturation. Given the saturation in the pay-TV market, DISH has been targeting wireless operations to fuel its growth in the coming years. Currently, DISH owns wireless spectrum 40MHz on the AWS-4 band and 10MHz of 1900 MHz PCS H Block. The company has been receiving offers from Verizon (NYSE:VZ) for its spectrum, which analysts expect to be worth $17 billion. If the company chooses to sell its spectrum to VZ, the initiative may generate near-term cash, but will raise questions on the long-term survival of the company in the saturated pay-TV market. DISH is planning to participate in government auction of airwaves spectrum, but I believe instead of selling the spectrum, DISH should start looking for partnership with some telecom company, which will allow DISH to grow its wireless segment by leveraging its spectrum.
Broadband
In the broadband category, the company's dishNET provides its users of high speed satellite internet with TV and phone bundling options. With constant improvements in speed and quality of its broadband network, the company's broadband subscriber base has been growing. Although the speed of the company's dishNET service is still not the fastest as compared to its peers, but with its widespread reach in rural areas, DISH has been constantly outpacing its ultimate competitor, DirecTV (NASDAQ:DTV), in terms of net broadband subscriber additions as shown by the chart below.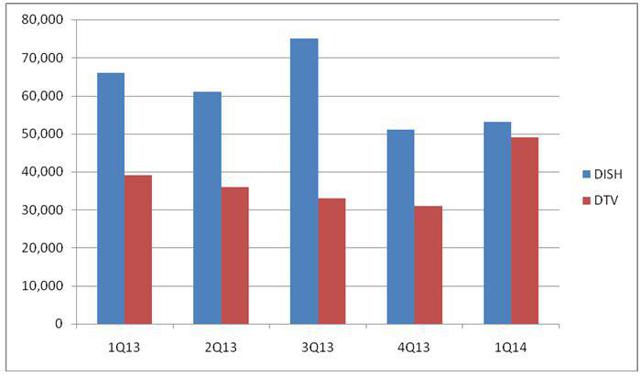 Source: Companies' Quarterly Earnings Report
However, going forward, the possible TWC-CMCSA merger poses a serious threat for the company's broadband and pay-TV segment. The company has expressed its concerns to the FCC over the potential merger. Moreover, the possible hike in programming cost also remains a concern, as TWC-CMCSA combined will get better pricing, leaving less monetary incentives for programmers. Programmers in return could increase programming costs for DISH and other non-dominant players in the sector.
Conclusion
The company has maintained its pay-TV growth by taking timely price actions and offering competitive video services. Also, the company is likely to perform well in the saturated pay-TV market, as it has the option to grow the wireless segment with its strong AWS spectrum. However, the possible merger of TWC and CMCSA poses a threat to the company's future market position and performance.
Disclosure: The author has no positions in any stocks mentioned, and no plans to initiate any positions within the next 72 hours. The author wrote this article themselves, and it expresses their own opinions. The author is not receiving compensation for it (other than from Seeking Alpha). The author has no business relationship with any company whose stock is mentioned in this article.