In this article, I will discuss few points, which indicate that the gold rally could be supported by geopolitical events in the short term.
China gold loan problem
In June 2014, China's chief auditor discovered $15.2 billion worth of loans backed by falsified gold transactions, which could lead to fraud in commodities financing deals in the country. China has accumulated over 2,000 tonnes of surplus gold in the last 4 years. In 2013, China imported 1,800 tonnes of gold, which may be reduced by 300 to 400 tonnes this year.
Indian demand
In the first half of 2014, the import restrictions drove Indian gold imports down by 77% to 150 tons compared to the first half of 2013. Indian jewelers were expecting duty cut in the budget. However, the Indian government retained the 10% duty on gold imports for fiscal year 2014/15 (April 2014 to March 2015). India's trade deficit touched an 11-month high of $11.76 billion in June 2014, led by a 65% increase in gold purchases compared to June 2013. The gold imports jumped from $1.7 billion in April 2014 to $3.2 billion in June 2014 as importers were allowed to resume importing gold, and selected banks were allowed to offer gold loans to jewellery manufacturers in May 2014. There is a low possibility that the government may reduce the import duty as it may increase gold imports, which remains a major portion of India's import bill.
The Reserve Bank of India (or RBI) has decided to swap gold in its vaults for international standard gold. The process would take place through book entry without any cash outflow. The gold acquired by RBI would be delivered to its overseas custodian, the Bank of England. The central bank may offload the gold in its vaults to the local market in India, which can boost domestic supply without affecting India's Current Account Deficit (or CAD). This move will also prevent gold smuggling, which has risen since India tightened its gold imports last year.
Federal Reserve policy
In June 2014, the U.S. added 288,000 jobs, about 73,000 higher than expectation, and the unemployment rate fell to 6.1%, its lowest rate since 2008. The unemployment rate has fallen 1.5% in the last one year. However, it is below Fed's estimate of 5.2% to 5.5%. On July 15, 2014, Janet Yellen hinted at a key interest rate hike if the job market continues to make improvement. Her statement is as follows:-
"If the labor market continues to improve more quickly than anticipated by the committee, resulting in faster convergence toward our dual objectives, then increases in the federal funds rate target likely would occur sooner and be more rapid than currently envisioned."
Yellen didn't mention the timing of this rate hike. However, gold futures on Comex touched a low of $1,293 per ounce when this news arrived.
Geopolitical issues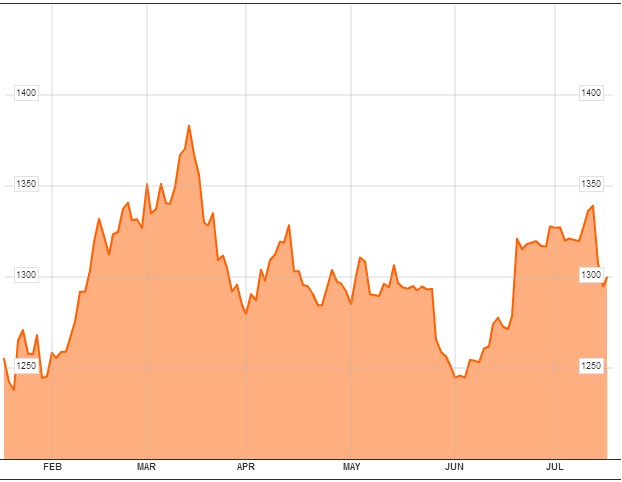 Source: Bloomberg
In March 2014, gold futures crossed $1,350 per ounce due to the Russia-Ukraine crisis. On June 13, 2014, gold futures touched $1,278 per ounce due to the rising violence in Iraq. On July 17, 2014, gold futures rallied over 1.3% to $1,316.90 per ounce as a Malaysian jet carrying 295 people crashed near the Ukraine-Russia border due to a missile attack. On the same day, the United States imposed new round of sanctions on Russia that restricted Rosneft (OTC:OJSCY) and Gazprombank (OTCQX:GZPFY) access to the American capital markets.
Gold, being a safe haven, rallied 9.5% this year due to the ongoing geopolitical events, outperforming Treasuries, equities and other commodities.
Conclusion
I would conclude by saying that the weak Indian demand, and the gold loan problem in China are bearish indicators for gold prices in the near term. The bond buying program of the Federal Reserve ends in October this year, and the possible interest rate hike is also a bearish indicator. However, the ongoing geopolitical issues could provide steam to the gold rally this year.
Disclosure: The author has no positions in any stocks mentioned, and no plans to initiate any positions within the next 72 hours. The author wrote this article themselves, and it expresses their own opinions. The author is not receiving compensation for it (other than from Seeking Alpha). The author has no business relationship with any company whose stock is mentioned in this article.