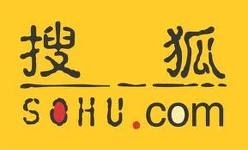 Sohu.com (NASDAQ:SOHU), China's second biggest Internet portal, triggered a positive spike, sending its shares to a year high after the company's quarterly profits rose, beating Wall Street estimates (see earnings results here). The key online gaming segment, which makes up more than half of Sohu's total revenue, rose 25 percent to $85.6 million after having stabilized in the last quarter.
According to the Reuters report, the total revenue for the company, which competes with Sina Corp (NASDAQ:SINA), NetEase.com (NASDAQ:NTES) and Tencent Holdings (OTCPK:TCEHY), rose 20 percent to $164.1 million for the reported quarter, well above analysts' estimates of $156.7 million.
After deducting the share of net income relating to the non-controlling interest, GAAP net income was up 12 percent to $38.7 million, or $1.01 a share, the company said. Non-GAAP net income rose 21 percent to $45.2 million, or $1.16 a share, from the year-ago period while total revenue rose 20 percent to $164.1 million.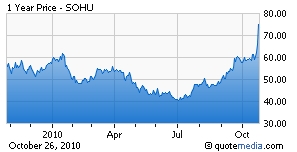 Q4 Projections: For the fourth quarter, Sohu said it expects non-GAAP earnings of $1.10 to $1.15 a share, on revenue of $163 million to $168 million. Analysts, on average, were expecting fourth-quarter earnings of 95 cents a share, on revenue of $162.6 million, according to Thomson Reuters. The company expects the revenue for fourth quarter 2010 to be between $163.0 million and $168.0 million, with advertising revenues of $64.0 million to $66.0 million. The company expects from its largest business segment, online game revenues, to be between $86.0 million and $89.0 million. The company expects to report fourth quarter-adjusted EPS of $1.10 to $1.15, compared to the consensus estimate of $0.94
Market Trends: The Bank of New York Mellon China ADR Index, which tracks American depositary receipts, rose 1.6 percent to 439.63. The American Stock Exchange China Index increased 2.5 percent to 234.90. The Shanghai Composite Index advanced 2.6 percent to 3,051.42.
Sohu.com Inc. (SOHU US), the operator of China's fourth- most-visited Web portal, jumped 13.9 percent to $74.93, the highest since Aug. 29, 2008. Sohu reported revenue for the third quarter of $164.1 million compared with $136.6 million in the same period last year, exceeding analysts' estimates. Sohu.com Inc. shares are seeing a huge rally after the company reported its third-quarter financial results yesterday. Shares were up 14.87% to $75.54, yesterday, on above average volume of 5.25 million. The stock touched a 52-week high of $76.57 yesterday. The stock has a 52-week range of $40.05-$76.57.
Projections: From a technical perspective, analysts are advising traders to wait to establish a position in Sohu.com until a base in the stock develops that can provide good reference points to the upside and most importantly to the downside, for traders have a risk reference point before entering into a position on Sohu.com stock.
Sohu.com's Future Outlook: Internet portal company Sohu.com Inc. aims for its search-engine unit Sogou.com Inc. to account for a 10% share of online searches performed in China, up from 3.5% now, Sohu Chief Technology Officer Wang Xiaochuan said Tuesday, but declined to provide a time frame for the goal. Nasdaq-listed Sohu said it has also been in talks with some of Google's advertising agents in China for possible business opportunities.
As of now, Beijing research firm Analysis International said local firm Baidu Inc. (NASDAQ:BIDU) leads China's search market with a 73% share by revenue in the third quarter, compared with 21.6% for Google (NASDAQ:GOOG) and 0.9% for third-place Sogou.
Disclosure: No positions