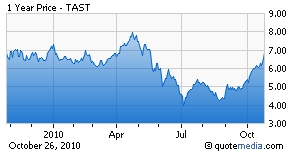 I added CARROLS RESTAURANT GROUP, INC., (NASDAQ:TAST) to the Barchart Van Meerten Speculative portfolio. The company is operating through its subsidiaries, including Carrols Corporation, and is one of the largest restaurant companies in the United States. The Company operates three restaurant brands in the quick-casual and quick-service restaurant segments with over 559 company-owned and operated restaurants in 17 states, and several franchised restaurants in the United States, Puerto Rico and Ecuador. Carrols Restaurant Group owns and operates two Hispanic Brand restaurants, Pollo Tropical (91 locations) and Taco Cabana (156 locations). It is also the largest Burger King franchisee, based on number of restaurants (312 locations), and has operated Burger King restaurants since 1976.
Since junior high school when the Burger King opened on Sunrise Boulevard in Lauderdale, the Whopper has been my favorite fast food burger. I can remember some of the football team having feasts there and some guys ate 5 of those things. I'll be down in Lauderdale for a few weeks and I'll make several stops at the Pollo Tropical on Oakland Park Boulevard for some of the best wings, chicken and pork with black beans I've ever had.
The stock came up on my Barchart New High screener with 17 new highs in the last month for a 3.47% price increase. They have a 96% Barchart technical buy rating and currently trades around 6.59 well above its 50 day moving average of 5.21. The stock has a Relative Strength Index of 76.66% and it's rising.
Wall Street brokerages have a taste for the company with 3 buy recommendations published. Although sales are only expected to increase by 2.10%, earnings are estimated to increase by 36.10% next year and continue for a 5 year compounded annual EPS growth rate of 10.00%.
Individual investors have spotted this stock too and the CAPS members on Motley Fool think the stock will out perform the market with a vote of 73 to 9 with the All Stars in agreement 31 to 1. Fool notes that the last 3 articles by the Wall Street journalist they follow have all been positive.
I added this stock because:
I use their products and especially enjoy Pollo Tropical
96% Barchart technical buy signal
17 new highs in 20 sessions
Wall Street buy recommendations and positive articles
Small but positive retail investor following
Disclosure: Jim Van Meerten through Marketocracy Capital Management has an interest in the stocks mentioned in this article.