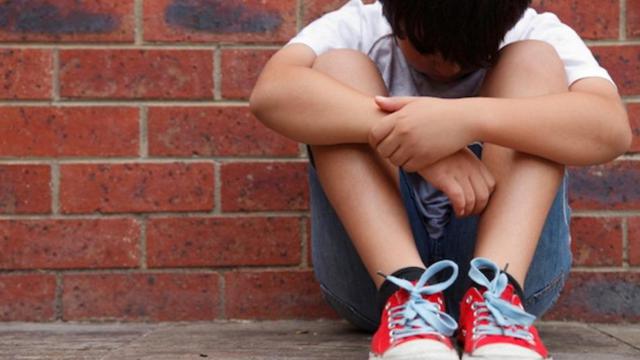 Source: Anchor's Anti-Bullying Message Via Mashable.com
Earlier this week SanDisk Corporation (NASDAQ:SNDK) shot the lights out on it Q2 earnings. The company's Q2 revenue of $1.63 billion increased 11 percent on a year-over-year basis and increased 8 percent sequentially. On a non-GAAP basis, net income was $329 million, or $1.41 per share, compared to net income of $262 million or $1.06 per share for Q2 2013. Its earnings actually exceeded analysts' expectations of $1.39 per share. However, the company's double digit revenue growth was somewhat muted by its decline in gross margin year-over-year. My previous article described the cause of the decline:
On a non-GAAP basis, the company's gross margin of 48% for Q2 2014 declined from the 51% achieve in Q2 2013. According to management, the margin decline was caused by the following, [i] increased mix of custom embedded solution and [ii] blended price per gigabyte decline was 16%, but cost per gigabyte decline was only 12%.
I assumed the gross margin decline would eventually correct itself; however, we found out later it was driven by SanDisk's attempt to please Apple, Inc. (NASDAQ:AAPL) - one of its largest clients. According to Susquehanna Capital, SanDisk made a strategic decision to supply Apple with a significant volume of NAND flash and SSDs at a lower margin:
"We attribute this to the strategic decision by SanDisk management to accommodate a key customer, Apple, with significant volume of embedded and client (solid-state drive) products," Hosseini said. "We remind investors this same customer helped SanDisk outperform in Q1, and now as a number of new products ramp, including embedded mobile, it is holding SanDisk back from margin expansion."
With the emergence of mobile products, sales of embedded and removable NAND flash solutions for the mobile market have grown to represent the lion's share of the company's revenue. That said, a "partnering arrangement" with a company like Apple who can drive continued growth of mobile devices may be warranted. The following chart displays SanDisk's historical financial performance: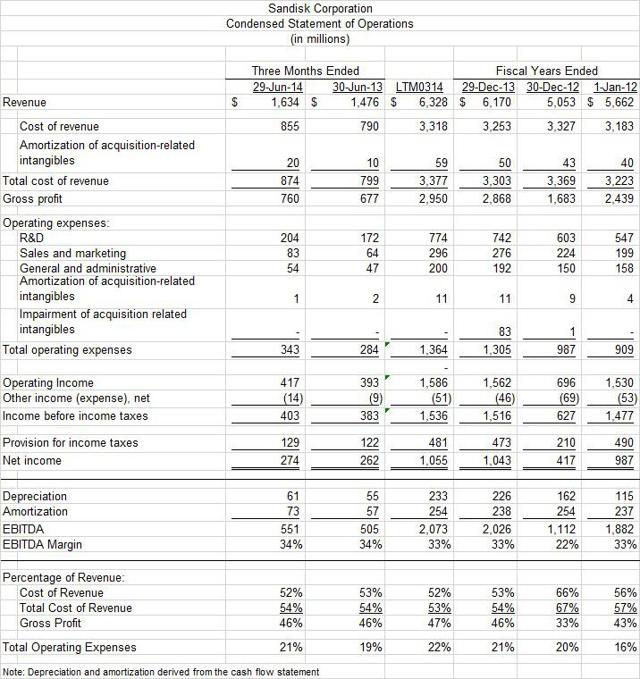 On a GAAP basis, the company's top line growth has been impressive. However, SanDisk's gross margin and EBITDA margin have been flat for Q2 2014 and Q2 2013, implying that net income growth may not keep pace with double digit increases in revenue.
The stock sold off about 14% yesterday to $93.21 per share. Its currently market capitalization and enterprise value are $21.1 billion and $22.3 billion, respectively. Based on net income and EBITDA through last 12 months ended June 2014, the company trades at 20x net income and 11x EBITDA.
That valuation still may be robust given the company's earnings growth prospects.
Micron Technology
Micron Technology, Inc. (NASDAQ:MU) is a major competitor of SanDisk in NAND flash drives. With its recent acquisition of Elpida, a Japanese corporation, in 2013, Micron also has significant exposure to Apple. According to Russ Fischer, Micron may have acquired Elpida because of Elpida's relationship with Apple in the mobile DRAM segment:
By mid-2011 it was obvious that Elpida would go bankrupt, it was just a matter of time. Now, if you are Apple, the prospect of Elpida going away was as scary as a bad horror movie. Micron supplied practically no mobile DRAM, leaving Samsung by far the largest supplier of this critical component. Hynix also built mDRAM, but was having a near death experience of its own at the time. Elpida had to be saved for the very survival of Apple.
Micron's performance pre-Elpida and post-Elpida, is a point of contention. Lack of growth post-acquisition was the reason the stock sold off after Micron's Q3 earnings report:
3Q 2014 and 3Q 2013 are not an "apples-to-apples" comparison. 3Q 2014 results include the contribution of revenue and operating income from Micron's acquisitions of Elpida Memory, Inc, and Rexchip Electronics Corporation ... the acquisition of Elpida was consummated in 4Q 2013. Also in 4Q 2013, Micron acquired a 24% ownership interest in Rexchip ... the financial performance of Elpida and Rexchip were not included in Micron's 3Q 2013 financial results ... That said, 3Q 2014 growth doesn't look as impressive once you realize it includes the acquisitions of Elpida and Rexchip, and 3Q 2013 does not.
Below are the historical financial results for Micron: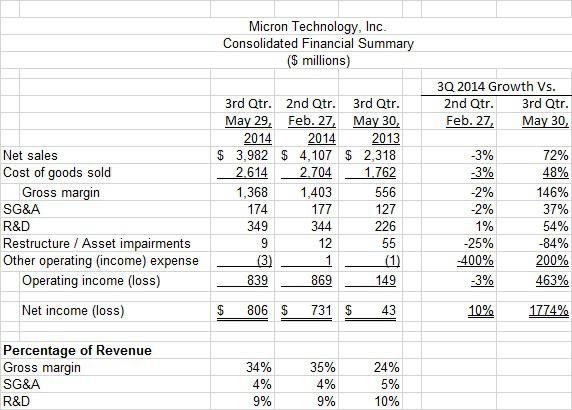 Q3 2014 revenue and operating income were off 3% in comparison to Q2 2014. Both periods include the benefit of the Elpida acquisition. Q3 2013 does not.
Longs have trumpeted Micron's relationship with Apple as a catalyst for growth. An Apple relationship should definitely help top-line growth, particularly in the fast-growing mobile device market. We now know from SanDisk's Q2 results that top line growth and bottom line growth may not be congruent.
Longs also trumpet Micron's oligopoly position and pricing power in the DRAM market. As it pertains to Apple, whether Micron can pass through prices increases remains to be seen.
Micron In The "Show Me Phase"
Micron is currently at an inflection point when it comes to its expected earnings growth rate and how that translates to an appropriate price-to-earnings ratio. It is too early to tell how the company will perform post-Elpida, and management did not offer guidance on the Q3 earnings call. I raised these issues and more when I attempted to value the company via a "bottoms-up" analysis. In my opinion, Micron is in the "show me" phase - it does not deserve a high earnings multiple until it delivers double-digit earnings growth. On the article, Pump The Brakes: Micron Is Worth $18-$22 Per Share I was harangued by longs for applying an 8x - 10x multiple to Micron's run-rate earnings:
Commenter 1: What's your real motivation for bucking every single analyst to date with some way out there method for "$18 - $22 Per Share"?

Commenter 2: Laughable. You are saying because the last 2 quarters are flat then you slap an 8-10X multiple [on earnings]? Don't you know Q3 is naturally a slow season for memory? The fact that Q3 is fat in comparison to Q2 is actually a very good thing, and you are completely ignoring future bullish growth (LTE network build up in China, higher demand on mobile DRAM, SSD ramp up, etc). I bet a 5 years old kid draws better conclusion than you.
Through mid-day July 18th, the company has a market capitalization of $35.8 billion or 18x last 12 months earnings through May 2014 ("LTM0514). With an enterprise value of $39.9 billion (includes long-term debt of $4.1 billion), the company trades at about 3.7 times LTM0514 revenue and 2.5x run-rate revenue (last two quarters annualized). Over the next week or so I will sharpen my pencil on Micron's valuation and better estimate the value of its net operating losses, come up with appropriate tax rate and settle the price-to-earnings multiple debate. I understand that longs have been waiting with bated breath.
Apple ... Friend or Foe?
Apple is the 800 pound gorilla of mobile devices and after its announced partnership with International Business Machines (NYSE:IBM) to transform enterprise mobility, it may enhance its position. As recently as 2013 Apple was responsible for as much as 13% of Micron's sales. To give you a feel for how much power Apple wields, for May 2014 it was the top smartphone OEM in the U.S. with a 42% market share.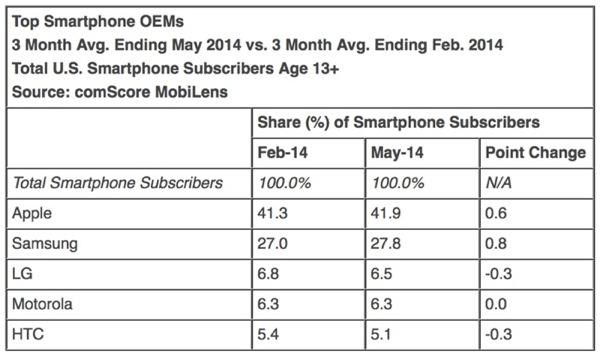 Apple did not become one of the largest public-traded companies in the U.S. no reason. Companies get excited when becoming an Apple supplier, but once a supplier gets to a certain size in sales, there is always the risk that Apple will squeeze the supplier's margins. It reminds me of Wal-Mart Stores Inc. (NYSE:WMT) in that respect.
Conclusion
Apple is both friend and foe to SanDisk and Micron. It will be a boon to their top line growth as the mobile device market continues to grow. However, they may experience compression in gross margin if Apple decides to wield its power as one of their major clients. SanDisk experienced this phenomenon in its most recent earnings report. Whether Micron reports a similar impact on its gross margin when Q4 results are announced remains to be seen.
Disclosure: The author is short SNDK. The author wrote this article themselves, and it expresses their own opinions. The author is not receiving compensation for it (other than from Seeking Alpha). The author has no business relationship with any company whose stock is mentioned in this article.