Ford Motor (NYSE:F) has delighted investors with a solid mini-bull run over the last couple of months. Shares of Ford Motor are up 15% since the beginning of the year, but have returned approximately 22% since the stock market corrected at the beginning of the year which pushed Ford's shares down to below $15 in February 2014. Given Ford Motor's persistently low valuation on both an earnings- and cash-flow basis, I have aggressively and repeatedly endorsed an investment in the country's top car manufacturer on variety of occasions (see thesis here from early February).
After a slight correction in April, Ford Motor quickly recaptured its strength and more or less edged gradually higher ever since.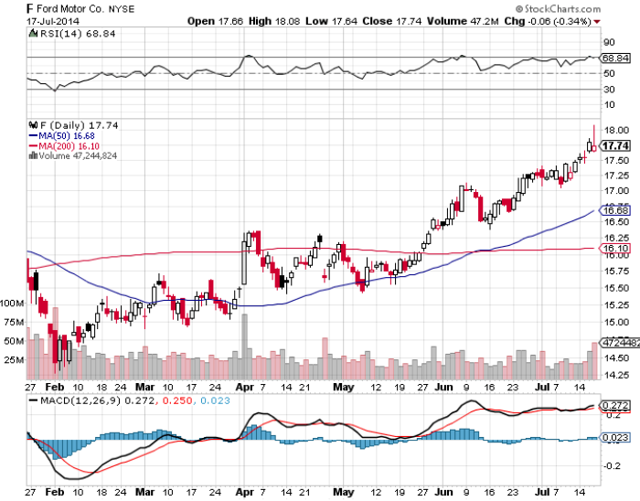 (Source: StockCharts.com)
Positive news flow
Ford Motor has regularly produced solid sales results throughout the year and I expect sales momentum in a variety of geographies to continue for the remainder of the year.
Just last week, Ford Motor announced sales results for its strategic Chinese growth market. The press release pointed out:
SHANGHAI, China, July 07, 2014 - Ford China raced to a record first half, with 549,256 vehicles sold in the first six months of 2014, up 35 percent compared to 407,474 sold during the same period last year. Driven by continued strong demand for the Ford Focus, Ford Kuga, Ford Mondeo and the Ford EcoSport, Ford China's June sales increased 17 percent with 87,783 vehicles sold, up from 75,166 sold in the same period last year.

Changan Ford, Ford's passenger car joint venture, also enjoyed a record first half, selling 397,958 vehicles, up 39 percent from the 286,433 vehicles sold in the first half of 2013. CAF's June sales reached 67,187 vehicles, up 23 percent compared to 54,774 sold in June 2013.

The Ford Mondeo nameplate, which sets the standard for refinement and smart technologies in the passenger car segment, also sold well in the first half, with 59,726 vehicles sold, a 124 percent increase compared to the 26,691 sold in the first half of 2013. June sales for the Ford Mondeo nameplate reached 10,044 vehicles, a 168 percent increase from June 2013.
Further positive news was also delivered from the European front where Ford Motor's sales, once again, outpaced industry growth. On July 9, 2014, Ford Motor updated investors with respect to its European sales results:
COLOGNE, Germany, July 09, 2014 - Ford's European sales rose 6.6 percent in the first half of 2014 on the strength of new vehicle launches and an uptick in industry-wide sales.

Ford's sales volume in its 20 traditional markets in Europe totaled 605,400 vehicles in the first six months of the year - 37,700 vehicles, or 6.6 percent, more than in the same period in 2013. This compared to a total industry growth in sales of 6.3 percent for the first half of the year. Ford's market share in Europe was level at 7.9 percent.

The number of Ford vehicles sold in June also was up compared to the same month last year. More than 109,000 Ford vehicles were sold in the month, a 2.2 percent increase on June 2013. Market share was down by 0.2 of a percentage point at 8.0 percent.
It becomes increasingly clear that, despite a competitive price environment, Ford Motor's European operations are well on their way to return to profitability in 2015, if not in 2014. Ford Motor's market share in Europe also remains relatively stable at the 8% mark which suggests, that its product offering is competitive when compared against the top-notch German car manufacturers.
It is encouraging to see, that Ford Motor can present this strong sales performance with double-digit y-o-y sales growth rates in China and above-average growth rates in Europe. In addition, Ford Motor is set to launch a new sales initiative in the Middle East and Africa, which certainly has a lot of potential as an under-served car market for U.S. auto manufacturers.
Valuation
Ford Motor still makes a compelling value proposition and it makes only little difference to me, that the stock has had a good run in 2014. Ford Motor continues to have substantially more upside potential and I wouldn't be surprised if Ford Motor trades at around $30 as the U.S. economy progresses through the business cycle and interest rates start to increase.
The most convincing reason to buy Ford Motor is, of course, its extremely low valuation. Even though Ford Motor shares have gained 15% year-to-date, the car manufacturer still trades at a comical valuation of nine times earnings. Is this an appropriate valuation multiple for a company, that belongs to a group of leading, global auto players in the world? I don't think so.
In addition to a low valuation based on earnings, Ford Motor also convinces with a regular cash dividend, which produces a nice enough 3% dividend yield for investors.
Conclusion
The market curiously seems to undervalue Ford Motor's earnings prospects particular when considering its sales initiatives abroad.
While Ford Motor continues to be heavily reliant on the domestic market, its monthly sales releases highlight, that foreign markets are clearly the 'in-play' operational theaters for Ford where it will achieve incremental sales and earnings growth.
Ford Motor's strong sales results and a solidifying recovery in its European operations combined with a persistently low valuation, make the car manufacturer a Strong Buy despite the increasing share price this year. Target price: $30.
Disclosure: The author is long F. The author wrote this article themselves, and it expresses their own opinions. The author is not receiving compensation for it (other than from Seeking Alpha). The author has no business relationship with any company whose stock is mentioned in this article.