There is a nice metric to predict a recession of which I discussed here.
Basically, when the 10-year yield to 3-month T-Bill yield spread narrows, you're probably nearing a recession.
This is the status today. Nothing much happening today, but we will see below that something is starting to happen. See chart below from Nowandfutures.com. The yield spread is given as the blue line and it is nowhere near zero. That means we are not yet in recession territory.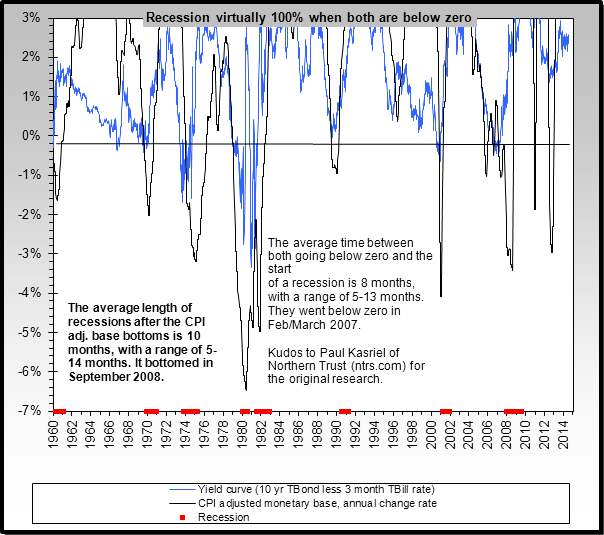 But when we look in more detail at the following chart, you will see that the recession could hit in 2015 when the yield curves find each other. See chart below from InvestmentTools.com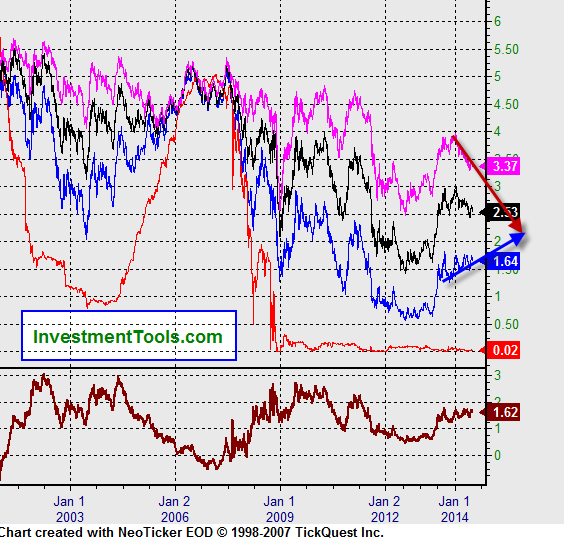 As you can see it all depends on the red line, which is the 3-month T-Bill yield. Whenever that red line goes closer to the black line (10-year yield), you have a recession.
So when will this red line go up if the Federal Reserve never increases interest rates? You can predict what the Fed will do by looking at the 5-year and 2-year bond yield. As you can see, the blue line (5-year bond yield) is inching upwards while the black line (10-year bond yield) is inching downwards. So basically we already see that the spread is narrowing. It seems to me that the Fed will soon increase interest rates, because of rising yields on the 2-year and 5-year bonds. If the Fed doesn't increase interest rates, we will see a lot of inflation. That inflation is already starting to appear, as I already discussed a week ago in this article.
The 2-year bond yields are also rising fast these days. See chart below from Bloomberg. The Fed will need to increase interest rates.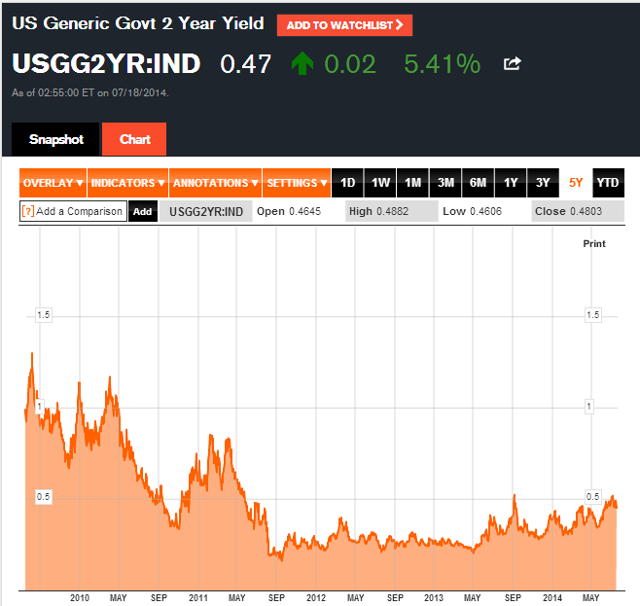 And that action of the Fed will trigger a recession somewhere in 2015.
Knowing all this, I would completely avoid stocks at this moment, as they are very overvalued. By looking at the total market capitalization to GDP ratio, we can quickly see how overextended we are today.
See chart from Gurufocus.com below. We are significantly overvalued at 123% and a correction is due. So the question is: "When will it happen?" The answer: 2015.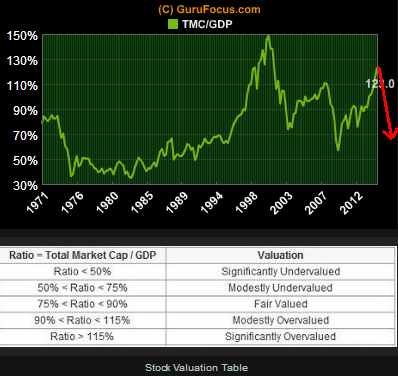 Disclosure: The author has no positions in any stocks mentioned, and no plans to initiate any positions within the next 72 hours. The author wrote this article themselves, and it expresses their own opinions. The author is not receiving compensation for it (other than from Seeking Alpha). The author has no business relationship with any company whose stock is mentioned in this article.