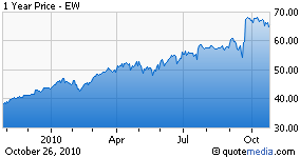 Edwards Lifesciences Corporation (NYSE:EW) has reported an EPS of 40 cents in third quarter of fiscal 2010 compared to 63 cents in the year-ago period. However, after adjusting for certain items, the EPS came in at 43 cents, beating the Zacks Consensus Estimate by a penny and the year-ago quarter's earnings of 36 cents.
Edwards reported revenues of $348.9 million, up 7.1% from the year-ago period. However, the growth rate would have been 12.6% excluding the negative impact of currency movement and discontinued products.
Segments
Heart Valve Therapy remained the strongest segment at Edwards with an annualized growth of 15.2% to $200.6 million. Sales of surgical heart valves grew 3.4% (on adjusted basis), while that of transcatheter heart valves (THV) recorded an 85% growth to reach $48.8 million.
The launch of Sapien XT valve in Europe primarily led to the growth of THVs. However, the situation for surgical heart valves was not so encouraging, which led the company to record flat sales in the US. Following second quarter results, Edwards had raised its THV sales guidance to $190-$205 million.
Other segments of the company, Critical Care, Cardiac Surgery Systems and Vascular recorded sales of $111.0 million (down 3.2%), $23.7 million (up 1.4%) and $13.6 million (down 1.5%), respectively. The primary reason for the decline in Critical Care segment was the divestment of the hemofiltration product effective September 2009.
Excluding the impact of the divestment ($10.2 million) and currency benefit, this segment recorded growth of 5.6%. Strong sales of premium products led by the Flo Trac system continued to drive growth. The divestment of LifeStent product line was responsible for the decline in Vascular sales.
Expenses
During the quarter, Edwards' gross margin improved 270 basis points to 72.5% driven by an improved product mix and favorable currency movement. The launch of THV led to a 5.5% rise in selling, general and administrative (SG&A) expenses to $133.0 million. However, as a percentage of sales, SG&A expenses declined by 60 basis points to 38.1%.
The company is continuing its investments in the THV program, which led to a 17.9% rise in research and development (R&D) expenses to $52.7 million. Moreover, R&D expenses as a percentage of sales increased to 15.1% from 13.7% in the year-ago quarter.
Robust Growth in Japan
Edwards generated 40% of its revenues during the quarter from the domestic market, which recorded a growth of 2.3%. In the international market, the highest growth was recorded in Japan (17.3% to $61.7 million) followed by Rest of World (10.7% to $43.3 million) and Europe (7% to $103.8 million).
Balance Sheet
Edwards exited the quarter with cash and cash equivalents of $361.0 million, up 8% from $334.1 million at the end of December 2009. While free cash flow was $80 million, debt burden increased 11.4% (from December 2009) to reach $100.6 million.
Guidance
Based on favorable foreign exchange rates and positive outlook, Edwards raised its diluted EPS guidance for 2010 to $1.81–$1.83 (previous guidance of $1.78–$1.82), representing annualized growth of 19%-20%. The company has also raised its sales guidance to $1.435-$1.455 billion (earlier expectation on the lower end of $1.43–$1.50 billion).
In addition, the company also provided guidance for the fourth quarter at 52–54 cents. The Zacks Consensus Estimate is 52 cents.
Recommendation
Edwards recorded a strong third quarter banking on robust performance by its Heart Valve Therapy products. Although the Sapien portfolio of products is not yet approved in the US, the company is working on its approval.
The first phase of data for medically managed patients under the PARTNER trial, released in September 2010, has been encouraging. However, the company faces tough competition from Medtronic (MDT) and St.Jude Medical (NYSE:STJ). In addition, the company is exposed to the risk of currency movement.
We are Neutral on the stock.
Disclosure: No position