First and foremost, I am a huge bull on Under Armour (NYSE:UA). The company provides high-quality fitness apparel and accessories mainly to the United States, but has recently been aggressively going international. It has achieved a 10-year net income CAGR of 29%. At its investor meeting in June 2013, management announced a plan to continue aggressive growth through international markets, as well as increases in direct-to-consumer activities. The plan is to reach $4B in sales by FY 2016.

The June 2013 Investor Meeting Changed It All

Before this time, UA has had phenomenal success. CAGR for revenue from 2008-12 was 26.1% and the five-year stock CAGR was 30.3%. As of June 6, the day of the meeting, the stock was trading for $59.46 at a P/E of roughly 44. After the announcement of reaching $4B in sales by FY 2016, Goldman remained neutral at $63 and Sterne Agee upgraded to a buy at $70. Remember that these numbers were before the stock split earlier this year.
Currently the company is slightly ahead of its desired schedule, but the stock has jumped 92.9% since. The five-year stock return is now over 833.3%, growing annually at 56.3%.
Relative Valuation Just Doesn't Add Up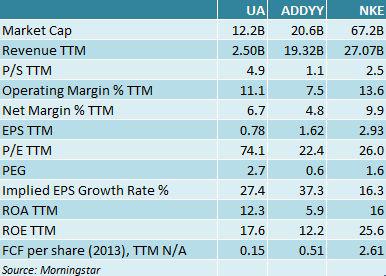 The first thing that catches my eye isn't the P/E, but the extremely high P/S ratio. You're paying almost 5x the amount of sales generated for this stock. This is twice as much as Nike (NYSE:NKE) and almost 5x as much as Adidas (OTCQX:ADDYY). One may justify this by looking at revenue growth rates. If UA is twice as fast-growing as Nike and 5x the growth rate of Adidas, we should be fine… maybe.
The issue with this is that we are using a market-driven number on top (market cap) and a firm-driven number on the bottom (sales). It's a big issue, because when you buy a stock, you expect to get what the firm makes after paying off expenses, interest and taxes to the government. You will notice Nike actually has higher margins, meaning it is more profitable, so it wouldn't be fair to compare revenue growth to justify the P/S. Instead, I like to look at the price/earnings to growth ratio that will give me an implied EPS growth rate. Here, we will see UA is only growing 68% faster, not the 100% we required to justify the P/S.
If we were to look at P/E, we will notice again that it is fairly high. It is 2.85x as large as Nike's, which is even larger than their comparisons to P/S. Again, we will see that if you compare EPS growth rates, UA is still severely behind. I purposely left out Adidas until now. Adidas has had a couple rough years growing. In the most recent year, it has lost roughly 5% market share in soccer apparel to Nike. The giant Germany company is actually considered relatively "cheap" only because the current outlook isn't very good.
As for returns, Nike has beat UA in both return on assets and equity. Since Nike is more financially leveraged than UA, I wanted to use the DuPont formula to show you what the returns would look like if we were to leave the capital structure out of this.

Source: Created by author
From this, we can see that, again, Nike has the best profit margin. It also shows us that UA is, in fact, the best at generating sales with its assets. However, the high profit margin Nike has doesn't offset the slightly higher asset turnover.
Lastly, I included the free cash flow per share numbers. This measures the company's financial flexibility, like its ability to pay off debt and buy back stocks to increase EPS. As a growth company, UA doesn't have much room to play with. It currently doesn't offer dividends, has little interest expense and doesn't have a stock buyback plan. Nike has a relatively large FCF per share and may start aggressively buying back shares, increasing EPS, while UA has been diluting shares with additional shares outstanding and options.
What to Focus On for Future Growth
The athletic apparel industry is very competitive. Under Armour doesn't have the brand recognition that the other two giants have, nor does it have the cash needed to sponsor large sporting events and popular teams. One aspect to keep an eye on is how well the foreign markets accept the brand, because the new markets will be one of the largest key components to drive its growth. The other large key factor is its direct-to-consumer channels. As of 2013, UA has 117 outlet factory stores and six brand stores. 33.2% of the $487m increase in revenues was contributed to the additional D2C activities. As it builds more stores, it has been much less reliant on major retailers. Dicks and Sports Authority now only contribute roughly 23% of sales vs. the 31% in 2008.
Right now, the company is on track to reach its targeted $2.9B sales figure, which is a 25.5% growth rate over 2013. It is also on track to beat its $4B goal. Even though the growth for UA looks great, I don't see how one can continue to justify the high valuations when UA has always been a very fast-growing company.
Disclosure: The author has no positions in any stocks mentioned, and no plans to initiate any positions within the next 72 hours. The author wrote this article themselves, and it expresses their own opinions. The author is not receiving compensation for it (other than from Seeking Alpha). The author has no business relationship with any company whose stock is mentioned in this article.