By Craig Bowles
Overview
Broadcom Corp. (NASDAQ:BRCM) is slated to report 2Q 2014 earnings after the close on Tuesday, July 22nd. The earnings release is expected at approximately 4:05 p.m. EST with a 4:45 p.m. conference call webcast at Broadcom Investor Relations. Broadcom Corporation provides semiconductor solutions for wired and wireless communications. Being a component of the S&P 500 and NASDAQ 100 indices, results can affect futures.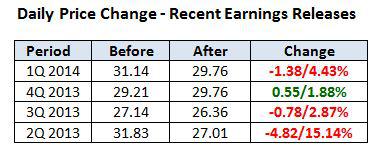 Outliers & Strategy
Key measures:
Non-GAAP Earnings Per Share: The Street estimate is $0.61 (range $0.55 to $0.64) (Yahoo! Finance).
Revenues: Company guidance is a range of $2.0 bln to $2.1 bln. Analyst expectations are to decline 1.8% y/y to $2.05 bln (range $2.03 bln to $2.08 bln).
Revenue Guidance for 3Q 2014: Expectations are to increase 2.0% y/y to $2.19 bln (range $2.03 bln to $2.27 bln).
Broadcom insiders sold 1,203,151 shares over the last three months but have bought 128,931 shares over the last year, so the company's executives appear to be taking advantage of the recent rally. (CEO Scott Mcgregor sold another 75,000 shares on July 9th.)
Broadcom results are compared to and could impact chip providers, such as Intel (NASDAQ:INTC), Advanced Micro Devices (NYSE:AMD), Qualcomm (NASDAQ:QCOM), MIPS Technologies (NASDAQ:MIPS), Marvell Technology (NASDAQ:MRVL), MaxLinear (NYSE:MXL), PMC-Sierra (NASDAQ:PMCS) and EZchip Semiconductor (NASDAQ:EZCH). (Intel produced strong results. AMD missed and blamed weak PC demand.)
Broadcom shares have a 1-day average price change on earnings of 5.70%. Options are pricing in an implied move of 3.85% off earnings.
Recent News
07/09 Oppenheimer upgraded Broadcom to Outperform from Market Perform citing margin and cash flow benefits from its planned baseband processor exit, according to a graph on Morningstar.com.
06/19 If the Taiwan dollar is still a leading indicator of semiconductor prices, prices aren't likely to improve much in the near term, according to a graph on Yahoo! Finance.
06/19 Import Price Index: Semiconductor and other electronic component manufacturing for industrialized countries trends lower the last two years, according to a graph by St. Louis Fed.
06/03 Wedbush upgraded Broadcom to Outperform from Neutral and raised their price target to $43 from $30 citing the much-needed plan to sell and wind down the cellular baseband removes their biggest concern for the stock despite a potential risk of market-share losses, according to a story by Barron's.
06/02 Wells Fargo downgraded Broadcom to Underperform from Market Perform on revenue growth concerns; Bernstein raised their price target to $42 on the same news that the company exited the baseband wireless processor chip business, according to a story on Barron's Blogs.
Technical Review
Broadcom has mostly fluctuated around $34 the last two years and most recently is testing the highs of that range after last year's weakness, so fluctuations are turning more chaotic. The June spike was in reaction to a business decision that may or may not have staying power. Recent consolidation around $38 suggests traders are waiting on the earnings release to dictate further price targets. (Chart courtesy of StockCharts.com)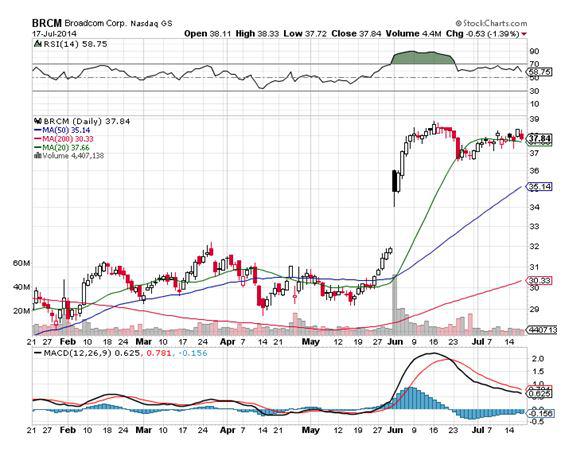 Summary
CEO Scott Mcgregor leading the recent insider selling with the stock back at 2012 highs makes investors question the duration of the stock's recent strength. Intel and Advanced Macro Devices have already reported but have given mixed indications for the sector. Broadcom has beaten estimates each of the last four quarters by 2c to 7c, so probably needs to report at least $0.63 on revenue of $2.06 bln with 3Q revenue guidance on the high side expectations.
DISCLAIMER: By using this report, you acknowledge that Selerity, Inc. is in no way liable for losses or gains arising out of commentary, analysis, and or data in this report. Your investment decisions and recommendations are made entirely at your discretion. Selerity does not own securities in companies that they write about, is not an investment adviser, and the content contained herein is not an endorsement to buy or sell any securities. No content published as part of this report constitutes a recommendation that any particular investment, security, portfolio of securities, transaction or investment strategy is suitable for any specific person.
Disclosure: The author has no positions in any stocks mentioned, and no plans to initiate any positions within the next 72 hours. The author wrote this article themselves, and it expresses their own opinions. The author is not receiving compensation for it (other than from Seeking Alpha). The author has no business relationship with any company whose stock is mentioned in this article.