Harris Corp. (NYSE:HRS) reported first quarter 2011 earnings of $1.28 per share beating Zacks Consensus estimates of $1.24.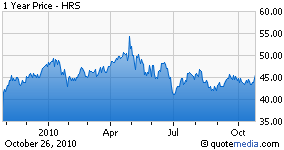 With respect to earnings surprise, over the trailing four quarters, Harris has outperformed the Zacks Consensus Estimate. The average earnings surprise was a positive 9.09%, implying that the company has outdone the Zacks Consensus Estimate by the same magnitude over the last four quarters. Harris thus reiterated the trend one more time.
The earnings also increased 54.2% year-over-year and 3.2% sequentially.
The strong results were driven primarily by strong performance and favorable product mix in Tactical Radio Communications, with global demand rising for the particular product. Large program wins and additional scope on other long-term programs, in the Government Communications System, helped in a good backlog even at the time of tight spending environment.
Quarter In Detail
Harris reported revenue of $1.41 billion, falling marginally short of Zacks consensus of $1.43 billion. The revenue, though, increased 17.5% compared to same quarter in the prior year.
Revenue was particularly helped by Government Communications segment and RF Communications, each contributing 52.3% and 40.3% of the total revenue, respectively.
Government Communications segment reported 10.2% increase to $735.5 million. Revenue primarily benefited from the CapRock Communications' acquisition, which was completed on July 30, 2010.
Revenue in RF Communications increased 33.7% year-over-year to $567 million. Orders for RF Communications were $472 million with $394 million orders in Tactical Radio Communications. New orders for Tactical Radio Communications showed a strong demand trend from the international market.
Cost of product sales and services increased 8.5% to $881.1 million compared on a year-over-year basis. Gross profit increased 34.1% to $524.3 million from same quarter last year.
Quarter Ahead
Management being high on confidence based on new wins and firming of opportunities increased its guidance for fiscal 2011. Management increased the non-GAAP net income for 2011 to the range of $4.80 to $4.90 per share from the previous guidance of $4.60 to $4.70 per share. Revenue is expected to be in the higher end range of the previous guidance of $5.9 to $6.0 billion for full year 2011.
Conclusion
Estimates for the quarter and full-year estimate for next year had been stable in the run-up to the earnings release, with no analysts changing estimates in the last 30 days. The current Zacks Consensus Estimate for 2011 is $4.68 and for 2012 is $4.73.
We believe the company will benefit from higher defense expenditure by the U.S. government, coupled with new expansion drives in the Asian, European & African markets. Acquisition of CapRock will enable Harris to find a meaningful foothold in the lucrative energy market.
We currently have a Zacks #3 Rank, which translates into a short-term Hold rating. On long-term basis we remain Neutral on Harris.