Strong clothing and footwear prices - signal or noise?
UK CPI inflation rose by 0.4 percentage points to 1.9% in June. This was 0.3 percentage points higher than both our own forecast and the consensus. Core inflation also rose 0.4 percentage points, to 2.0%. The pick-up in inflation in June was broad-based. Of the twelve sub-components, only "miscellaneous goods and services" acted to push inflation lower. Of the remainder, seven acted to push inflation higher, with the contribution from the other four unchanged.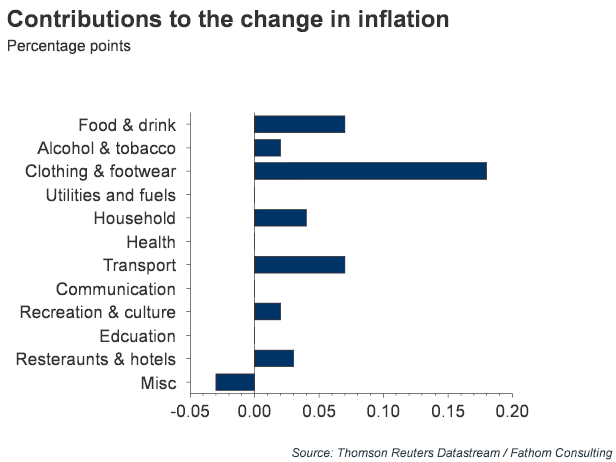 Much of the upside surprise, relative to our own forecast, was attributable to the clothing and footwear component. Prices for clothing and footwear typically fall between May and June as the summer sales begin. This year, they rose by 0.6% - the strongest June rise on record. Some have suggested that faced with unseasonably warm weather, retailers might have held back on discounting until later. And yet, statistically, the weather this June was far from exceptional. Weather alone does not give us strong grounds to expect that discounts offered this year would be less generous than in any other year.
It is always difficult to forecast clothing and footwear prices in months when sales are typically held. The risk, then, is that forecast errors in these months may not tell us much about underlying price pressures. It may be that retailers held relatively little stock going into the summer, and so were able to clear their shelves without the need to offer discounts. Or, it may be that retailers are facing rising cost pressures and have started to pass on these higher costs in the form of higher prices. In other words, we may already be in the early stages of the generalized pick-up in inflation that we have long forecast. For now, we tend towards the first explanation. Despite the significant upward surprise in the June data, we are keeping our forecast for year-end inflation at 2.8%.
Surge in employment continues, but earnings data starting to raise questions
Rapid economic growth can seemingly only be achieved these days through big gains in employment. In the three months to May, employment rose by 0.8%, taking the employment rate to 73.1% - equalling its previous all-time high. In addition, the activity, or participation, rate rose to a new record high. Hours worked rose by a staggering 1.4%. Hence, productivity almost certainly fell. Again.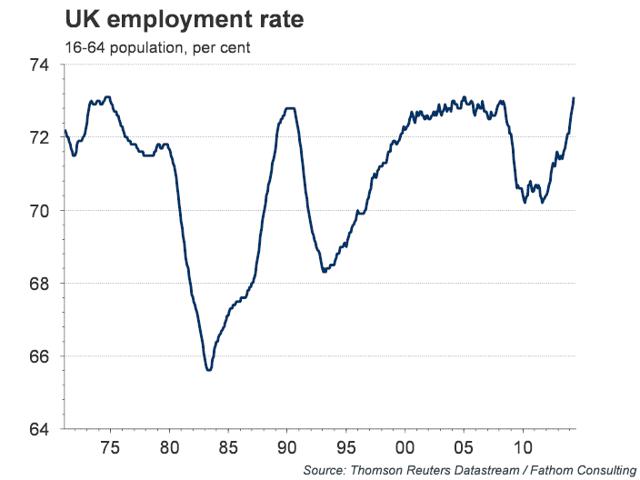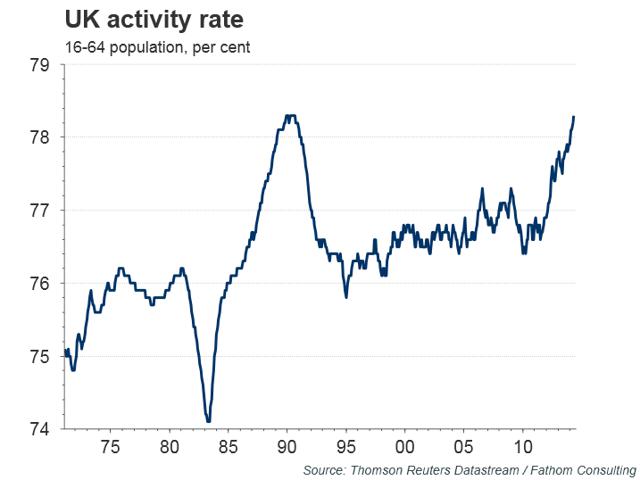 The only weak spot remains the earnings data. Total pay over the twelve months to May rose by just 0.4%, down from readings close to 2.0% earlier this year. With the labour market tightening rapidly, and with skills shortages becoming increasingly widespread, wage inflation should start to rise. The survey evidence points in this direction. We have previously highlighted the KPMG/REC survey, which records salaries paid to new placements. This has tended to be a good leading indicator of official measures of pay growth. In our next chart, we present information from a range of survey data on employment costs collected by the Bank of England's Agents, the BCC and KPMG/REC. Five indicators are used in total, and we compare the range of these indicators with the ONS measure of pay growth. All series have been transformed to have zero mean and a unit standard deviation.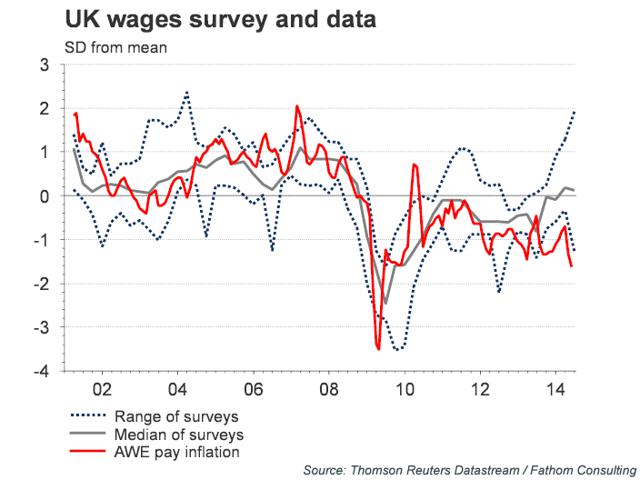 Although the ONS AWE series has generally tracked the median of the survey indicators quite closely, it is presently outside of the range of the survey indicators. We are generally of the view that questioning ONS data is the last refuge of the economist scoundrel. However, it is fair to say that the organisation does have "form" when it comes to measuring earnings.
Sowing the seeds of confusion
Meanwhile, Bank of England Governor, Mark Carney appeared before the Treasury Select Committee earlier this week and poured scorn on the latest report from his other employer - the BIS. The BIS had pointed out, quite reasonably, that near-zero interest rates are something of a double-edged sword. They do make it easier for people to make payments on their mortgages. But they also encourage people to take on a lot more debt, threatening renewed instability further down the line. In this regard, the Governor appears exceptionally confident in the ability of so-called macro-prudential tools to do the kind of job usually performed by higher interest rates. Speaking yesterday, President of the Dallas Fed, Richard Fisher argued that such measures can be "circumvented". "Relying on [them] to prevent financial instability provides an artificial sense of confidence", he said. We agree wholeheartedly.
With regard to interest rate policy, the Governor told the group of MPs that he had deliberately sent confusing signals regarding interest rates, in an attempt to inject some volatility into the bond market - seemingly with a straight face. The inflation data, and indeed the strong data on labour market quantities may have shortened the odds on an interest rate rise this year. Nevertheless, we stick to our view that an initial hike in February 2015 is the most likely outcome.
Disclosure: The author has no positions in any stocks mentioned, and no plans to initiate any positions within the next 72 hours.
Business relationship disclosure: Alpha Now at Thomson Reuters is a team of expert analysts that are constantly looking at the financial landscape in order to keep you up to date on the latest movements. This article was written by Philip Lachowycz, independent commentator and analyst. We did not receive compensation for this article, and we have no business relationship with any company whose stock is mentioned in this article.